$20 Million Mega Moolah Slot Scooped by British Soldier, Wins Biggest Online Jackpot of All Time
Posted on: October 12, 2015, 10:56h.
Last updated on: October 12, 2015, 11:09h.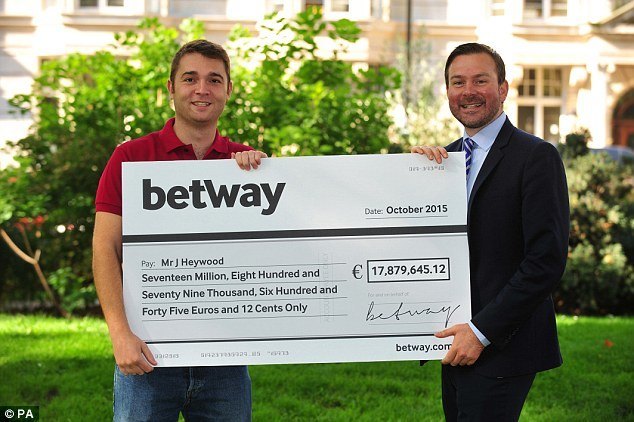 Hitting the big one in the Mega Moolah progressive slot is the dream of many online players. Now, for one British military man, that dream is a reality.
The biggest progressive jackpot in the history of online gaming has been won by UK Lance Corporal Jon Heywood, a 26-year-old soldier from Crewe, Cheshire. Heywood won £13,213,838.68 (just over $20 million) on a single spin of the Mega Moolah progressive slot at Betway.com last week.
The jackpot is the biggest of all time by virtue of a favorable exchange rate. The strength of the pound versus the euro at the time of the win (last Tuesday) means that Heywood's windfall just tops the previous record when converted to that currency.
In 2013, an anonymous Finish player won €17,861,813 on the Mega Fortune, which on the surface of things appears to be a bigger takedown. But the comparable pound/euro exchange rate of 1.3531 at the time of that win means Heywood beats the previous record by around €18,000 ($20,000), with €17,879,645.
Afghanistan Veteran
Heywood, who recently came back from a tour of Afghanistan, says he plans to spend the money on providing healthcare for his sick father who is due to undergo a lifesaving heart and lung transplant.
"It's amazing. The first thing I will spend it on is the best possible medical treatment for my dad," he told The Sun newspaper. "That's more important than anything. Family comes first and I'd give all this money back for him to be healthy again.
"I'm trying not to get carried away and I really don't know what else I'm going to buy with the money, apart from a yellow Bentley Continental GT," he added.
Heywood said he deposited £30 ($46) and was playing Mega Moolah, a Microgaming progressive, at 25p per spin when the jackpot hit "within seven minutes."
"I never even dreamed of driving a Bentley, let alone owning one. I've got a Fiat Punto at the moment," the still-stunned lance corporal noted.
Land-Based Record Still Stands
Progressive jackpots are generated across a network of online slots, sometimes from hundreds of different Internet casinos. Each time a player goes on the network, a portion of their bet is reserved for the progressive jackpot, which means prizes can climb into millions before they are hit.
Of course, while online progressive jackpots can be dizzying, they can also pale in comparison to their land-based counterparts. In March 2003, a player at the Excalibur Hotel and Casino in Las Vegas won just under $40 million for an investment of $100 playing the Megabucks slot.
The 25-year-old software engineer from LA defied odds of 16.7 million to one to become the biggest jackpot winner in history. Of course, a US win like that would likely garner an automatic 40 percent cut to the feds, making the win more like $24 million in take-home for the Los Angeles man.
Stunning to American gamblers is the reality that, in the UK, gambling winnings for non-professionals are tax-free.
Most Read

Latest Casino Stocks:
Retrieving stocks data...
Retrieving stocks data...
Retrieving stocks data...
Retrieving stocks data...
Retrieving stocks data...