10 of Boxing's All-Time Greatest Victories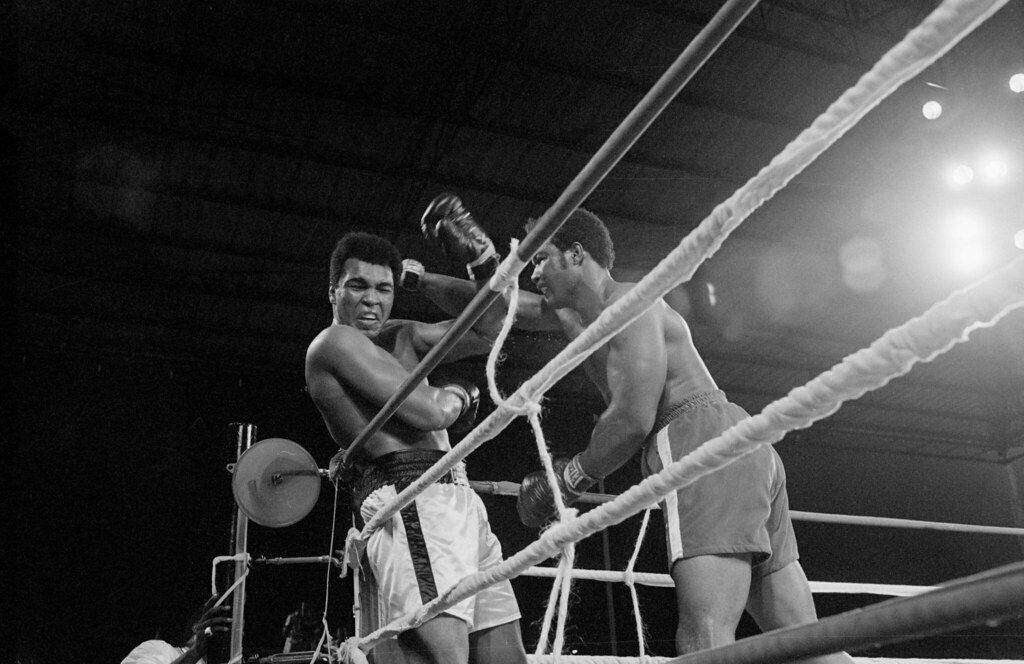 Throughout boxing's glittering history of great fighters, many remarkable performances have withstood the test of time and are forever looked back on for their overall significance.
Whether it was an extraordinary triumph over a previously undefeated champion, a masterclass showing over a legendary rival or a complete shock win within the ring, there is a clear criteria for what can be declared an "all-time great victory".
Here is a look back at many of the greatest ever victories achieved in the sport throughout history, showcased in chronological order.
1. Bob Fitzsimmons KO14 James J. Corbett (March 17, 1897)
Nevada had to legalise prize-fighting in order for this title showdown between two historic names to be permitted in front of 4,000 blood-thirsty fight fans on St. Patrick's Day, with a number of gunmen placed in each corner to ensure 'fair play'.
Corbett looked to be in control right up to the 14th and final round and even had Fitzsimmons on the floor.
But it was the man who jumped up from middleweight to heavyweight who landed a paralysing left hook to the champion's solar plexus to see him grounded and counted out on the canvas.
'Fitz' subsequently became boxing's first ever three-division king after one of the original body shot knockouts caught on film.
2. Sam Langford W15 Joe Gans (December 8, 1908)
Gans, known as "The Old Master", was one of the leading fighters at the time and the reigning lightweight world champion.
But "The Boston Bonecrusher" achieved an astonishing feat in overcoming Gans at the age of just 17.
Unfortunately for him the lightweight crown was not on the line, and he is still regarded as the greatest fighter to never win a world title to this day.
3. Joe Louis KO1 Max Schmeling II (June 22, 1938)
A year on from his shock maiden defeat at the hands of German conqueror Schmeling, Louis made it his priority to avenge that loss after finally getting his hands on the heavyweight title.
The weight and expectations of an entire nation were on the American but "The Brown Bomber" dealt with the enormous pressure and delivered a devastating first-round knockout on Schmeling; a seismic victory over a citizen of Nazi Germany during a turbulent period in time.
4. Jake LaMotta W10 Sugar Ray Robinson (February 5, 1943)
There was only one man that managed to beat arguably the best fighter ever to lace up a pair of gloves during the dominant first decade of his professional career, in which he had gone 40-0.
LaMotta ended Robinson's impressive unbeaten record, rallying late in their rematch and even knocking the consensus pound-for-pound greatest flying out of the ring on his way to a 10-round decision.
The magnitude of "The Raging Bull's'" victory is proven further by the fact Robinson did not lose another ring outing until eight years later against Randy Turpin. It could be argued this was his only ever setback while in his prime years and best weight.
5. Sammy Angott W10 Willie Pep (March 19, 1943)
Many consider Pep to be the most accomplished defensive master in pugilistic history, with "The Will of the Wisp" undoubtedly a true all-time great.
The featherweight genius was thwarted only once at the height of mastery, dropping a close non-title clash decision to Angott.
Prior to former lightweight champion "The Clutch" returning from a brief retirement to inflict his first career setback, Pep had rallied to 62 successive victories and afterwards he went a further 72 bouts unbeaten.
6. Willie Pep W15 Sandy Saddler (February 11, 1949)
It was the bigger and more powerful Saddler that triumphed when he first met bitter boxing rival Pep, securing a stunning KO win over the defensive wizard.
Though Pep produced probably his most extraordinary performance in the following year's rematch, outboxing his aggressive antagonist to earn a sublime one-sided decision.
This feat and the remainder of his ring success also came after a near-fatal plane crash two years beforehand, in which he sustained severe injuries and was told he would never compete again.
One of the great sporting comebacks.
7. Muhammad Ali RTD6 Sonny Liston (February 25, 1964)
It was landmark victory for Ali, who was then still Cassius Clay, when he toppled the heavyweight champion Liston and 'shook up the world' in a dramatic Miami meeting.
A young "Louisville Lip" had tormented the veteran title holder prior to the opening bell and was fined for his antics at the weigh-in.
Despite being partially blinded in the fifth round and calling for the fight to be stopped from apparent dirty tactics, Clay recovered and ultimately forced Liston to remain on his stool at the beginning of the seventh.
Without this historic triumph who knows how Ali's career would've turned out and how different the sport's landscape would look as a result.
8. Joe Frazier W15 Muhammad Ali (March 8, 1971)
'The Fight of the Century'.
It had everything. A monumental heavyweight title battle between two undefeated combatants. One of the most significant fights ever and the most epic in the division's rich history.
No other opponent ever beat as strong a version of the great Ali, with Frazier giving everything he had to overcome the man regarded as the greatest heavyweight of all-time.
"Smokin' Joe" was never the same in light of his legendary triumph, proving exactly how much of himself he left in the ring that night, in what was arguably the most influential and prominent single match-up ever.
9. Muhammad Ali KO8 George Foreman (October 30, 1974)
Ahead of this massive encounter, a 32-year-old Ali had already been trumped by both Frazier and Ken Norton, who Foreman had both previously taken care of in devastating fashion during his reign of supremacy.
But "The Greatest" showed his enduring class to outbox and eventually knock out the younger, stronger, bigger and more powerful champion in a stunning eighth round.
An incredible showing from an ageing Ali in 'The Rumble in the Jungle", considering most genuinely feared for him against the formidable power puncher in Zaire.
10. Roberto Duran W15 Sugar Ray Leonard (June 20, 1980)
The newest "Sugar Ray" had established himself as the finest pound-for-pound fighter in the sport and was the leading light at welterweight ahead of his first dust-up with 'Manos de Piedra' in Montreal, returning to the scene of his famous Olympic Gold glory.
Many questioned if a 29-year-old former lightweight moving up divisions could handle such a task and dethrone the reigning kingpin.
But Duran inflicted Leonard's maiden career defeat, ending a run of 27 consecutive victories, with a performance for the ages to rally to a unanimous decision over 15 incredible rounds.
Other all-time great wins: Ezzard Charles W10 Charles Burley (May 25, 1942), Eddie Booker TKO8 Archie Moore (January 21, 1944), Wilfred Benitez W15 Antonio Cervantes (March 6, 1976), Joe Walcott TKO7 Joe Choynski (February 23, 1900), Buster Douglas KO10 Mike Tyson (February 11, 1990), Esteban de Jesus UD10 Roberto Duran (November 17, 1972), Sugar Ray Leonard TKO8 Roberto Duran (June 20, 1980), Roberto Duran SD12 Iran Barkley (February 24, 1989), George Foreman KO10 Michael Moorer (November 5, 1994), Juan Manuel Marquez KO6 Manny Pacquiao (December 8, 2012), Randolph Turpin W15 Sugar Ray Robinson (July 10, 1951).
Sources:
https://www.boxingnewsonline.net/on-this-day-jake-lamotta-ends-incredible-unbeaten-run-of-sugar-ray-robinson/#
https://boxrec.com/en/proboxer/9026
https://www.thefightcity.com/june-22-1938-louis-vs-schmeling-ii-rematch/ https://tss.ib.tv/boxing/featured-boxing-articles-boxing-news-videos-rankings-and-results/48806-sammy-angott-defeats-62-0-willie-pep
http://www.thesportsfanjournal.com/sports/boxing/willie-pep-greatest-comeback-story-sports-history/
https://www.theguardian.com/sport/2019/feb/26/cassius-clay-defeats-sonny-liston-world-heavyweight-boxing-champion-1964