The Best Boxing Rivalries of All Time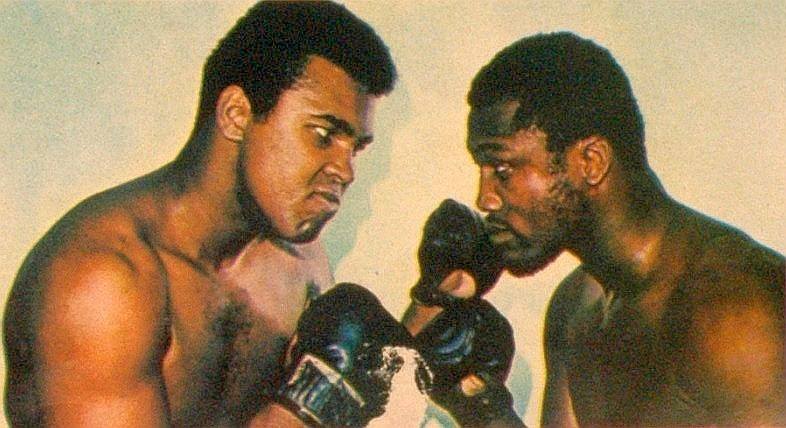 Boxing's best rivalries go beyond just fights. The greatest rivalries produce exceptional real-life storylines, offer up unmissable action for a legion of fans on a national or even global level and leave a lasting mark on history.
As our lengthy 'other great rivalries' list below the main picks confirms, there are no shortage of riveting boxing rivalries to focus on.
But here are some of the most influential and compelling of all time, in no particular order. Check them out and feel free to debate our list of the biggest boxing rivalries in history:
1. Sugar Ray Robinson & Jake LaMotta
"The three toughest fighters I ever faced were Sugar Ray Robinson, Sugar Ray Robinson and Sugar Robinson. I fought Sugar so many times, I'm surprised I'm not diabetic," Jake LaMotta.
Every great fighter needs a great rival and they don't come much greater than Sugar Ray Robinson.
Jake LaMotta inflicted his first career loss in 1943 but it was Robinson that prevailed in five of their six battles, including the most famous 'St. Valentine's Day Massacre' in 1951.
2. Manny Pacquiao & Juan Manuel Marquez
"He's not getting up Jim, he's not getting up," Roy Jones Jr.
Lots of blood, plenty of knockdowns and one of the greatest ever one-punch knockouts in history; this four-bout modern day rivalry had everything.
Manny Pacquiao and Juan Manuel Marquez were two of the very best fighters in their era and all four clashes were highly competitive and never short on drama.
A rivalry for the ages and one that will only be looked back on even more fondly as time goes on.
3. Harry Greb & Gene Tunney
"Greb gave me a terrible whipping. If boxing was afflicted with the commission doctors that we have now, the first fight probably would have been stopped and no one would have heard of me today," Gene Tunney.
Former world heavyweight champion Gene Tunney, the man who twice toppled Jack Dempsey, retired in 1928 with a sole defeat on his record.
That loss came at the hands of the one and only Harry Greb six years earlier, though he officially lost their other four fights, some controversially.
Following Greb's tragic death at just 32, Tunney would be among the pall-bearers at his funeral.
4. Ted Lewis & Jack Britton
"You rate a fighter by longevity, and for years Ted Lewis beat the greatest American fighters for years, it's unbelievable the guys he had to fight! The Who's Who of Boxing, the greatest of the great, and yet he still prevailed as number one," Mike Tyson
This boxing rivalry is included on sheer volume, with the two fighters having met an astounding 20 occasions, including six world title fights.
Obviously, 20 bouts and 224 rounds is enough to qualify Ted Lewis and Jack Britton as a historically significant rivalry but doubts have always lingered over the legitimacy of the majority of their match-ups at a time when match-fixing was rife.
5. Arturo Gatti & Micky Ward
"Anytime you go 30 rounds with a guy, try to kill each other, and have the most respect for each other, no one understands that, but guys who have been to war understand it," Micky Ward.
These two men gave their absolute all in a brutal trilogy, while the 30 exhilarating round they shared saw their rivalry ultimately forge a lasting friendship.
6. Marco Antonio Barrera & Erik Morales
"It was a sporting rivalry that unfortunately got personal, but in the end, what people remember us for are those great fights that we gave to the sport," Erik Morales.
National pride was at stake in three thrilling clashes in a truly intense Mexican rivalry.
The wars between Marco Antonio Barrera and Erik Morales stemmed from undeniable hatred for each other but cemented both their legacies.
7. Tony Zale & Rocky Graziano
"It straightened me up, tightened me all over, so it even clogged up my ears. Then I heard 'eight, nine, ten.' It all came so fast," Rocky Graziano.
In terms of complete action and brutality, few rivalries can match that of Tony Zale and Rocky Graziano. The pair served up three timeless classics from 1946 to 1948.
8. Willie Pep & Sandy Saddler
"Pep-Saddler was the ultimate rivalry between two different men and fighters," Jack Hirsch.
There was little respect between Willie Pep and Sandy Saddler across four dramatic meetings and their contempt for each other was proven in the fourth bout, regarded as one of the dirtiest in history.
Remembered as one of the pound-for-pound greatest and a defensive specialist, Pep bounced back from a stunning knockout upset to Saddler with an outstanding performance in their rematch to regain the featherweight title.
9. Roberto Duran & Sugar Ray Leonard
"I was born a fighter and I will die a fighter. In this story there is only one legend. That's me," Roberto Duran.
These two members of the Four Kings were involved in a special boxing rivalry and one of the most famous in the sport.
There were three battles in total but it was the first two successive clashes in 1980 that produced the foundation of their unforgettable rivalry.
11. Israel Vazquez & Rafael Marquez
"I had to avenge my loss and my broken nose. So from the first round I started until the last round, I gave it my all," Israel Vazquez.
The rivalry between Mexican combatants Israel Vazquez and Rafael Marquez is one of the most ferocious and one which gave us four pulsating battles.
Back-to-back Fight of the Year awards in 2007 and 2008 showcased some of the best boxing rematches in history but the punishment each man absorbed caused widespread discouragement for any mooted fifth bout.
12. Muhammad Ali & Joe Frazier
"Joe Frazier is a good man, and I couldn't have done what I did without him, and he couldn't have done what he did without me. And if God ever calls me to a holy war, I want Joe Frazier fighting beside me," Muhammad Ali.
There is no denying that in the rich history of boxing, no rivalry has had a greater sporting and cultural impact than that of Ali and Frazier.
Their maiden clash was dubbed 'The Fight of the Century' and the showdown between two undefeated claimants for the heavyweight crown somehow lived up to all expectations.
When it comes to sporting rivalries, this one between two all-time greats is undoubtedly the benchmark.
Other great boxing rivalries: Sugar Ray Leonard & Thomas Hearns, Chris Eubank Snr & Nigel Benn, Muhammad Ali & George Foreman, Marvin Hagler & Tommy Hearns, Carl Froch & George Groves, Mike Tyson & Evander Holyfield, Marvin Hagler & Thomas Hearns, Jack Dempsey & Gene Tunney, Alexis Arguello & Aaron Pryor, Henry Armstrong & Baby Arizmendi, Cocoa Kid & Holman Williams, Sugar Ray Robinson & Gene Fullmer, Stanley Ketchel & Billy Papke, Barney Ross & Jimmy McLarnin, Sam Langford & Harry Wills, Joe Gans & Battling Nelson, Tiger Flowers & Harry Greb, Jersey Joe Walcott & Ezzard Charles.
Sources:
http://balltribe.com/boxing/on-this-day-in-boxing-history-jack-britton-and-ted-lewis-fight-for-the-last-time/
https://insideandoutsidetheropes.wordpress.com/2017/08/24/20-bouts-jack-britton-vs-ted-kid-lewis/
https://www.irishcentral.com/tragic-end-to-ring-rivalry-irish-micky-ward-mourns-arturo-gattis-death-50846912
https://bleacherreport.com/articles/2559166-recalling-the-trilogy-between-erik-morales-and-marco-antonio-barrera#slide0
http://fightland.vice.com/blog/slacks-greatest-rivalries-willie-pep-versus-sandy-saddler