Apostrophe Bar Opens at Caesars Palace, Replete With Signature Cocktails
The new Apostrophe Bar has opened at Caesars Palace. The bar is at the crossroads of the Bacchanal Buffet, Rao's Italian restaurant and Payard Patisserie.
The new bar takes the place of what was once a charming, old-school fountain. We were there when the original fountain was magically transformed into old-school rubble.

We were also there to provide a peek behind the curtain as construction of the new Apostrophe Bar was being completed. Mainly because we don't have a life, per se.

Now, the $1.3 million Apostrophe Bar is open and appears to be a hit with Las Vegas visitors. This is due, at least in part, to the prime location, just feet away from the sometimes long lines at the Bacchanal Buffet.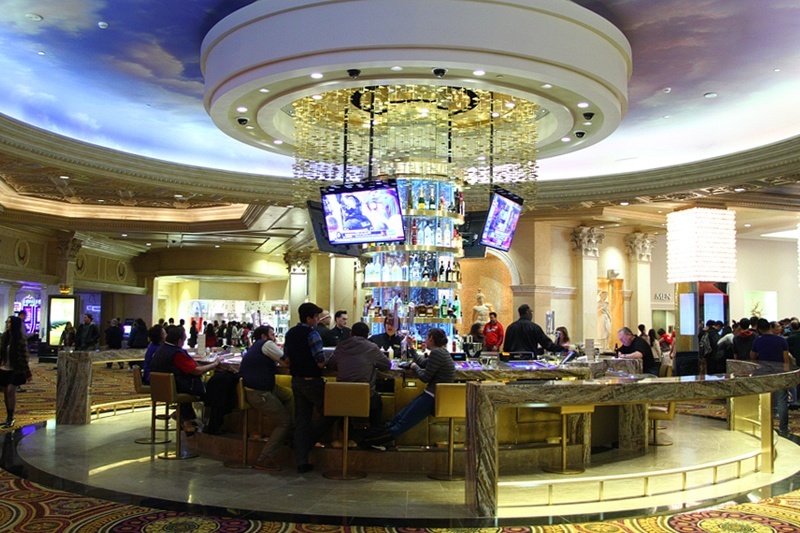 The bar is striking thanks to, among other things, a central column filled with bubbling fluid.

The "apostrophe" in Apostrophe Bar relates to the name of Caesars Palace, often written incorrectly as "Caesar's Palace," with an apostrophe. The founder of Caesars, Jay Sarno, was adamant that the name not have an apostrophe, because at Caesars Palace, "We're all Caesars."
The bar has a number of decorative flourishes and several TV screens, because in Las Vegas, a plethora of TVs is required in any establishment serving alcohol.
Apostrophe Bar has a solid selection of signature cocktails. We've got the full menu, if you're not too busy to click on this link thingy.

Signature cocktails run in the $14-15 range, unless you're playing video poker, of course. There's a drink called The Missing Apostrophe, and others called The Sarno, Downing Street and Kentucky Bee.
There's also a cocktail called 1971. We have no idea why it's named that, unless that year signifies the year "Diamonds Are Forever" was released. A little-known fact is that the aforementioned Jay Sarno played a sideshow barker in the movie (uncredited). Sarno's other hotel project, Circus Circus, was used as a location in the classic film, too.
The beer selections are slim at Apostrophe Bar, but there's a good mix of wines by the glass or bottle.
We love us some Vegas newness, especially when there's video poker (about a dozen games) and hooch involved. By replacing a water feature and public gathering space, Apostrophe Bar continues the trend of squeezing profit from every possible square foot at Caesars Palace (see also: Caesars Palace skating rink).
Granted, the profit is squeezed with flair. It's Las Vegas, after all.