The Latest at Plaza: Carousel Bar, Pinkbox and More
We figured it was time to share an update about the construction going on at Plaza.
Plaza has a lot of new offerings in the works: Carousel Bar, Pinkbox Donuts, as well as expansions of its casino and Oscar's Steakhouse.
Emphasis on bar.

Carousel Bar will debut first, with the bar's carousel-themed accessories to be installed early next week. The bar has been built off-site, but the horsies, martini glass and other design elements will be in place shortly.
Carousel Bar will open mid-April.
Here's the rendering for the finished product.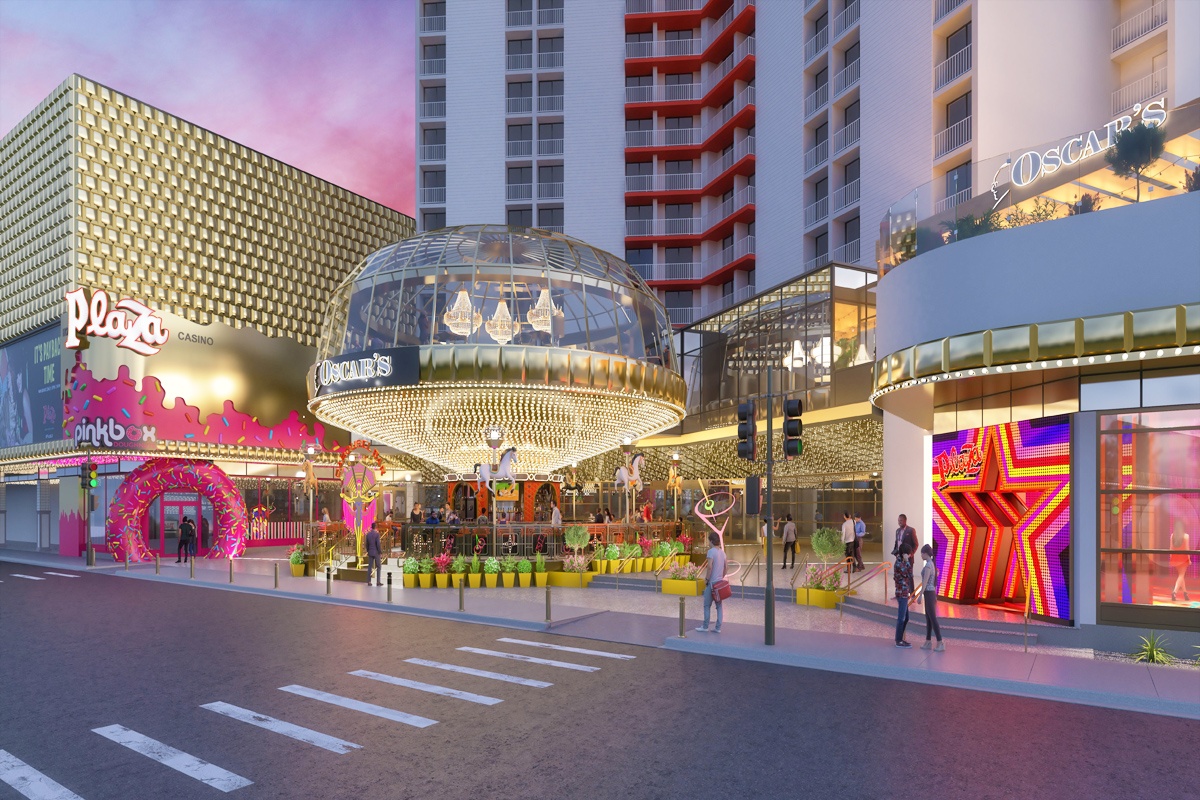 Here's a quick walk-through of the various venues. Or, more accurately, walk-around. Or, more accurately, a stumble around. Whatever. It was dark and we are easily distracted.
Pinkbox Donuts is expected to open next, in early May 2023.
Here's a look at the new doughnut shop, a work in progress.

Plaza CEO Jonathan Jossel just shared a fresh rendering of Pinkbox.
If you hate it or love it I don't mind just talk about it 😃 @PlazaLasVegas pic.twitter.com/VO93lWEIkF

— Jonathan Jossel (@JonathanJossel) March 24, 2023
We simultaneously love and hate the Pinkbox design, which is what makes it interesting. It's garish and completely out of place as the most visible part of a classic downtown casino, but we also love doughnuts, so there's that.
We have mixed feelings about a lot of things about Las Vegas, including our beloved former mayor, Oscar Goodman. Plaza hosts a fantastic speaker series inside Oscar's Steakhouse, where Goodman (husband of the current Las Vegas mayor, Carolyn Goodman) regales guests with stories from his lawyering days. Many of the stories feature Goodman successfully defending murderers. You can love America and fighting the fight and Goodman's undeniable brilliance as a lawyer and still dislike the fact he helped criminals evade punishment. In one case, a dentist was accused by seven women of sexually abusing them while they were under the influence of painkillers. Goodman helped the guy walk. Which is pretty much the definition of "mixed feelings." Everyone deserves a legal defense, but sometimes we wish Oscar Goodman had been a little less good at his job. Ditto when Goodman befriended and successfully defended mass murderer and noted psychopath, Anthony Spilotro. Oscar Goodman played himself in the award-winning film, "Casino," Tony Spilotro was depicted by Joe Pesci. Goodman says only nice things about Spilotro, because "The Ant" was complicated and was nice to Goodman and his family. Mixed feelings galore.
Highly recommended: Goodman's "Being Oscar" to get a better sense of his history and world view. Also listen to Plaza's podcast, "On the Corner of Main Street" to hear past Goodman talks. The dinner series sells out, and won't last forever, so visit Plaza's Web site for details.
In Las Vegas, you have to get good at compartmentalization.

Anyway! Speaking of Oscar's, the popular restaurant is getting an expansion.

Here's a rendering of the Oscar's patio.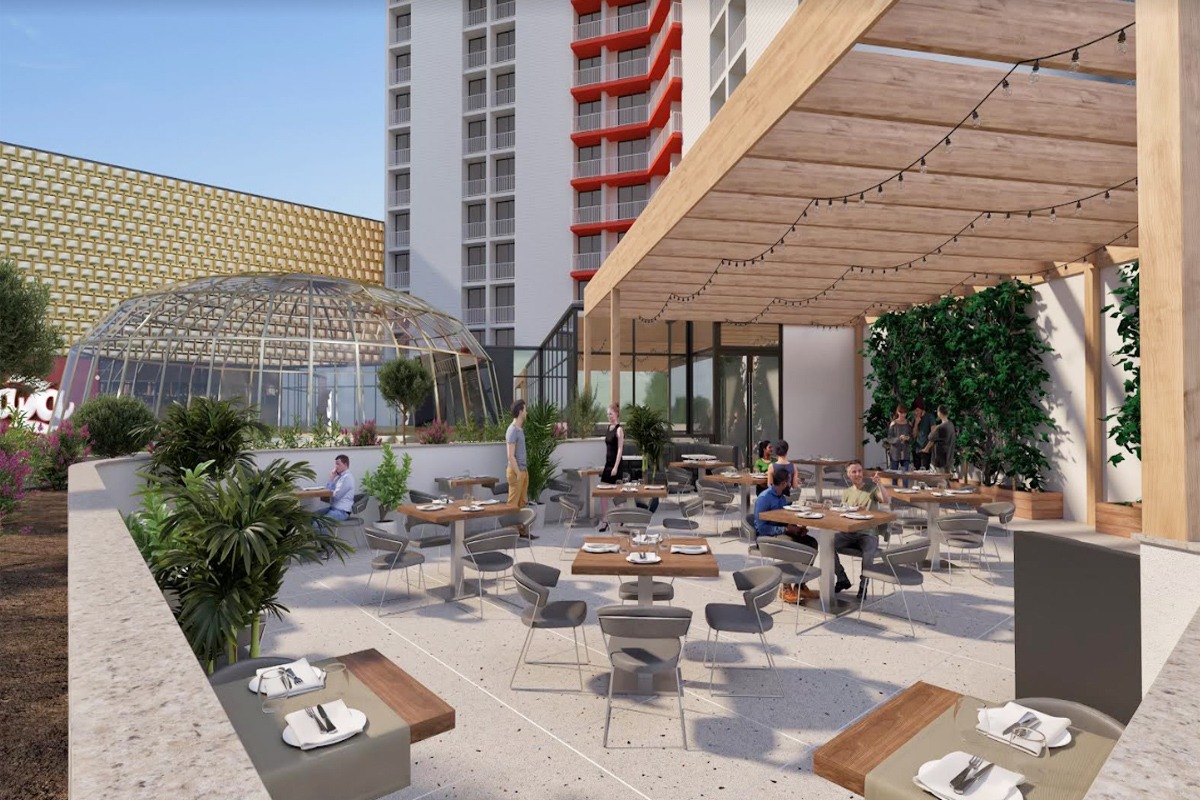 And the last update is about the new smoke-free casino expansion. The main casino at Plaza will allow smoking, but this new area will ban it. You know, the way all places where people gather should be.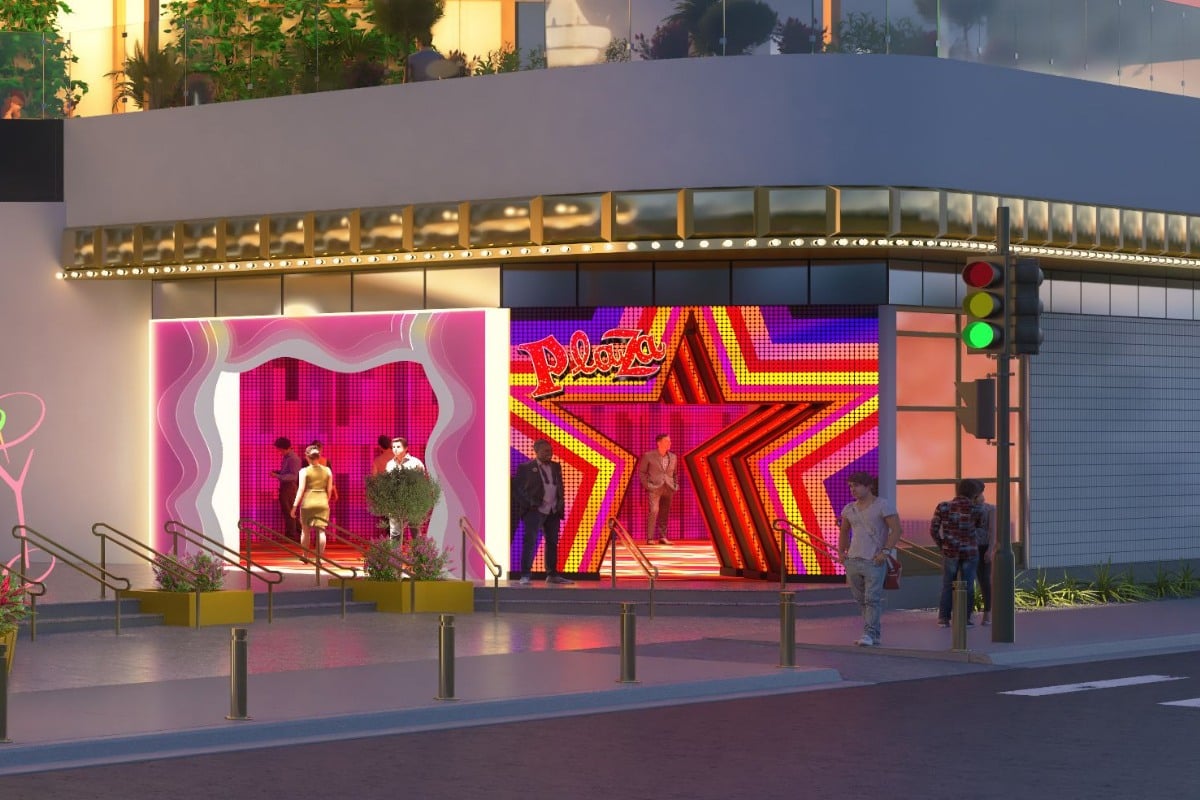 The Oscar's expansion and new casino space should open by late May.
While the different venues will open at different times, there will be a grand opening of the whole shebang in June 2023.
Honestly, we didn't visit Plaza all that often until relatively recently. Specifically, since the opening of Sand Dollar. We hate loud, live music, and that's sort of why Sand Dollar exists. For some reason, we love Sand Dollar and it has become one of our go-to spots downtown.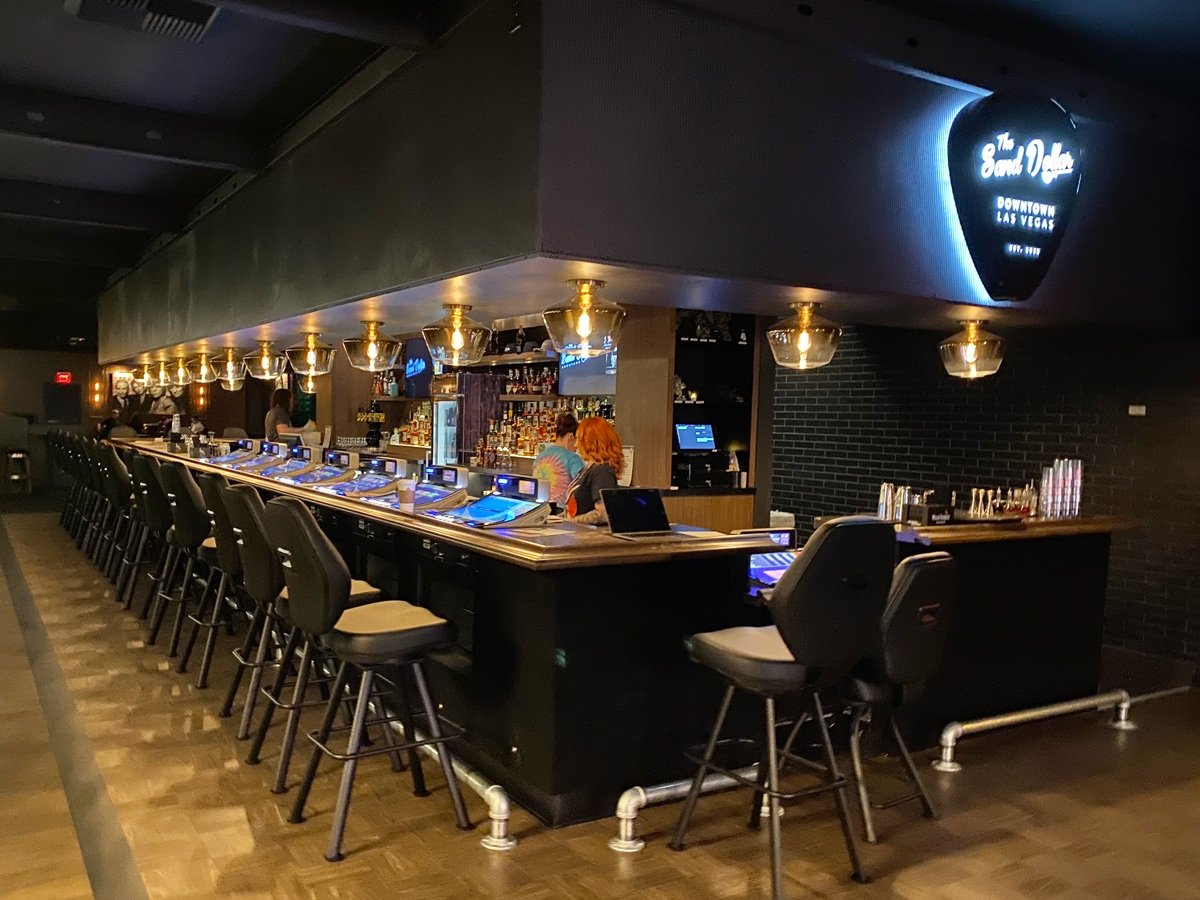 The drinks at Sand Dollar are great, as are the bartenders, and the video poker is exceptional. The pizza served there, from the nearby Pop-Up Pizza, is fantastic.
Pizza at Sand Dollar from Pop-Up Pizza @PlazaLasVegas is outstanding. Didn't try the weird veggie one, but it got good reviews from others in our party. Bonus: Free delivery to your video poker machine. pic.twitter.com/uUOBRqItDO

— Vital Vegas (@VitalVegas) July 9, 2022
Plaza is making the most of its most popular offerings, and trying something new with the very visible doughnut shop (it didn't do much as a party pit, and was a disco-themed photo op for a minute).
It remains to be seen how an outdoor bar will fare in the heat of the Las Vegas summer (average temperature: kiln), and we aren't really sure how Plaza will get approval for video poker at the bar, unless it never closes, which seems unlikely. Gaming regulations and such. The only similar bar is Rematch at Linq, and that one's much less exposed.
Still, outdoor bars along Fremont Street Experience are printing money, so it's about time Plaza got a piece of the action. The only casino still dragging its feet is Fremont casino, despite being an ideal location for an outdoor bar. Fremont is owned by Boyd, and the old-school theory is an outdoor bar would draw guests away from the slot machines. Translation: Boyd is leaving millions and millions of dollars on the table. The competition isn't mad.
The Carousel Bar will increase visibility of Plaza from Fremont Street, which should mean more foot traffic and gambling, too. Plaza is player-friendly, including one of the only single zero roulette tables in Las Vegas that's not in a high limit room.
Our fellow youths don't know what they're missing. @PlazaLasVegas pic.twitter.com/rMwxDB3nbi

— Vital Vegas (@VitalVegas) March 23, 2023
Doughnuts tend to be a morning thing, but they're also the perfect solutions to one's drunchies if one is carousing on Fremont. Not that we'd know anything about that personally, this is purely anecdotal.
The smoke-free casino expansion is being positioned as an "experiment" of sorts, to see if smoke-free will draw more play or under-perform and Plaza management will presumably have to cave to gamblers demanding chronic coughing and copious phlegm. Should the smoke-free casino area falter, you can bet it will be used as yet another misguided example of how smoke-free casinos fail, rather than what it really is: An example of "Correlation does not imply causation." Everyone's got a narrative. We just like the idea of "more casino."
For the record: Copious Phlegm would make a decent band name.
That's about it from Plaza. We're still awaiting word about how the casino will use the former Greyhound station, once a magnet for crime. There might be an art exhibit in there now, but you can't get a handpay from art, so meh.
As we write this, a source at Plaza says next week the casino will host a social media influencer who will let a parrot choose red or black on a roulette table, and the influencer will then bet $10,000 on whatever the bird chooses. In other words, downtown is different, and we can't wait to check out all these new spots as they open at Plaza, also known as "Biff Tannen's Pleasure Paradise Casino & Hotel."
If you know, you know.