The D Expands Bar Canada, Previews Bacon Nation, Saves Sigma Derby
There's a lot going on at The D in downtown Las Vegas, so let's take a gander.
It's at this point we interrupt our update with the fun fact a "gander" is an adult male goose. Geese are always craning their long necks to look at things. Isn't it interesting cranes also crane their necks? One of the most common cranes is the sandhill crane, or "Antigone canadensis." "Canadensis" means "from Canada."
We knew if we kept typing long enough, we'd get back on track, because The D recently unveiled an expansion of its hockey-themed bar, Bar Canada.

Bar Canada has nearly doubled in size, and now sits at 92 feet. "Soree," 28.2 meters. Because Canadians measure things in metrics and talk funny, in case that weren't clear.
For comparison purposes, the aforementioned Longbar at The D, once touted as the longest bar in Nevada, is slightly less than 100 feet. Yes, we measured it. We don't just blindly believe touting. We say "once touted" because Megabar at Circa is 165 feet long.
Since Megabar opened, there have been discussions about renaming Longbar to "Longishbar," but then they'd have to replace all the signs and whatnot.
The newly-expanded Bar Canada features a substantial increase in the number of video poker machines (29, previously 20), TVs and attractive bartenders. Do not trying to tip them in metric dollars, that's crappy.

We prefer the nearby Vue Bar for video poker, partially because of the sports, but mostly because when we've played, there's a weird glare on the video poker machine screens from the overhead lights. Other people don't seem to mind it. We can be particular.
Bar Canada is quite popular (we took photos early in the day so you could actually see the bar), hence why it was expanded. They do shots on skis, among other things. It's also near the sportsbook.
From what we can tell, Bar Canada's expanded into the former D Showroom space. The showroom closed in late 2019.
Most of the shows—"Marriage Can Be Murder," "Friends, The Unauthorized Musical Parody" and "Laughternoon"—found a new home at The Orleans. Happily, "Defending the Caveman" didn't. Yeah, we said it. The jokes were 30 years old.
Fans of the classic horse-racing slot machine, Sigma Derby, will find the object of their obsession has moved closer to Bar Canada.

Sigma Derby has a cult following, and everyone had a freak-out when Sigma Derby was moved. The machine was down a couple of weeks for maintenance, but the thorough overhaul has been completed, she's been running smoothly ever since. Yes, it's a she. We checked. Consensually.
If you haven't tried Sigma Derby, it's sort of a thing. It's coin-operated, so get ready to get your fingers dirty. Sigma Derby has a fun communal vibe, and can get rambunctious at times. It's all part of the fun, as is the fact it's relatively cheap to play and drink service tends to be attentive.
Our best Sigma Derby tip comes from a longtime player: Sigma Derby players can predict the outcome of races by some telltale foliage along the game's racetrack. Sadly, the bets are already locked by that point.
Quote of the day: "You can tell which horses will win when they hit the dirty bush." #SigmaDerby @theDlasvegas pic.twitter.com/xpiqZ2o2g3

— Vital Vegas (@VitalVegas) June 29, 2022
A big part of The D's second floor revamp is Bacon Nation.
Bacon Nation will be a 24/7 cafe, with an emphasis on, wow, if we have to tell you, you must've experienced some sort of brain injury recently. You should have that looked at.
Anyway, there's lots of bacon.
The restaurant is expected to open by Halloween.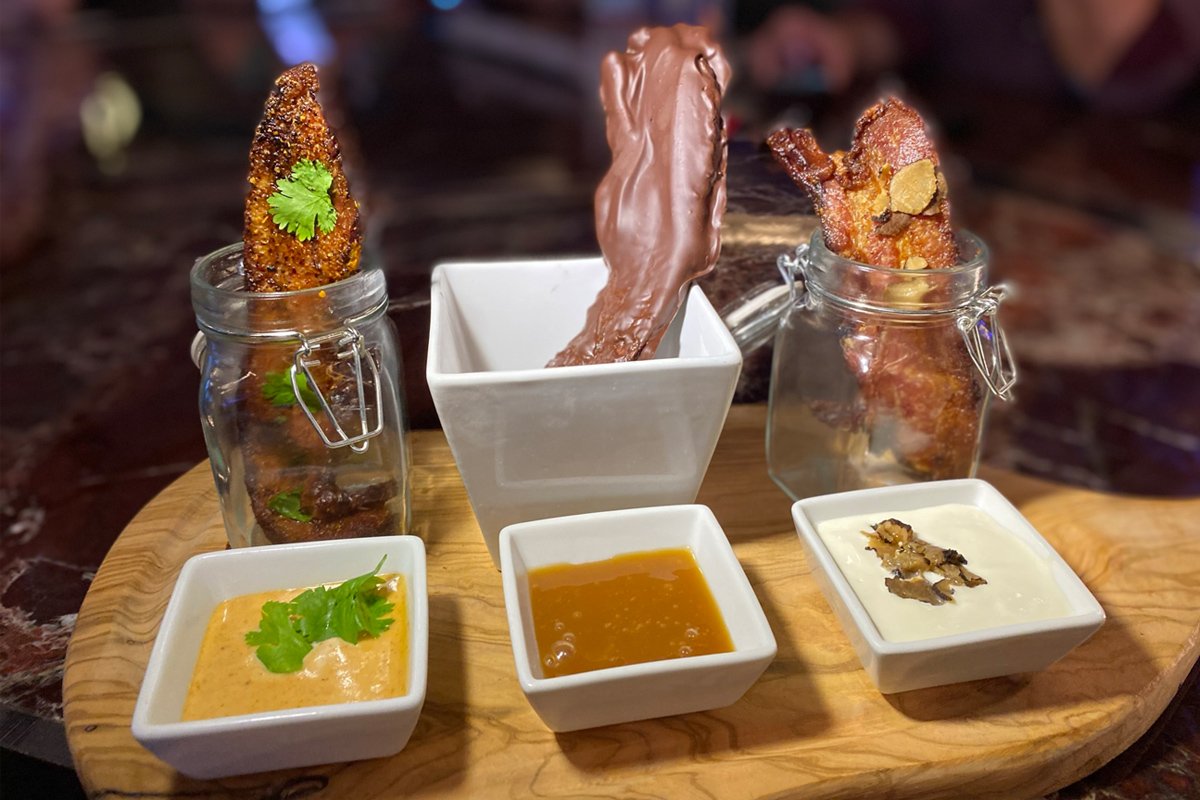 We got a sneak peek (and taste) of some menu items at Bacon Nation recently, which is impressive given the Bacon Nation kitchen doesn't exactly exist yet.
Here's a walk-through of the venue.
There's been some additional progress made since our video.
Bacon Nation breach. @theDlasvegas pic.twitter.com/F1iclxPhsv

— Vital Vegas (@VitalVegas) October 1, 2022
Here's the Bacon Nation menu. There are two pages, so don't bail just yet. You haven't seen the bacon-weaved bun yet.

Here's page two of the Bacon Nation menu.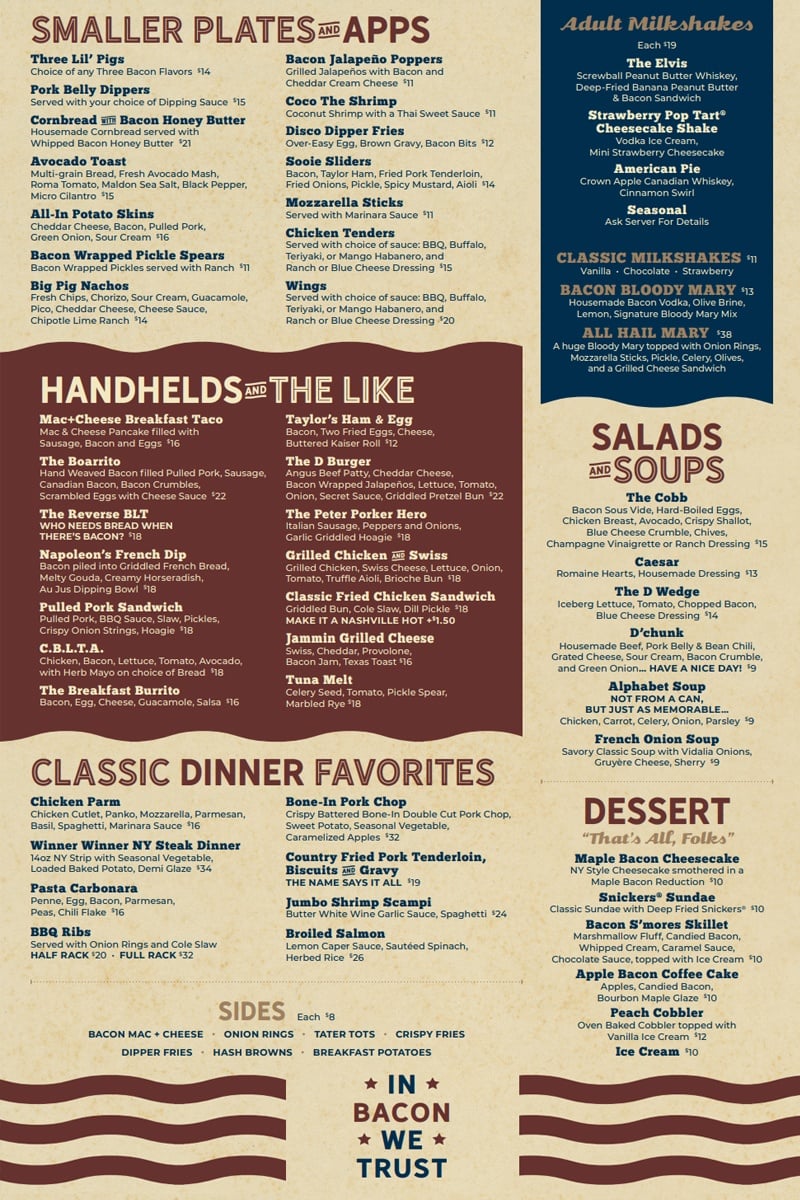 As mentioned, it's not just about the bacon, but bacon is a great marketing hook.
Bacon Nation is in the former D Grill space, and is close to Bar Canada, of course, because Canadian bacon is a thing. We're pretty sure The D didn't plan it that way, but that's just the kind of connecting the dots you've come to expect and dread from this blog.
One of the most photogenic items was a Reverse BLT, with a bacon-weaved bun. When we shared a photo of this item, the Tweet got about 80,000 views. Apparently, bacon hasn't peaked just yet.

Also photogenic is the French Toast Box.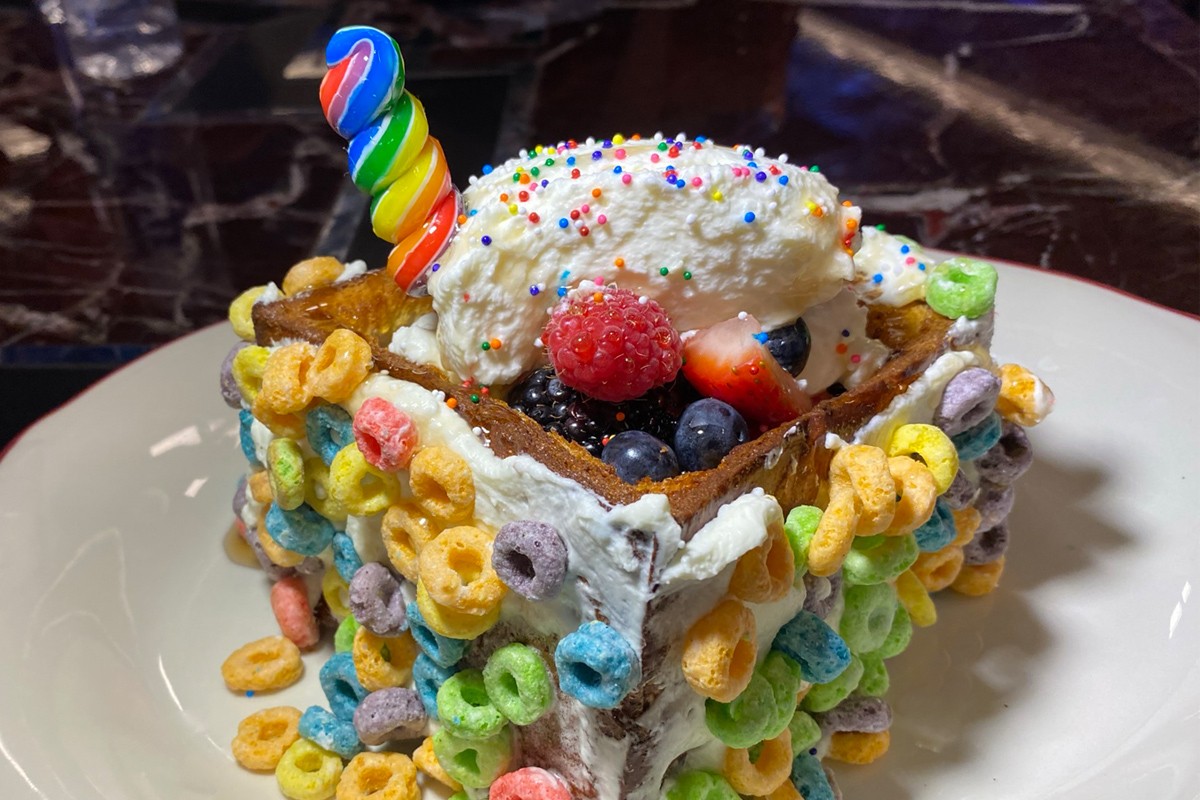 Bacon Nation will also serve some impressive Bloody Marys. Yes, Bacon Nation will have alcohol.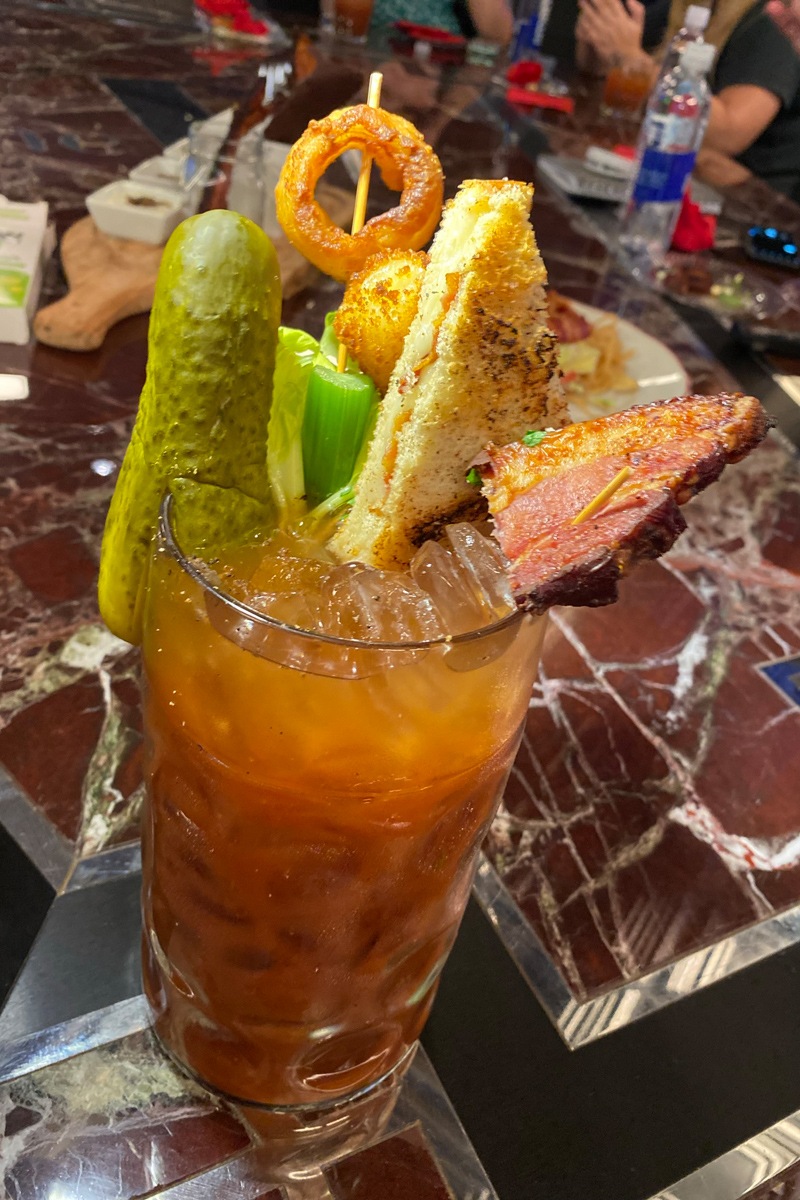 Bacon Nation comes from Chef Josh Green of Downtown Hospitality Group. Downtown Hospitality Group is also behind 18 Bin in the Downtown Las Vegas Arts District.
Learn more about Bacon Nation at the official Web site.
We love the dining options at The D, Andiamo Steakhouse and American Coney Island, but a 24/7 cafe should fill out the line-up nicely.

You know we'll be back to check the place out when it opens.
We trust that brings you up to speed on all the latest developments at The D.
While the newish Circa Las Vegas (from the same owners as The D and Golden Gate) has stolen the spotlight a bit from The D, we continue to frequent this popular downtown casino for its energetic vibe, long pours, high limit Top Dollar machines, dancing dealers and, of course, Sigma Derby.
Soon, there will be bacon, and we may never need to leave.