Shake Shack Las Vegas Is Ready for Strip Debut at New York-New York
Few restaurant openings in Las Vegas have garnered as much buzz as the impending opening of Shake Shack at New York-New York.
The much-anticipated opening finally happens Dec. 29, 2014 at 11:00 a.m.
When we stopped by today, Shake Shack's construction walls were down, and employees were busily training inside.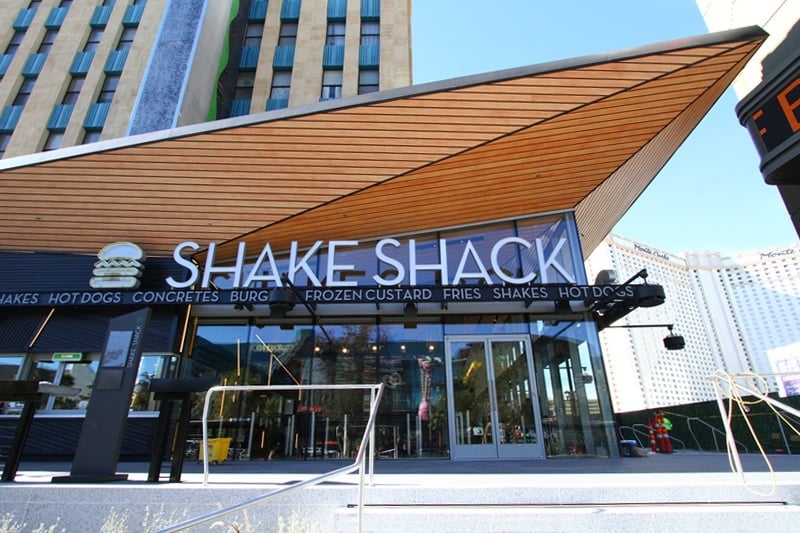 The first Shake Shack opened in New York City's Madison Square Park in 2004. The Vegas restaurant faces Las Vegas Boulevard at New York-New York, adjacent to The Park, a new shopping and entertainment promenade. The new restaurant features a 2,500-square-foot patio.
Fun fact: The tabletops at Shake Shack Las Vegas will be made from reclaimed bowling alley lanes. Read more.
Shake Shack will be open from 11:00 a.m. until midnight, Sunday through Thursday and 11:00 a.m. to 2:00 a.m. Friday and Saturday.
Expect a wait once Shake Shack opens. There's a lot of pent-up demand. Why do people love Shake Shack so much? Apparently, it's the burgers, Shack sauce, crinkle fries, custard shakes, hot dogs, great customer service, vegetarian options and a secret menu, too. We're ready to try them all. Except for the vegetarian items, of course. Let's not go nuts.