Security Breach-a-Palooza: Catching Up On a Metric Ass-Ton of New Things at Caesars Palace
Wow. What a difference a few weeks makes in Las Vegas.
During a recent visit to Caesars Palace, we were so overwhelmed with all the Vegas newness, we nearly swooned. And we're not typically a swooner, except in the presence of Kim Kardashian magazine covers.
First, the hotel's Race & Sports Book has sprouted a serpentining $1.6 million bar. It's impressive, and has completely transformed this beloved sports book. Unfortunately, photos aren't allowed in the casino, so we won't be able to share the photo below. Or it would be considered a security breach.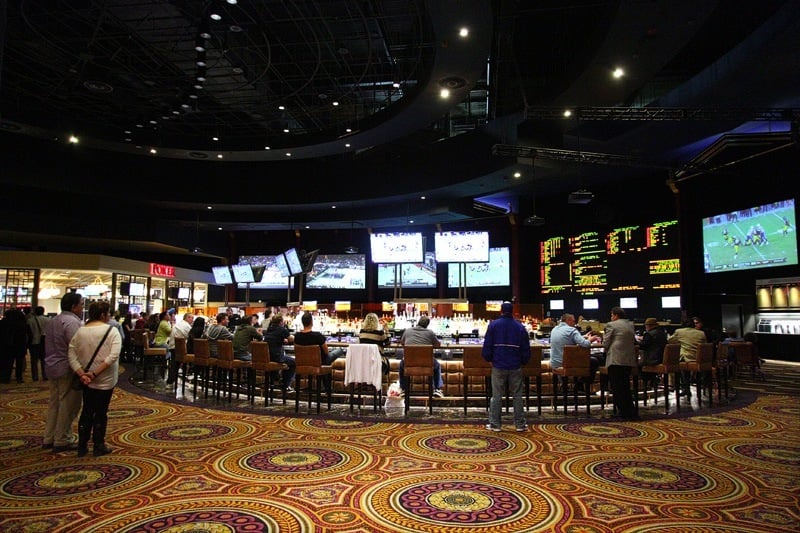 Behind the new bar is a two-level seating area. The sports book butts up against the casino's poker room. Note: Typically, in Las Vegas, butting up against things costs extra.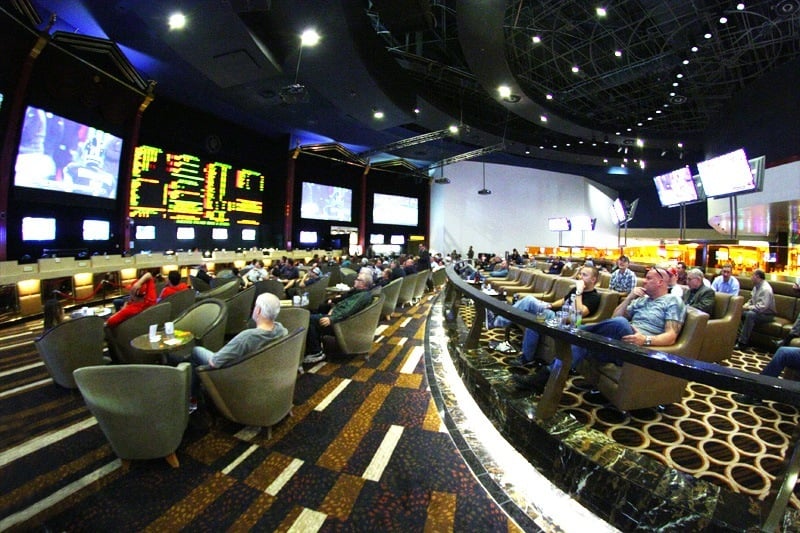 Next to the Caesars Palace sports book is a gigantic construction wall. This is either the space where Pure nightclub will transform into Omnia, or an open invitation to Banksy.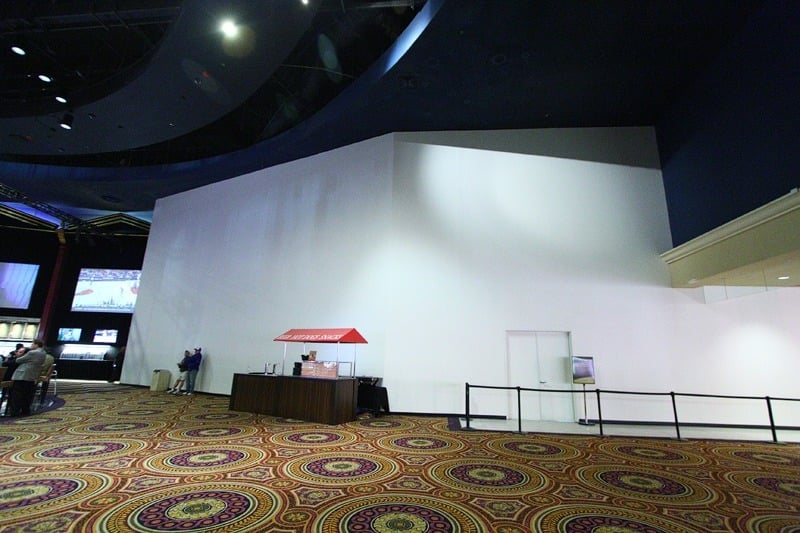 A few feet farther is the space formerly occupied by Munchbar, which we always thought sounded a little dirty, but we didn't want to say anything.
Munchbar will be replaced by Searsucker restaurant. The restaurant is being brought to Caesars Palace by Hakkasan Group, the nightclub company that's also shape-shifting Pure into Omnia (for nearly $40 million). Unless everybody in Las Vegas buys, like, a thousand hot dogs each.

Searsucker, in the running for "Worst Restaurant Name, Ever," will be 7,500-square-feet and have "design highlights that include coarse rope chandeliers that look like lassos, neon 'Eat' signs, tumbleweed-shaped light fixtures and rustic wood and marble tables, as well as several large whimsical paintings on the subject of food." A cowboy culture theme in the middle of a Roman-themed hotel sounds like a match made in heaven, because we all know how well things went in "West World."
Read more Searsucker. Moving on.
Elsewhere in the casino, there's a new Starbucks where Java Coast used to be, near the former Cypress Street Marketplace food court. Don't jump ahead.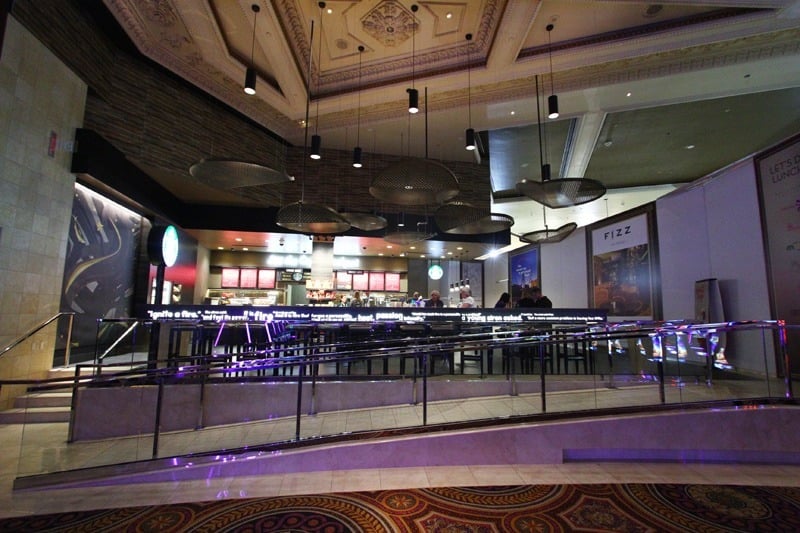 And, yes, the Cypress Street Marketplace has been walled and curtained off. A $2.9 million retooling of the space is in the works.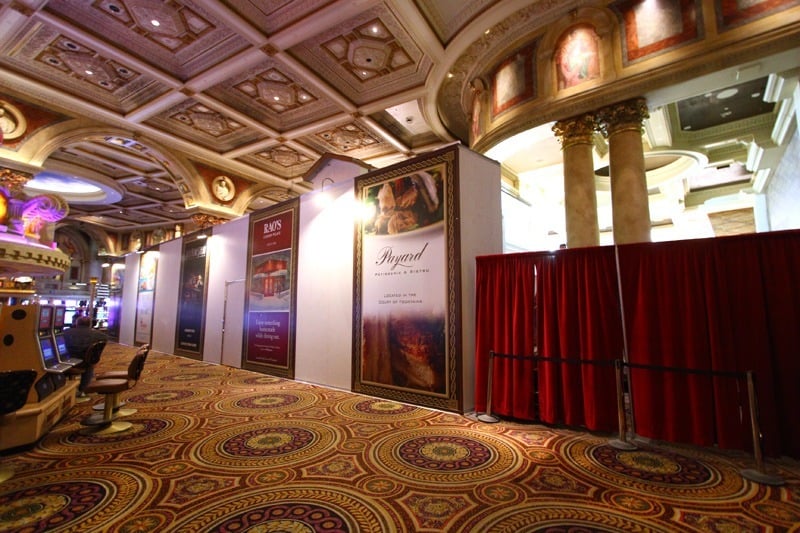 How far along is the renovation? How would we know? Did you skip the part about there being walls around the construction area? What are we, serial security breachors? (Don't answer that.)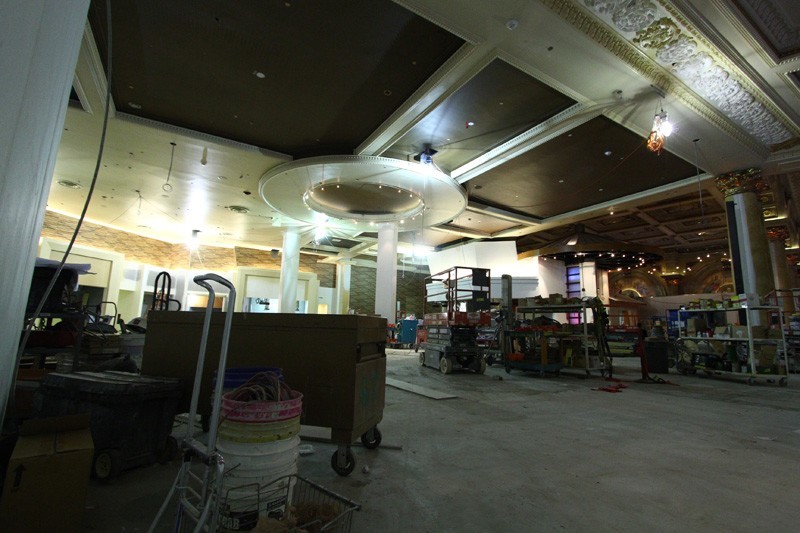 Why we're fascinated by behind-the-scenes construction photos, we may never know. Stop with the psychoanalysis and just enjoy.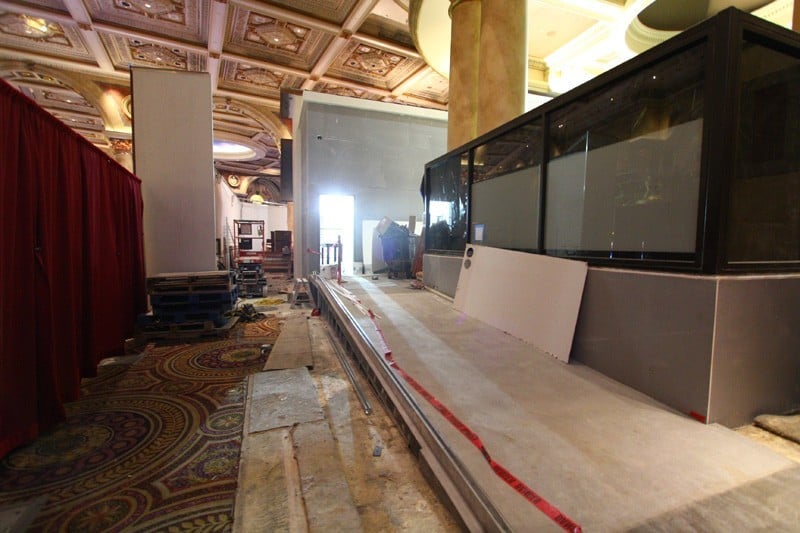 Time to head into the Forum Shops at Caesars Palace.
You know the Forum Shops. It's that shopping complex we tend to only mention when we have a photo we want to show off. Yeah, that Forum Shops.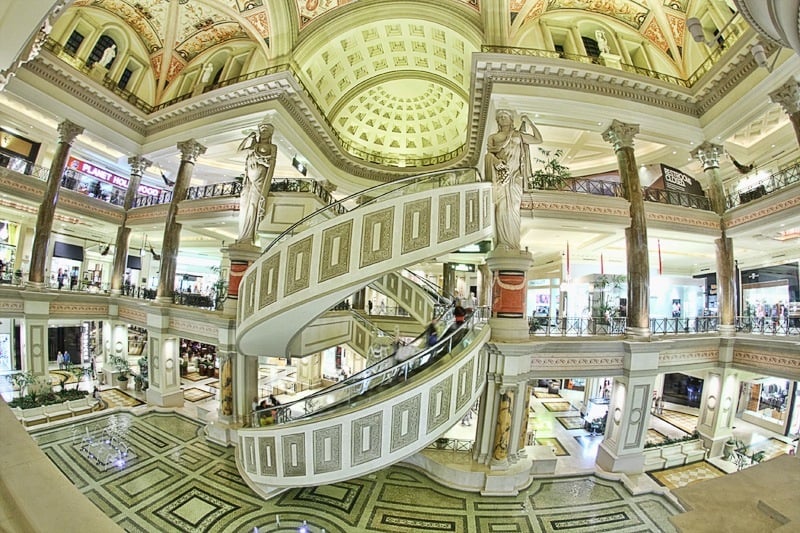 First, there's some newness in the form of what's not there anymore.
The Gods of the Festival fountain has vanished. (Thanks to our friends at Vegas Chatter for the heads up.) This was the mall's other lame talking statue attraction. The main lame talking statue attraction is the Fall of Atlantis, renovated in 2013, but no less lame for having been renovated.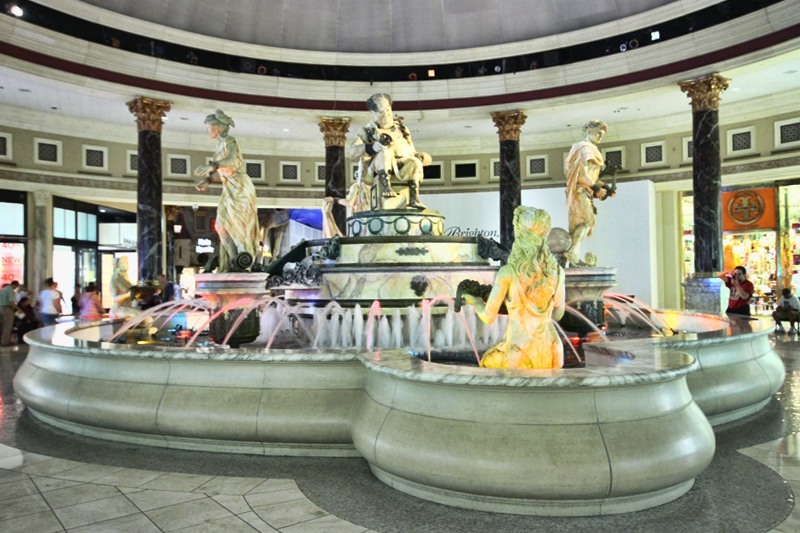 Now, there's whole lot of nothing. Unless you consider a void something. Then, you're just being impudent. The void is pictured below.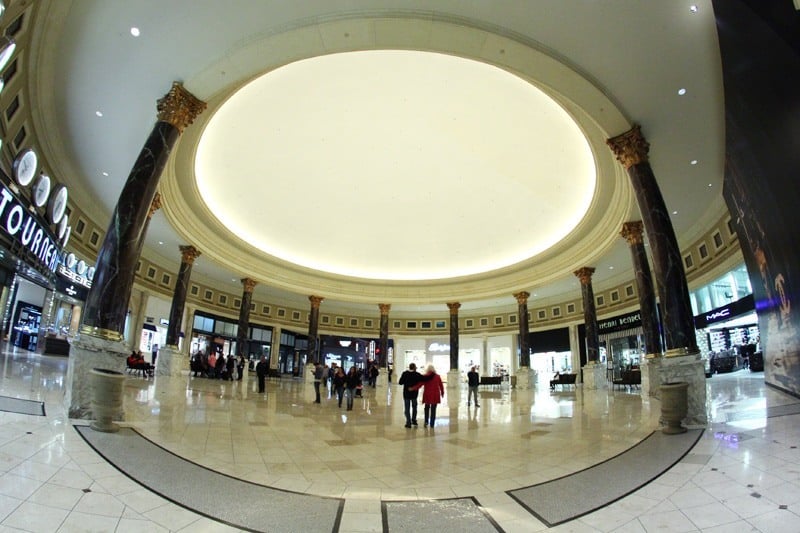 There's some new construction in the area near Casa Fuente, a cigar lounge and nausea emporium. Sorry, not a fan of foul-smelling, oral cavity cancer-causing penis substitutes. All due respect.
Anyway, the Forum Shops escalators are being improved and a water feature is being installed.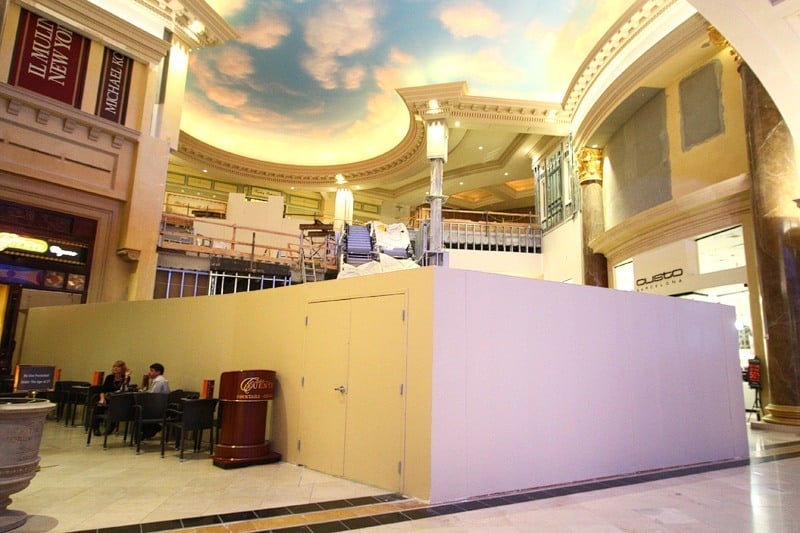 Learn more from our friends at Eater Vegas.
Here's a preview of what this area will look like soon.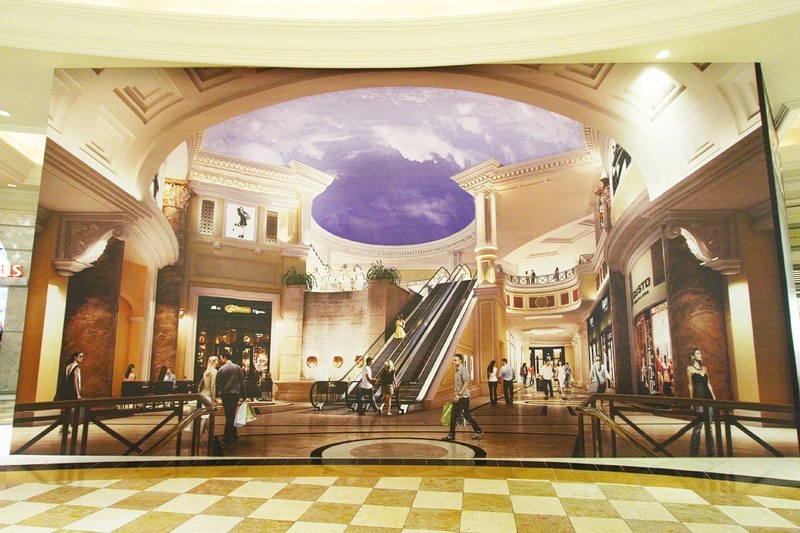 Our last bit of newness is the recently-opened Border Grill, at the base of the Forum Shops' spiral escalators. Border Grill replaces the struggling P.J. Clarke's.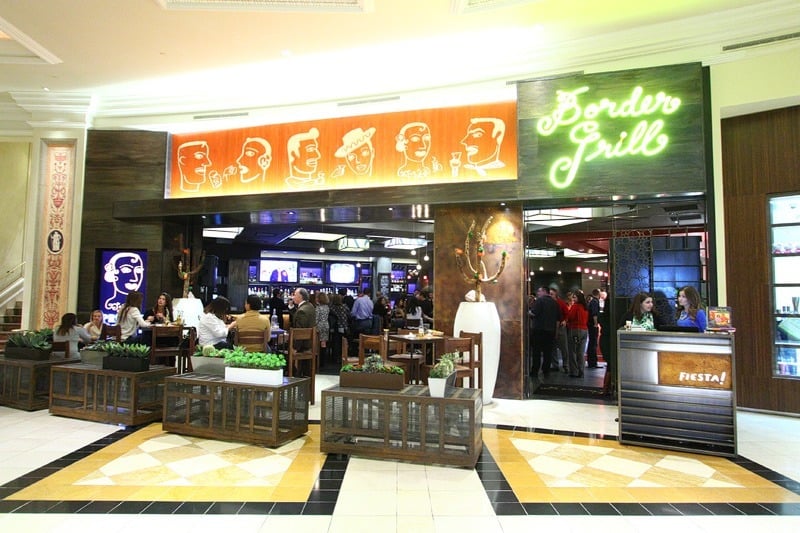 What have we learned from the ever-evolving Caesars Palace? That Las Vegas is like a shark. Specifically, it has a covering of dermal denticles that protects its skin from parasites.
Or perhaps we've learned Las Vegas is like a shark in that it must keep moving to survive.
We may also have learned "posting lots of photos in a Las Vegas blog" is almost like "having a life."
Why do we always have to learn things, anyway?
Can't we just enjoy this time together. You in your cubicle, us in our underwear. Unless that's awkward. The cubicle part, that is.
If you stumble across new or interesting things during your Las Vegas adventures, we'd love to hear about them. Leave a comment. Drop us a line. Or just tell our sister. She's a world-class gossipor.