New York's Cathedrale Restaurant Set for Aria
Cathedrale Restaurant is coming to Aria in 2023.
The restaurant got its start in New York City, and is from the folks at Tao Group.
Tao Group, the restaurant and nightlife company behind Tao Asian Bistro at Venetian, among other endeavors, launched a Web page for Cathedrale restaurant, but it's light on details.
What we know is: 1) there's a pretty blue curtain, 2) Cathedrale should have an accent mark over the first "e," and 3) there will be a bar. Mostly that last thing.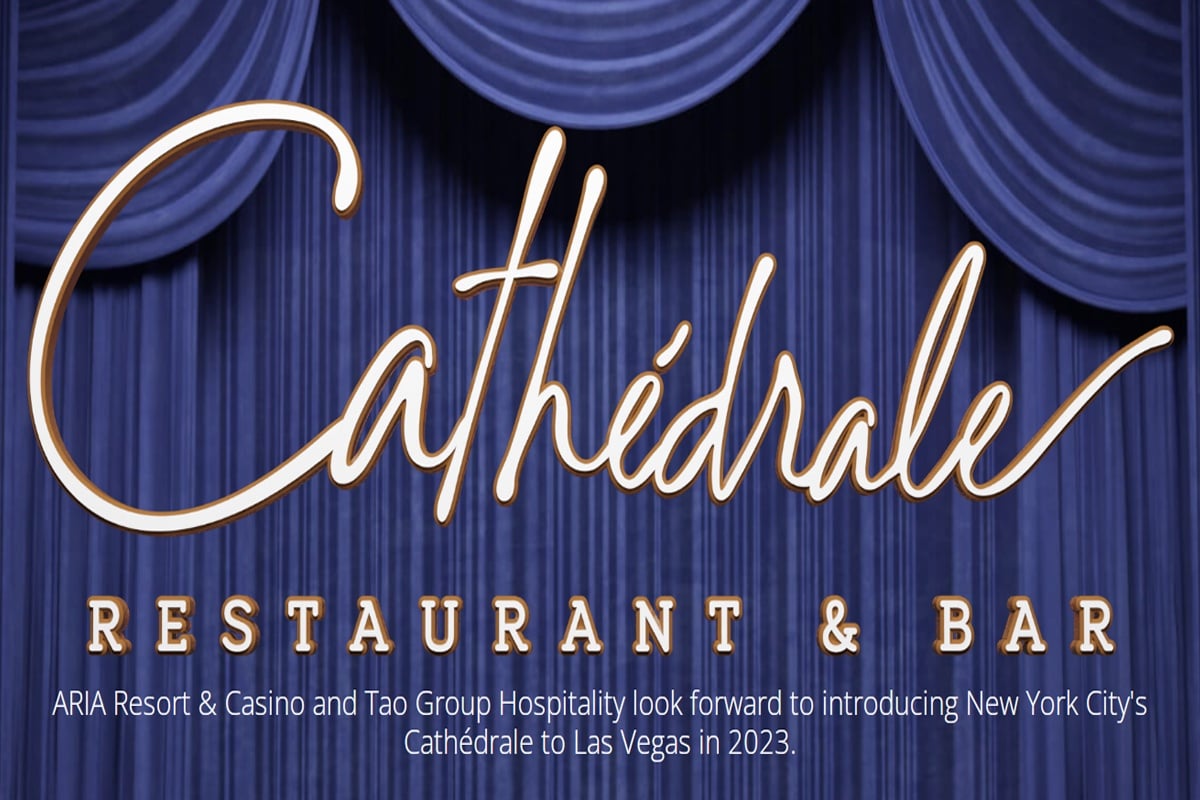 As Cathedrale is not a new concept, let us look east to see whassup.
Per the NYC restaurant's Web site, Cathedrale is "inspired French-Mediterranean cuisine." In the simplest terms, it's going to be rude falafels.
Fun fact: Our band in high school was called the Rude Falafels.
Anyway, all jokes aside, here's the lowdown from the NYC location of Cathedrale: "With a carefully curated menu, Chef Jason Hall adds his own unique twist on classic French-Mediterranean cuisine that paints a picture of the coastal cuisine of Southern France, with brushstrokes of Italy, Spain, and Greece in a staggering
setting. Watch the chefs bring your meal to life in an open-hearth kitchen, while you sip on a cocktail amongst good company."
Told you there would be cocktails. And brushstrokes of seafood.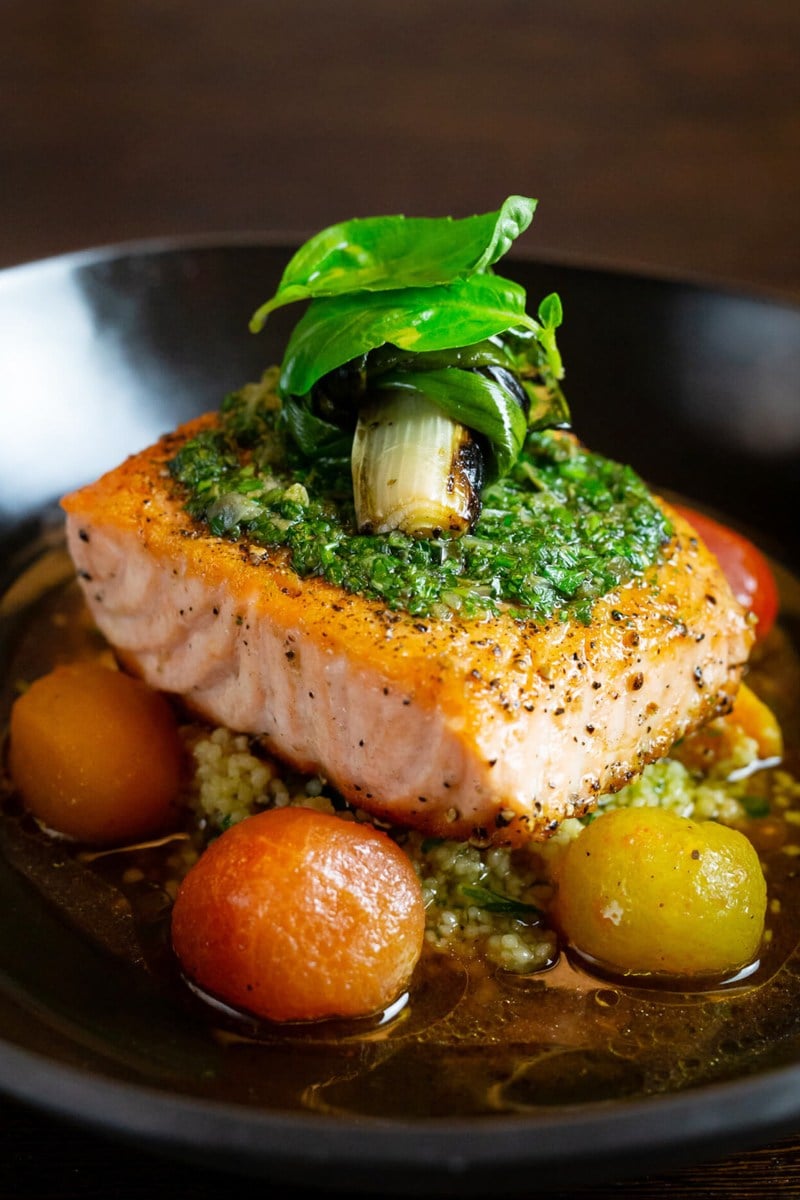 We trust a number of menu items from New York City will make their way to Aria. Here's the menu to get a little flavor of what's in store.
From the Web site, "Signature dishes include starters such as Grilled Baby Artichokes with Sauce Vert (sic) and 100-year Balsamic, and Hamachi Crudo with green apple and black olive oil. Main courses include Atlantic Halibut with spring vegetables, Morel mushrooms and Verjus (the pressed juice of unripened grapes) and brown butter; Diver Scallops with Rainbow Swiss Chard, Kyoto carrots and capers; and 30-day dry-aged Ribeye Steak with rotisserie leeks and Bearnaise sauce."
Damn it. Maybe if our band had called itself the Rotisserie Leeks, we could've found greater success. What might have been.
Our friend and Las Vegas vlogger Travel Ruby snagged a pic of a construction wall at Aria touting Cathedrale.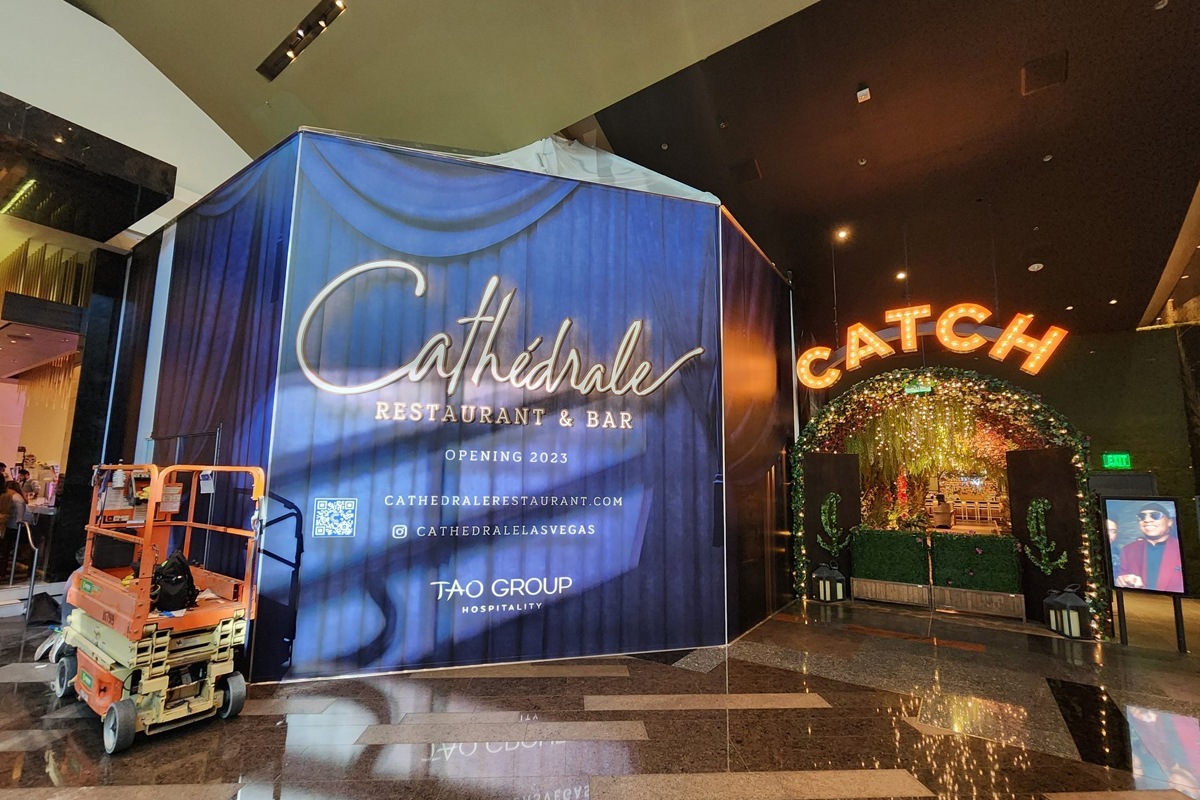 The NYC location of Cathedrale is sexy as hell (it was designed by Rockwell Group), and we trust the Las Vegas outpost will be even sexier. Because it's Las Vegas. This isn't rocket science.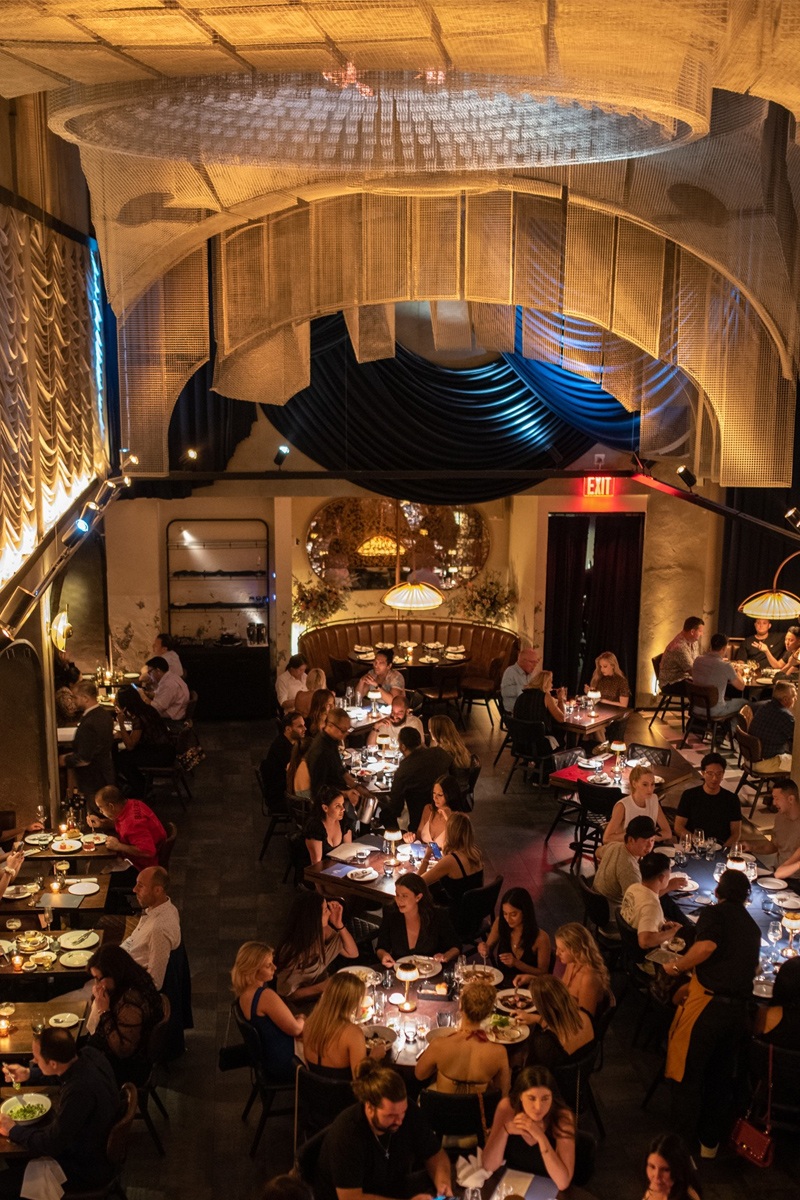 Here's more about the NYC design, "Designed by Rockwell Group, Cathedrale's soaring main dining room feels like stumbling upon an abandoned architectural treasure: Its 26-foot, triple-height ceiling is covered in a massive wire mesh sculpture, Fillmore, by Edoardo Tresoldi that looks like the apparition of a grand domed ceiling. The delicate yet monumental sculpture creates a dramatic dialogue with the restaurant's architecture, which pays homage to the interior of the Fillmore East, once known as the 'Church of Rock 'n' Roll.'"
Whatever that means, let's have some of that!
This place looks amazing, so you'll keep you in the loop at the project coagulates in Las Vegas. Or maybe we'll choose a word that's a little more appetizing. You know what we mean.