Life is Beautiful Music Festival Announces 2023 Line-Up
The Life is Beautiful music festival is a big deal for downtown Las Vegas.
The festival, celebrating its tenth year, happens Sep. 22-24, 2023.
Life is Beautiful organizers have named names with a line-up we don't recognize, but the kids are bound to love it!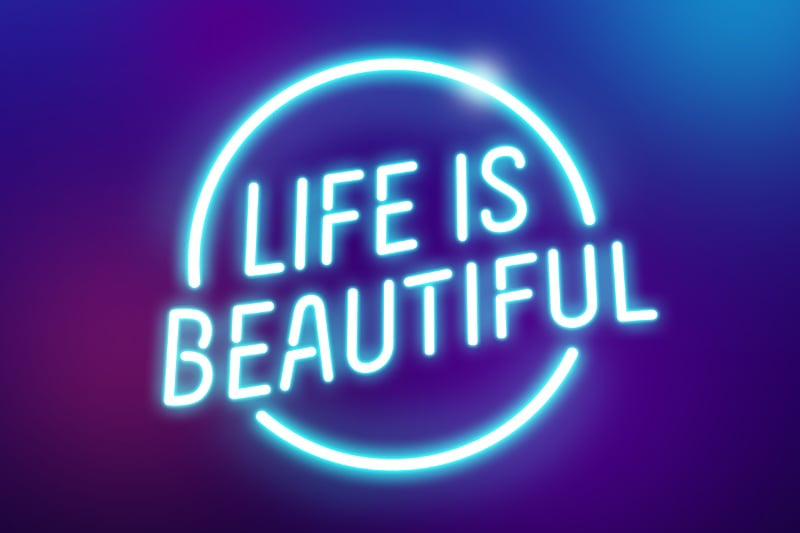 Life is Beautiful says, "Highlighting the past, present and future of the Vegas-born music and arts festival, the weekend celebration will welcome back several iconic performers including headliners The Killers, Kendrick Lamar and Odesza. Fans can also catch sets from Khalid, The 1975, Flume, Yeah Yeah Yeahs, Omar Apollo, Kim Petras and many more."
Some of the groups use all caps, but we don't play that nonsense. Also we removed all the Oxford commas, because they're annoying.
Here's the artwork with the Life is Beautiful 2023 line-up.

We did recognize some of the names in the announcement, as a number of Las Vegas entertainers will appear at the festival.
Strip shows and headliners making an appearance include Cirque du Soleil, Blue Man Group, Jabbawockeez, Magic Mike Live, Piff the Magic Dragon and Tape Face.
Returning will be Meow Wolf, the maniacal geniuses behind Omega Mart at Area 15. They'll oversee "collaborative live music experiences brought to the festival by JammJam ft. Cory Wong & Friends," whatever that might actually mean.
We should probably just list all the acts, in case it helps with our search engine optimization. By which we mean it might help you find an act you're looking for!
The Killers
Khalid
Kenrick Lamar
The 1975
Odesza
Flume
Yeah Yeah Yeahs
Anna Lunoe
Nelly
Beach Weather
Omar Apollo
Slayyyter
Kim Petras
Wilderado
John Summit
William Black
Ferg
Jockstrap
Madeon
Biig Piig
Dayglow
Roosevelt
Cigarettes After Sex
Talk
Blxst
Barry Can't Swim
Bebe Rexha
Mindchatter
Purple Disco Machine
Vandelux
Rina Sawayama
Miya Folick
Ben Bohmer
Honeyluv
Yung Gravy
Coco & Breezy
The Wombats
Ewan McVicar
The Rose
Almost Monday
Inhaler
Salute
Claptone
Charlotte Sands
Goth Babe
Two Another
Amber Mark
TelyKast
Renee Rapp
Joy Anonymous
Cloonee
Winston Surfshirt
Cory Wong
Ayybo
Baby Tate
Highway
Snakehips
Lewis Thompson
Raye
Snacktime
Blondish
Night Tales
Jessie Murph
Dance System
Franc Moody
Prentiss
Babytron
Rockie Brown
J. Worra
Lema
Chika
The Emo Night Tour
Jawny
Hey, on further review, we love that one song!
Before you start complaining about how this line-up doesn't meet your high standards, a little background.
For years, Life is Beautiful lost money. In its first three years, the festival had accumulated about $10 million in debt.
The powers that be decided the festival wasn't going to continue to be a nonprofit, so the line-up was adjusted to better fit the budget. That meant greater scrutiny of the bottom line, including fewer big (expensive) names, but the festival stopped bleeding cash.
In 2022, Rolling Stone bought a majority stake in the festival.
This time around, early bird tickets sold out in less than an hour. Before the acts were even announced.
It's an amazing story, and people who attend Life is Beautiful tend to love it.
During Life is Beautiful, room rates go up. Casino revenue from bars, show tickets and gambling pretty much crash. (The kids don't tend to drink alcohol when they're taking the Molly. That would be irresponsible.)
How far Life is Beautiful has come. The tenth installment looks to be shaping up to be another successful effort.
Three-day tickets start at $380 for general admission. And, as is the trend, there's a layaway plan. No, really.
Get all the details, or possibly "deets," if the kids are still saying that, on the Life is Beautiful Web site. If the kids are still calling them "Web sites." We know some of them say "Websites," but again, annoying. They're sites on the Web. Don't get us started. Also, we would appreciate you escorting yourself off our lawn.