First Look at Menu for Plaza's New Outdoor Carousel Bar
Downtown's Plaza casino is about to unveil its new Carousel lounge, but we can't wait, so we snagged a sneak preview of the drink menu, because that is how we roll.
The new Carousel Bar opens May 20, 2023. An official grand opening is planned for June 10, 2023.
Here's a first look at the menu. Well, the front of the menu. It's called a "tease." Everything is about instant gratification with you. Try being a burlesque person rather than a strip club person for one minute!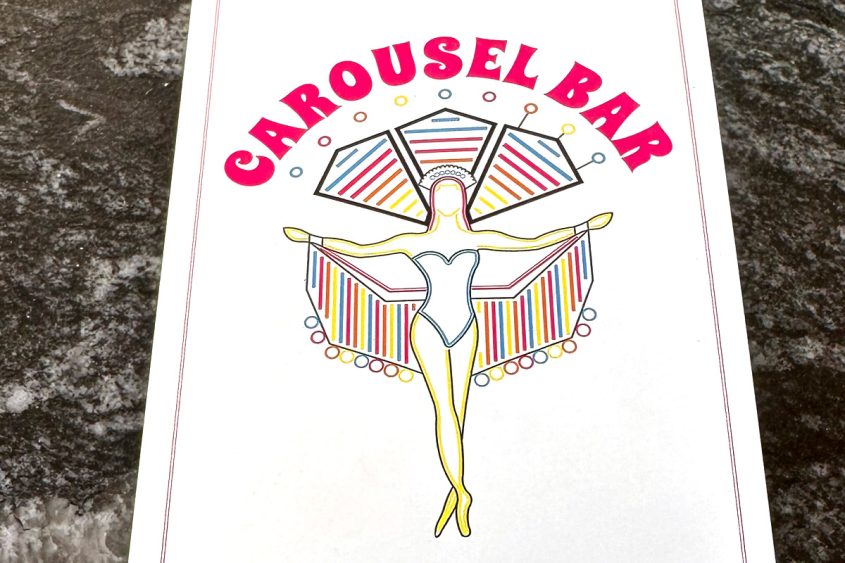 Plaza's new lounge is sort of a mix between one of the popular outdoor bars along Fremont Street and a lounge.
Carousel Bar has lots of seating, including booths and chairs positioned for people-watching.
The bar also has several video poker machines, just to ensure we visit frequently. As if the slushy drinks weren't a big enough draw.
Carousel also has a walk-up section, for those who like their beverages to-go.
Here's our most recent pic of the new bar, but things have been changing daily now, including the removal of construction fences around the bar.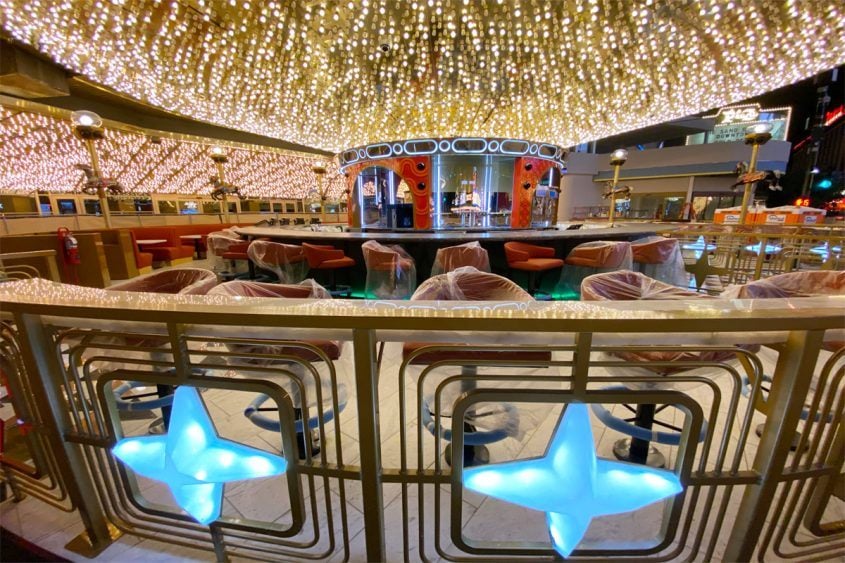 Enough background, you mumble, champing at the bit to see the damn menu, already. We understand your champing, so let's have an exclusive look, shan't we?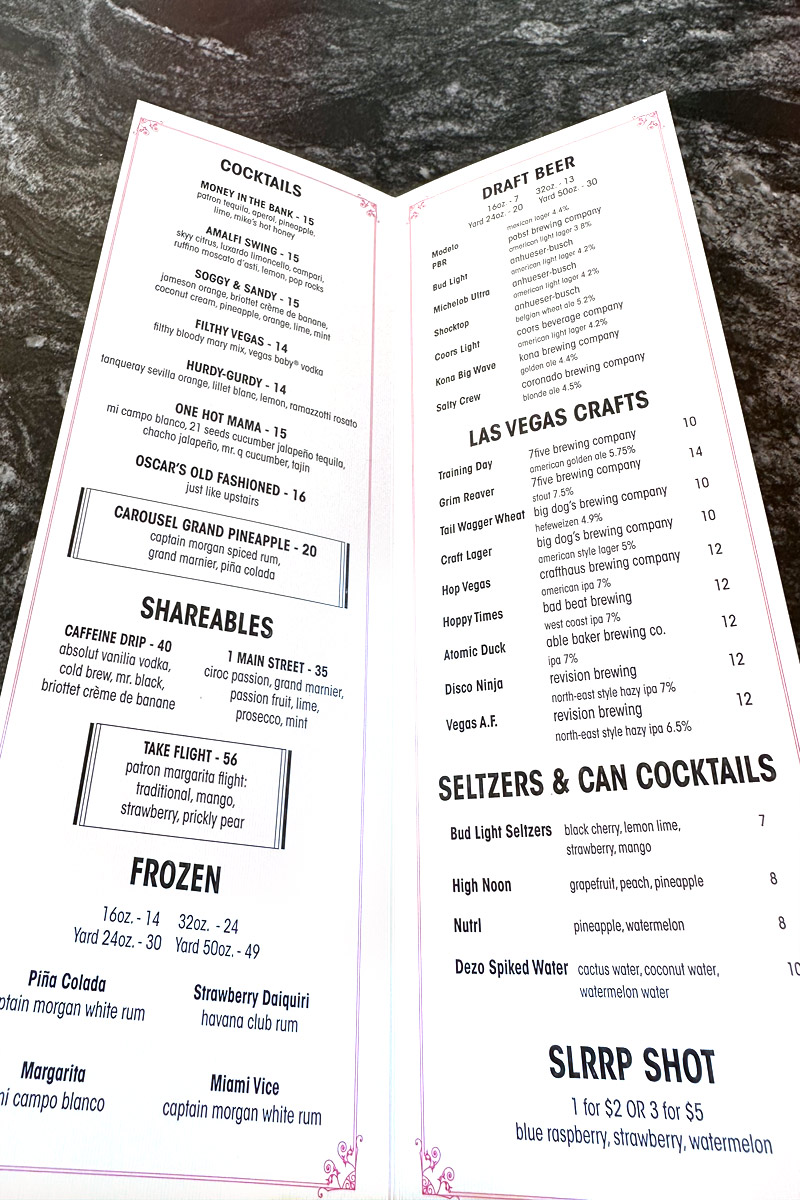 All we can say is "Let's go!"
Bonus points for whoever named that beer "Vegas A.F."
The Carousel menu checks a number of boxes, with signature cocktails in the $14-16 range, along with shareable concoctions and slushy drinks, legally required for any bar on Fremont Street.
The prices are comparable to other outdoor bars on Fremont, and about 20% of the price of similar drinks on the Las Vegas Strip. We kid. But seriously, when did $25 for a simple cocktail become the new $12?
We've been told because Carousel is a lounge experience, drinks won't be comped for video poker players initially, but they're playing this by ear. (Note: See end of story for update.)
Here's a better look at the cover of the menu, complete with a fancy showgirl and possible classically-trained ballet dancer.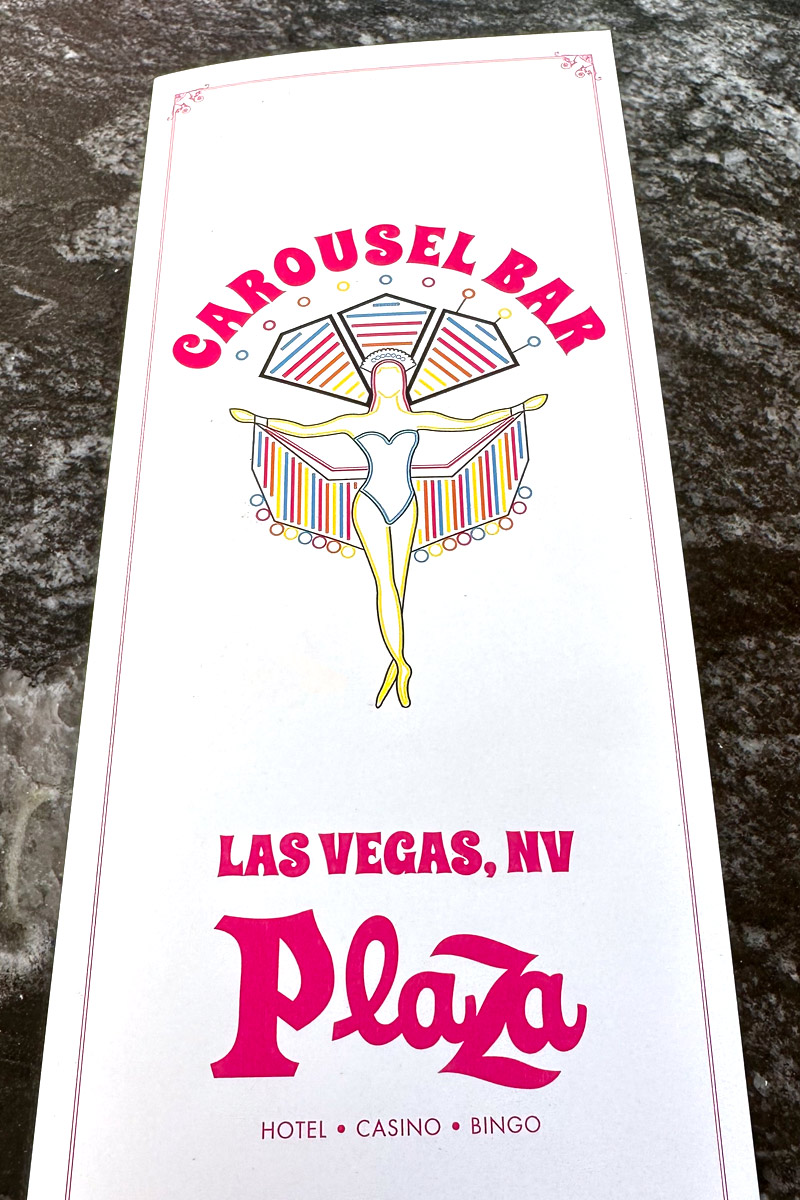 We would never want to neglect the backside, of course, it's Las Vegas.
The back of the Carousel menu is full of throwback photos. Plaza is big on history and the part the iconic casino has played in the evolution of downtown as well as "Back to the Future Part 2." (If you know, you know.)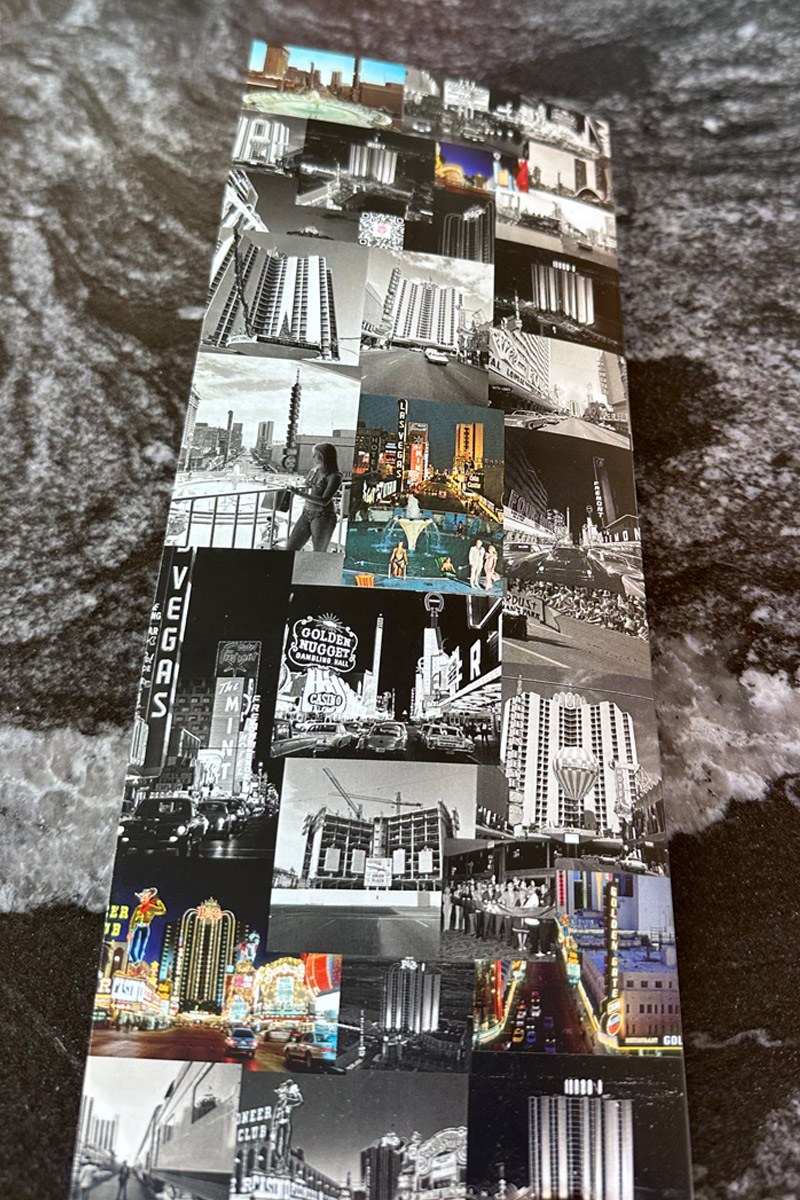 We've heard chatter that next to the Carousel Bar will be a popcorn truck, once located in the Fremont Street Experience. The smell of that popcorn was the greatest marketing tool ever devised.
As we've covered previously, Plaza has a number of new offerings in the works, all opening in the next few weeks. Here's a recent look around.
In addition to Carousel, there's a Pinkbox Doughnuts, an expansion of Oscar's Steakhouse and a casino expansion that will be smoke-free.
There's more to come, but we trust the drink menu has sufficiently wet your whistle. There are few things more uncomfortable than a dry whistle, if you get our drift.
Update (5/18/23): Plaza CEO Jonathan Jossel says drinks will be comped for players at Carousel Bar. Faith in humanity restored!
Ok change of plan ✅
Slots at carousel will allow comps with the drink monitoring systems in effect.
🎰 🎠 🍻

See all of you at the bar.

Sorry @VitalVegas @plazapod I out scooped my own scoop. pic.twitter.com/G8oOFfMz3p

— Jonathan Jossel (@JonathanJossel) May 18, 2023