Downtown Las Vegas Events Center Whips Out Vegas-Sized Homage to Vegas Golden Knights
Las Vegas loves its new puckball team, the Vegas Golden Knights.
The NHL team has broken numerous records during its inaugural season, and has become a darling of locals and tourists alike, earning a coveted spot in the Stanley Cup playoffs.
The Downtown Las Vegas Event Center has hosted a number of viewing parties for the Golden Knights, but recently topped itself with a larger-than-life homage to the team.
On May 12, 2018, the venue configured its tables to resemble the Vegas Golden Knights logo. Of course, we've got exclusive photos and video.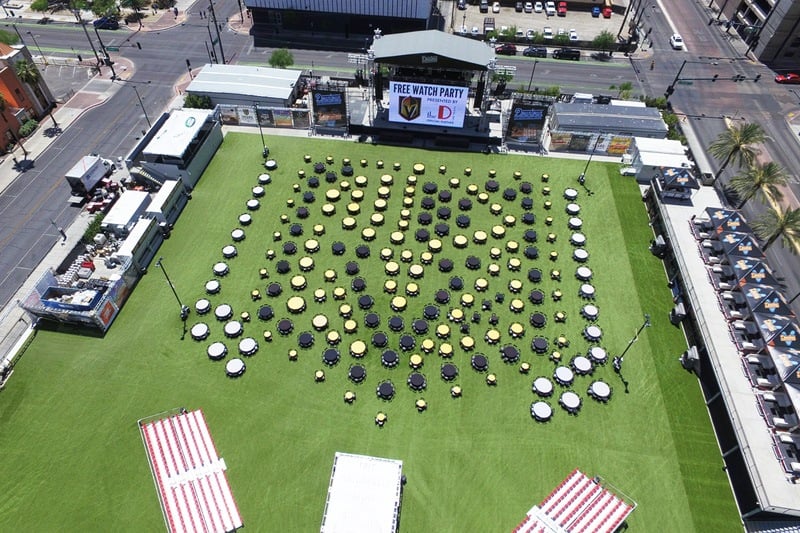 Guests at the event didn't even realize their tables were part of the Vegas Golden Knights logo, because not unlike the Nazca Lines, the design was only viewable from above.
Here's a bird's-eye look.
The logo stunt was the brainchild of Bud Pico, General Manager of the Downtown Las Vegas Center, and Blake Victor, Designer for the venue.
The design was first created by Victor using 3-D modeling software (AutoCAD and Twinmotion for the 3-d modeling nerds), then a team of staffers were tasked with precisely positioning the 227 tables—with their gold, black and gray tablecloths—for the photo op.
The massive Golden Knights logo was 155 feet tall and 130 feet wide.
The image of the over-sized design has already been shared endlessly by Vegas Golden Knights fans, Las Vegas Mayor Carolyn Goodman and the team itself, among others.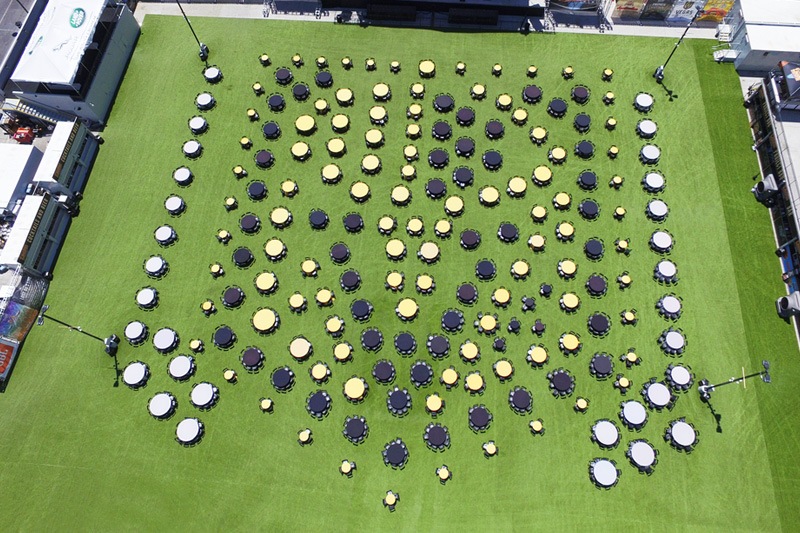 Full disclosure: Downtown Las Vegas Events Center is owned by the same folks as The D and Golden Gate, part of the Fremont Street Experience, where we work in digital marketing as our day job. Our opinions are our own, obviously.
Unfortunately, the logo display couldn't help bring the Vegas Golden Knights better luck, as the team lost to the Winnipeg Jets, 4-2, in the first game of the Western Conference Final, whatever that might be.
Whether you're into hockey or not, there's no denying the Vegas Golden Knights story is a compelling one.
Go, Knights, go, or whatever people chant at puckball games.