Downtown Container Park's Praying Mantis Breathes Fire, Also Has Rhythm
If you haven't been to the Downtown Container Park in (wait for it) downtown Las Vegas, you're in for a treat.
It's a quirky collection of about 30 bars, restaurants and shops, all residing in giant shipping containers. Oh, and there's also a treehouse playground suitable for kids and their adults.
But most nights, the Container Park's fire-breathing, praying mantis is the star of the show.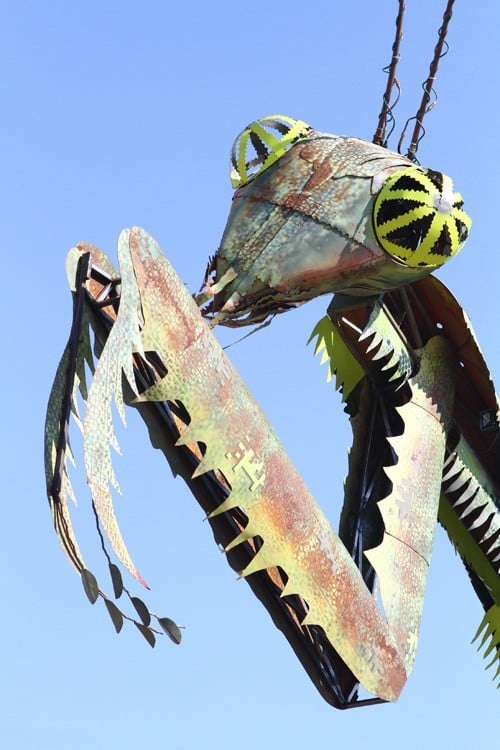 The larger-than-life mantis was originally created for the Burning Man festival by aerospace engineer and artist, Kirk Jellum. Jellum said the mantis is a 150:1 scale replica of a female mantis he found in a field. That one probably didn't do the fire thing.
The mantis took 3,000 hours to build.
The mantis is 40 feet tall and 30 feet wide, and it burns about 50 gallons of liquid propane each day. The flames from the mantis reach about six stories high.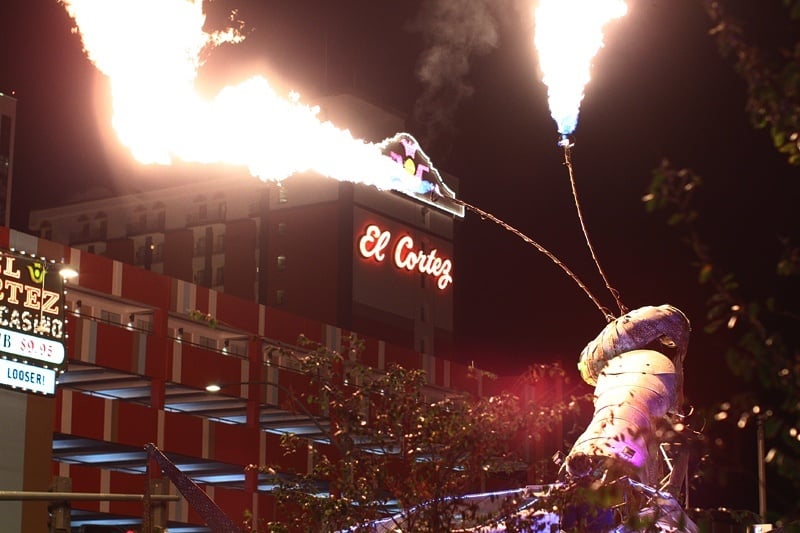 As if that weren't awesome enough, the mantis has a 4,000-watt sound system. Which means from time to time the music gets cranked up and the mantis gets down.
The praying mantis stands at the entrance of the Downtown Container Park, so you can't miss it. It operates from sundown until the Container Park closes. See details.
If you visit Downtown Container Park with friends or family, you might want to keep the fire-breathing aspect of the mantis to yourself. One of the more entertaining free things to do in downtown Las Vegas is to stroll by the mantis and watch the reactions when the fire blasts up into the sky, as in our video, accompanied by a shock wave of sound.
Even if you know it's coming, you'll jump, too. Just play it off like you were goofing around for the benefit of your companions. We'll never tell. Because in Las Vegas, we know how to keep secrets. (Your results may vary.)
If you're looking for more fun things to do in Las Vegas, we've got you covered. Several of them are even legal.