The Donny and Marie Feud is About to Blow Up Huge at Flamingo Las Vegas
Flamingo Las Vegas is getting a colorful new building wrap for the "Donnie & Marie" show, and it's likely to reveal a celebrity scandal of epic proportions.
While the new wrap touting the popular show is only partially installed, from all indications the wrap is going to graphically illustrate what insiders have known for some time: Donny and Marie Osmond are in the middle of a full-on feud.
For the most part, the Osmond's strained relationship has been kept under wraps, so to speak, but their private feud is about to go public, in a big way.
The wrap-in-progress can be seen below.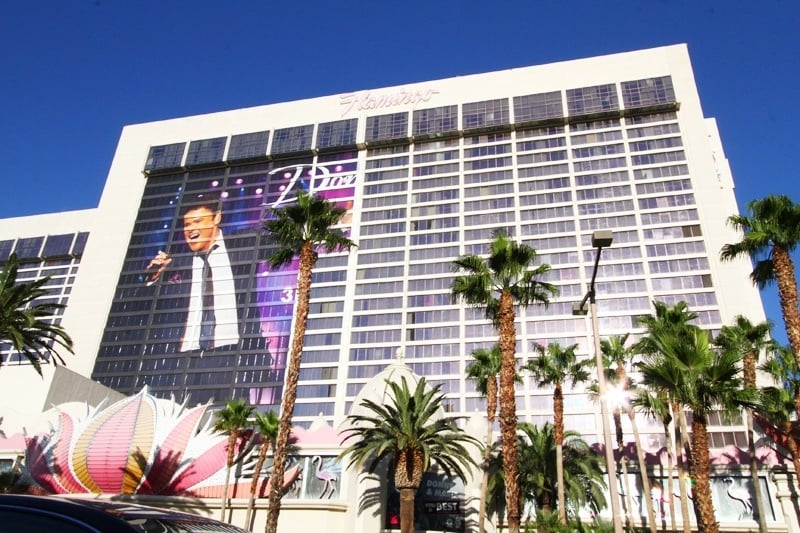 In case you're unfamiliar with the Donny and Marie Osmond scandal, please see our previous story on the subject.
The skinny is that because of Marie's perceived slight related to some business decisions made by Donny, and other assorted stresses (like the cancellation of her show on the Hallmark Channel), and because of the Donny and Marie Osmond feud the two rarely speak when offstage and barely perform together onstage except for some banter and singing a couple of songs together. Otherwise, it's like two different shows in one, and the tension continues even after the show.
One of the most dramatic illustrations of the Osmond scandal is the fact fans who pay for a meet-and-greet with the pair (one of the most expensive tickets in town) don't get photos with both Donny and Marie. They get a photo with Donny or a photo with Marie (one of the most retouched performers in Las Vegas), and it's been that way for some time now.
Why is the building wrap going to be so painful to see unfurled?
Because from what we can tell, Donny and Marie will be on opposite sides of the wrap, separated by advertising copy. We'd bet serious money Marie will be looking away from Donny in the ad, just as he is looking out of the frame on his side of the building-sized billboard.
Compare that to the image used on the last building wrap.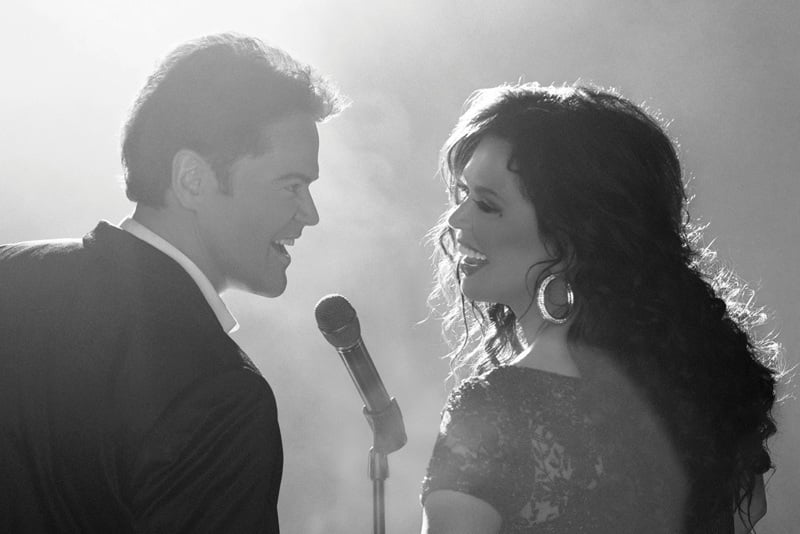 What were they thinking when this building wrap was being designed? We have no idea. Is it possible nobody thought about the message the new wrap would convey?
Or perhaps more importantly, why do Donny and Marie continue to do their show together? That's an easy one. Because money. The "Donny & Marie" show is a cash cow, and the iconic siblings have been in show business long enough to know a good thing when they see it. So, they persevere. And make nice when they have to.
How much do Donny Osmond and Marie Osmond get paid?
Donny and Marie Osmond are each paid a base salary of $1.6 million, plus 40 percent of the box office gross.
These numbers come from a nasty lawsuit the two were involved in.
We should say, by the way, Donny and Marie's relationship issues don't change the fact their show is a lot of fun, pervasive lip-syncing aside. It's one of the funniest in town (although the playful jabs take on a whole new weight once you learn the back story), and the nostalgic elements hit all the right notes.
There's always a chance Donny and Marie will reconcile, of course, and we're rooting for that to happen.
For now, though, their new billboard at Flamingo is a looming reminder of how image can collide with reality, and that subliminal advertising is alive and well on the Las Vegas Strip.
Update: The Donny and Marie Osmond scandal "Wall of OMG" has been completed at Flamingo Las Vegas. As we predicted, Donny and Marie are on opposite sides of the building wrap, each doing their own thing, as they do onstage and in their lives.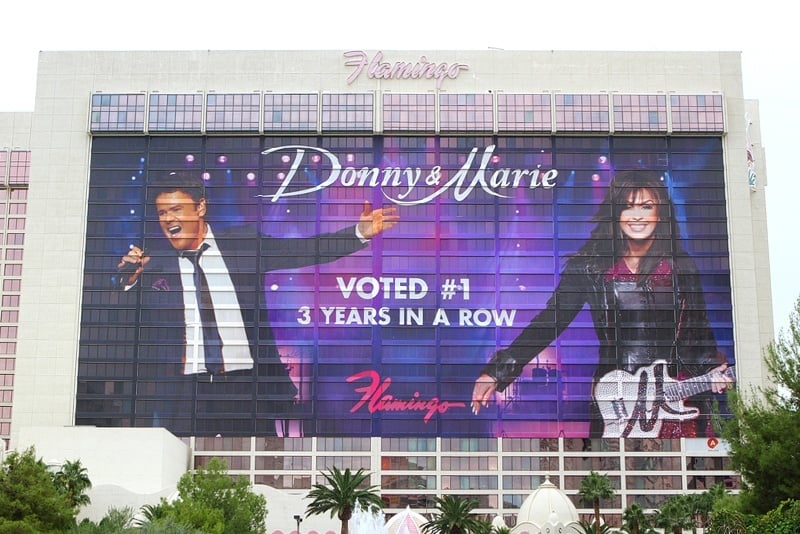 Update (6/10/18): The Donny and Marie Osmond Flaming wrap has been updated yet again. Once again, their photo were taken at different times to avoid having to interact. The feud continues, but the money keeps rolling in, both for the siblings and Flamingo (Caesars Entertainment).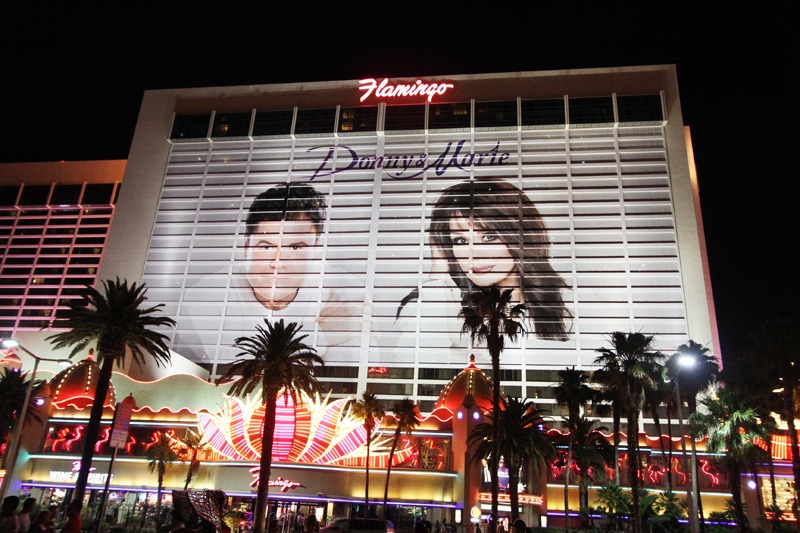 Donny and Marie's contract was extended through 2018, and we suspect it will keep on going despite the duo's ongoing feud.