Cosmo Gets Riviera-Inspired LPM Restaurant & Bar
We should say up front the folks at Cosmopolitan absolutely hate it when you refer to the Strip resort as "Cosmo."
So, Cosmo is getting a new restaurant, LPM Restaurant & Bar.
The new restaurant will move into the former Estiatorio Milos space. That restaurant closed at Cosmo on Oct. 25, 2020 and moved to Venetian. They never really said why. Nothing to see here. (It's usually rent-related.)
Anyway, LPM Restaurant & Bar is coming to Cosmopolitan Las Vegas in fall of 2023.

According to the news release, this is the ninth location of LPM worldwide and its second in the U.S. Most of the locations are in exotic places no American who went to public school could find on a map, including Dubai, Abu Dhabi, Hong Kong, Riyadh, Limassol, Doha, London and Miami.
We are going to share some of the words in the news release, because it's easier than writing something original and also because news releases are wildly entertaining.
"From London to Dubai and Miami," the news release says, "LPM has captivated all corners of the map with its relaxed and irreverent vibe harmoniously synced with passionate attention to the detail of its craft. The world-class dining experience emanates the carefree glamour and sophistication of the Cote d'Azur lifestyle where every moment is filled with surprise indulgences and opportunities to create memories from the peak of the day to the fleeting evening hours."
Not going to lie, a little disappointed it won't be immersive, but nobody's perfect.
Here's more about the "LPM Experience": "LPM presents guests with unexpected sharable dishes prepared a la minute that will have them reaching across the table for one more tantalizing dip of Warm Prawns in olive oil and lemon juice; enjoying another divine forkful of the Marinated Lamb Cutlets layered with Kalamata olives, Aubergine Caviar and pine nuts; or for dessert, savoring the last bite of our vanilla cheesecake with berry compote."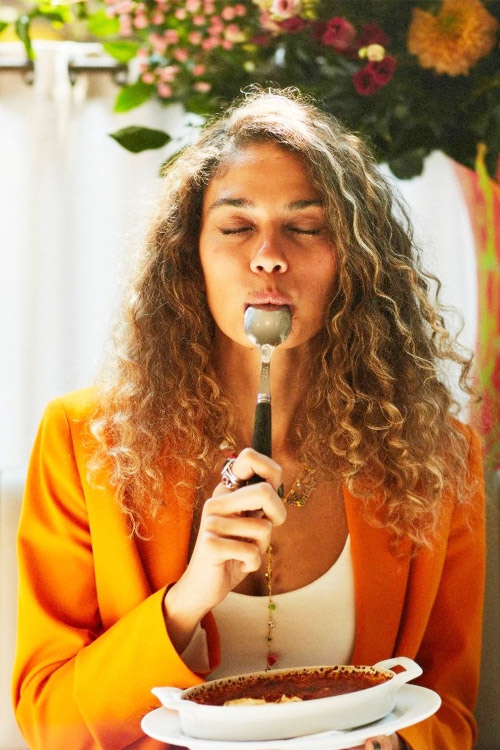 There's a good bit of information about the venue's bar as well: "LPM's labor of love equally shines through its destination bar experience featuring bright and timeless cocktails inspired by the Riviera; a specialty menu honoring the life of legendary French artist, writer and bon-vivant, Jean Cocteau; and of course, LPM's world-famous Tomatini. Thrilling beverage renditions pay homage to the golden age, including levitating cocktails and stylish drinks that will enchant all the senses through creative ingredients, intoxicating perfumes and art deco glassware. Celebrating wines of global repute alongside treasures from lesser-known vineyards with special stories, LPM's wine program aims to surprise guests with selections they will remember forever. A centerpiece of the collection, LPM's world-leading rosés are a nod to what is often seen on the tables of the Riviera and a symbol of friendship and good times."
As for the vibe: "Featuring a vibrant indoor-outdoor atmosphere inspired by La Belle Epoque with striking art gracing the walls, LPM invites guests to an era when fearless creativity was the driving force of daily life. Scents of freshly cut flowers paired with bold color palettes and surprising musical soundtracks will create a refreshing and lively atmosphere for a date night, business lunch or family celebration."
One thing you won't find in the news release is what "LPM" stands for. It actually stands for "La Petite Maison," which is a French term meaning "a love nest or residence maintained for a mistress."
How the hell do you leave that out of a news release?
We trust the name La Petite Maison was considered too racy (or confusing) for folks in Doha, so it was streamlined accordingly.
Make sure not to confuse LPM for RPM, an excellent Italian restaurant in the Forum Shops at Caesars Palace.
You can find more words about LPM on the official Web site, including these, "This is LPM: music, art, people and bonhomie…exquisite harmony on the palate, outrageous harmony in the room."
Hey, as long as it's not as loud as STK, we're good.
This is the first big restaurant move since MGM Resorts took over operations of the Cosmopolitan, and Cosmo's restaurants could use a boost.
Superfrico is great (albeit also loud), but Cosmo's restaurant collection is mostly O.K. Eggslut and Secret Pizza are widly overrated, Beauty & Essex doesn't serve Captain Morgan, Scarpetta is consistently meh, same with China Poblano. Holsteins does a proficient burger. The food court has hits and misses, but is mostly forgettable.
Chatter is positive for LPM Restaurant & Bar, so there's hope for Cosmo's restaurant scene yet.
We look forward to checking out LPM when it opens, and we hope to share photos of us making faces trying foods we can't pronounce or afford.