Checking In On the Las Vegas Arena
The MGM-AEG arena is coming along nicely, so we thought we'd stop by the check on the construction progress.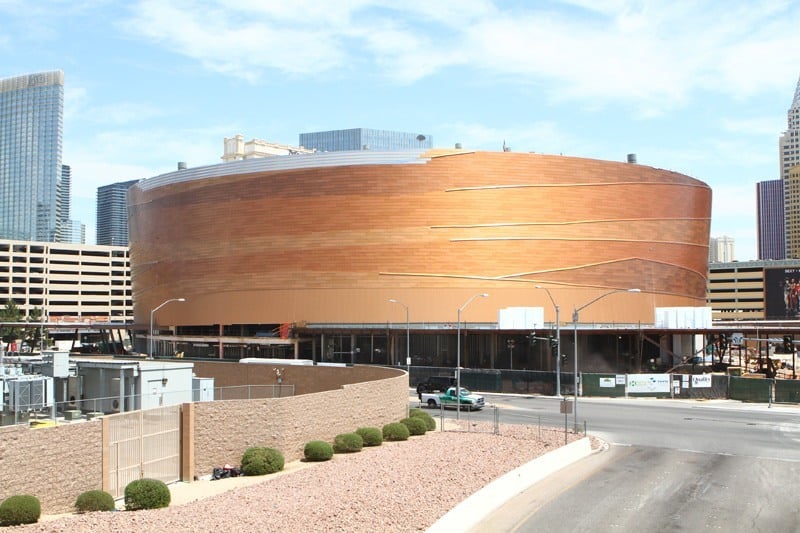 The new Las Vegas Arena (not its official name, AEG says it will have a naming rights partner within the next couple of months) will seat about 20,000 people. Although, probably fewer if they load upon cotton candy and arena dogs.

The owners of the $375 million arena, MGM Resorts, has high hopes it will house an NHL expansion team when the venue opens.
The ownership group pushing for an NHL team recently announced they've moved into the third, and presumably final, stage of the franchise approval process. If approved, the new club could begin play in the 2017-2018 season.

The arena won't be entirely dependent upon a hockey franchise, of course. It's a "multi-purpose event center," and is expected to host 110-150 events a year.
The Las Vegas Arena has already received a commitment from the Professional Bull Riders (PBR) to hold its World Finals event at the new venue starting in 2016 after 16 years at the city's Thomas & Mack Center.

The new Las Vegas Arena broke ground on May 1, 2014 and is expected to open in spring of 2016.
The arena will be connected to the Las Vegas Strip via The Park, a dining and entertainment district along the lines of the Linq promenade, between the Flamingo and Linq resorts.
Here's a look at the area where The Park will sprout up in the months to come.

Several offerings have already been announced for The Park, including Bruxie, a gourmet waffle restaurant; Sake Rok, a Japanese restaurant; a Robert Mondavi Jr. restaurant and wine bar; and a beer garden. Oh, and Dierks Bentley's Whiskey Row, a country restaurant and bar sure to be voted "The Restaurant Name Most Likely to Annoy Your Spell Checker for Years to Come."
One last look at the Las Vegas Arena before its exterior is finished off and polished up. Visit the official Las Vegas Arena site for more information, and there's even a count-down clock ticking down the days and minutes to the arena opening.
Catch an awesome time-lapse video of the construction here.

We propose a toast in honor of the Las Vegas Arena: "Here's to the Las Vegas projects that come to pass, all the others can kiss our glass."