Brasserie B by Bobby Flay Set for Caesars Palace, Old Homestead To Close
Celebrity chef Bobby Flay announced a new restaurant scheduled to open at Caesars Palace, Brasserie B by Bobby Flay.
The new Flay restaurant will open in late 2023.
That means Old Homestead Steakhouse will close. No date has been given for the closure of this longtime Strip steakhouse. Old Homestead opened in Dec. 2011.
Here's a rendering of Brasserie B by Bobby Flay.

Old Homestead has been one of our long-standing recommendations for steak, but recent reports are the quality and service have slipped.
Old Homestead's fate was sealed when Caesars Palace confirmed it would be getting a Peter Luger Steakhouse (set for the former Rao's space, opening some time in 2023).
Dibs on one of the manhole covers at Old Homestead.

Bobby Flay already has a couple of eateries at Caesars Palace.
There's Amalfi by Bobby Flay, which seems to be doing well despite mixed reviews, and Bobby's Burgers in the Caesars Palace food court which should be sent packing as it is consistently disappointing and unworthy of Caesars (or Paris or Harrah's, for that matter).
Caesars, it seems, has hitched its wagon to Flay, as celebrity-branded restaurants and lounges have performed well for the company.
This, despite the fact Flay's Shark jumped the, well, you know, at Palms. The restaurant closed when the resort did during the pandemic and never reopened when Palms was purchased by the San Manuel tribe.
Oh, and Flay's Amalfi replaced his own Mesa Grill, its popularity flagging over time. (Successful restaurants rarely close in Las Vegas, unless there's a sexual misconduct scandal involved. Looking at you, Todd English and Mario Batali.)
Still, people are clamoring for Bobby Flay's take on French food!
Right?
Just play along! Bobby Flay is thrilled to create his vision of a classic French brasserie for his long-time partners at Caesars Palace. We know this because we thoroughly skimmed the news release!

Bobby Flay also said, "The design of Brasserie B by Bobby Flay will entice that classic Parisian feel. The energy will be bustling with casual professionalism, and the food will be a mix of brasserie staples and, of course, some flavor surprises I've become known for over the years."
"Evoke," not "entice," and don't get us started with WTF "bustling with casual professionalism" is supposed to mean.
It's unclear why companies continue to insist upon issuing news releases. Bobby Flay never said these words. Somebody wrote the quote for him and he signed off on it. Sort of like the menus at his restaurants. He signs off, then the Food & Beverage team at Caesars Entertainment takes over and operates the restaurant. Flay gets five percent of the gross, and had to show up once a year for a photo op.
Nobody finds news releases interesting or useful and nobody believes Bobby Flay is preparing their food. It's all a silly ritual and nobody seems to know how to stop it. News releases, that is. And possibly Bobby Flay, come to think of it.
Anyhoo, here's more from the news release, "From the casino floor, guests are drawn to the restaurant's entrance by a glowing neon sign curved along an exaggerated cornice. The inviting space evokes a sense of familiarity and nostalgia, transporting guests to a timeless brasserie."
We had an exaggerated cornice in college, but cold showers helped a lot.
Here's a smidge more information we squeezed from the official announcement, "Designed by Olivia Jane Design & Interiors, Brasserie B features an L-shaped, 20-seat bar with weathered marble, fluted wood and zinc accents. The lounge flows into the main dining space, which includes a showstopping raw bar with a lit canopy that spills over the tables below. The intimate, 140-seat dining room features blown glass chandeliers, cane-backed cafe chairs and handmade subway tile."
We experienced some wood in college, but fluting helped a lot.
If that joke feels a little repetitive, we have several immature references to "blown glass" and a "showstopping raw bar" as a back-up plan, you're in good hands.
We have to say we aren't that familiar with French food, but we're pretty sure Guy Savoy is laughing his ass off at the thought of Bobby Flay trying to horn in on the realm he's dominated at Caesars Palace since 2006.
Could this signal a change at Guy Savoy? We have no idea, but if something happens, we'll refer back to this blog post and say, "We told you so?" Question marks are really important for ass-covering. We have any number of rumors we've shared that we wish had been shared in the form of a question. "Does a successful but polarizing Las Vegas magician dip his penis in hydrogen peroxide before and after sex?" we would allegedly ask.
Burying salacious rumors at the end of paragraphs is another method of ass-covering. Nobody read entire paragraphs anymore, and certainly not magicians. If you are learning to write a blog, you are getting a crash course right now.
Anyway, we have a ton of salacious rumors about Bobby Flay, but we have had enough interactions with lawyers to last a lifetime, so we'll just wrap this up.
Right after we mention Flay is a noted hound dog and disliked by a ton of people, including reportedly Giada De Laurentiis and Gordon Ramsay, two celebrity chefs who also have lucrative deals with Caesars Entertainment.
Haters gonna hate, but Bobby Flay is beloved by many fans and having a celebrity chef associated with a restaurant saves tons of money having to build brand recognition from scratch.
We love that Caesars Palaces continues to shake up its restaurant collection. The iconic resort has had some serious upgrades recently, including an impressive refresh of its main entrance and the unveiling of a fancy new bar and table games areas inside the entrance. Not the one you're thinking of (near hotel registration) the other one.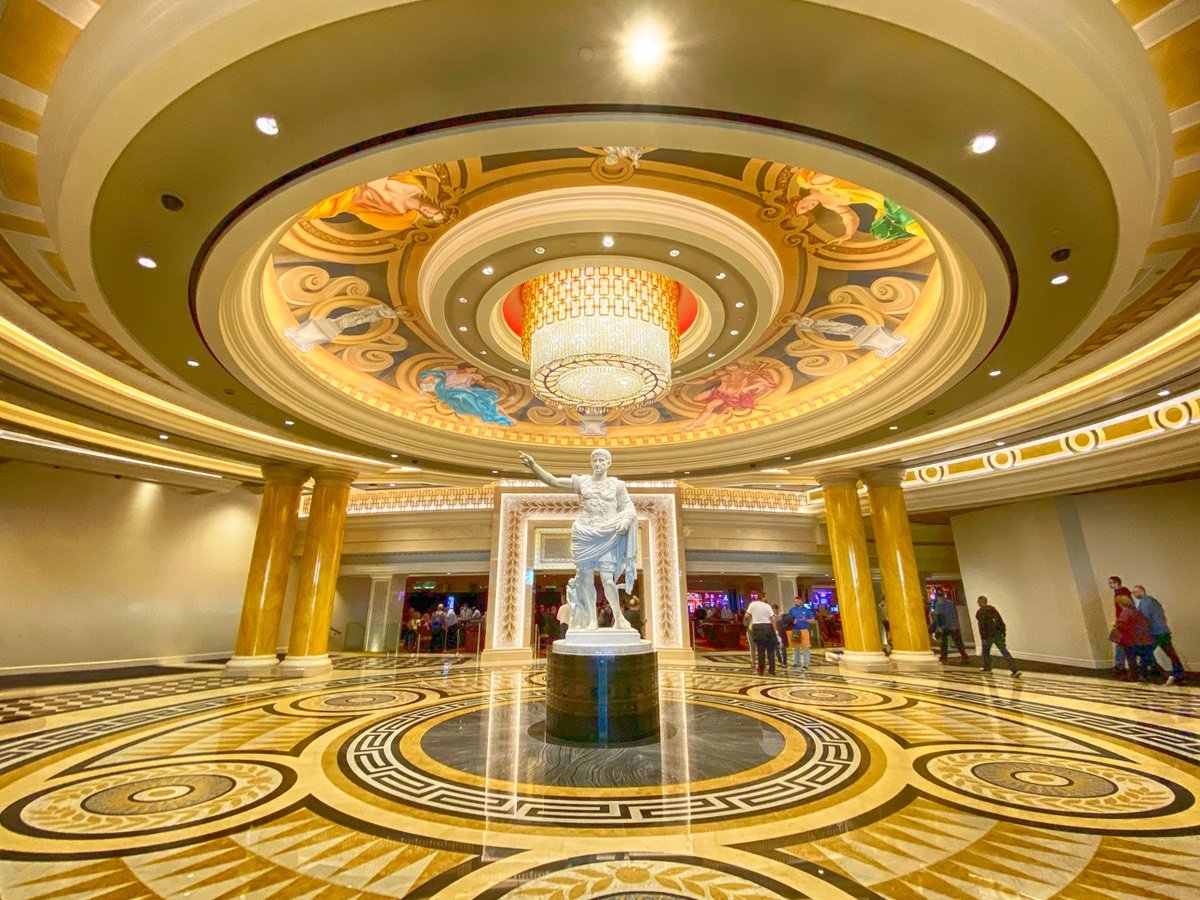 Here's a quick walk-through, because the more visuals we share, the less we have to write.
Caesars Palace is still going strong and remains one of the most recognizable casino resort brands in the world.
The Caesars roster of celebrity chefs is the most impressive in Las Vegas, so we'll see what Bobby Flay has up his manche.
Hey, the six people who still remember their high school French got that reference.
Joie de vivre! Or something!