Binion's Nails It With New Whiskey Licker Up
It's been a busy few months at Binion's Gambling Hall.
In July 2019, the downtown casino opened (technically re-opened) the historic Hotel Apache, with a modest 81 old-timey rooms. The original Hotel Apache opened in 1932.
Now, Binion's has opened a new restaurant, bar and nightlife venue, Whiskey Licker Up. And, no, we honestly never thought we'd use the words "Binion's" and "nightlife" in the same sentence.

Whiskey Licker Up officially opened on Sep. 30, 2019, with some perfunctory hoopla, which is the best kind of hoopla in our humble opinion.
Where to begin? With the bar, naturally! Do you know this blog at all?
The centerpiece of Whiskey Licker Up is a sweet revolving bar. It was inspired by Carousel Bar, a hot spot in the French Quarter in New Orleans.
You're familiar with New Orleans. It's like Las Vegas, but stickier.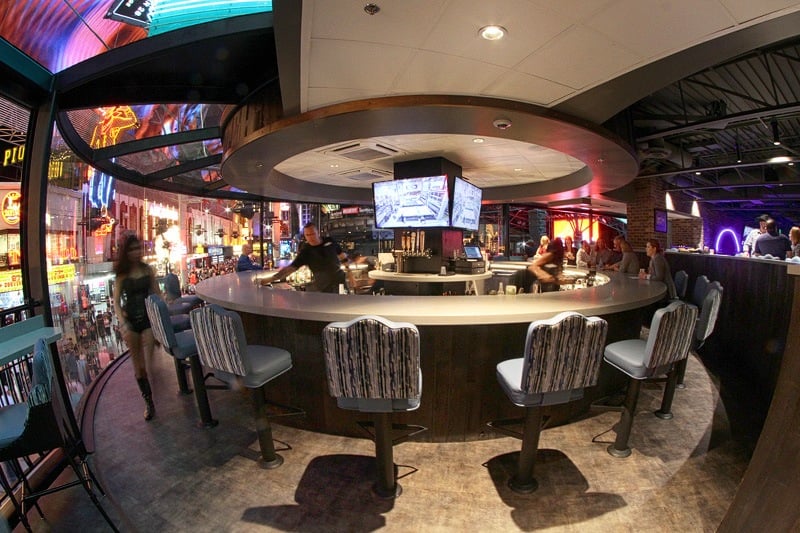 The revolving bar has variable speeds and rotates counter-clockwise. We talked to an engineer who said bars that rotate clockwise can cause people to feel woozy. We honestly have no idea what difference that would make, but we are a blog, not an engineer.
Here's a look at the revolving bar during construction.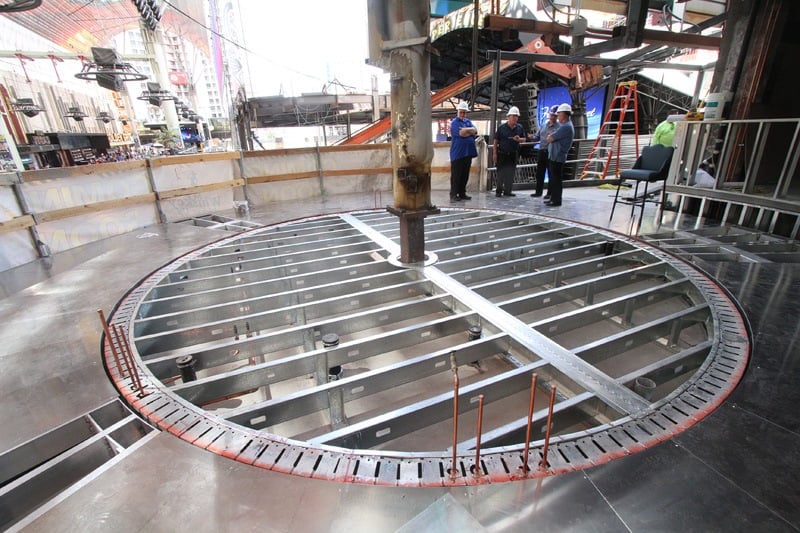 The bar takes 15 minutes for a complete revolution.
Here's a badass time lapse video of the revolving bar at Whiskey Licker Up.
It's downtown, so the venue has a back-up bar, of course. This one doesn't rotate, but the long pours are still in effect.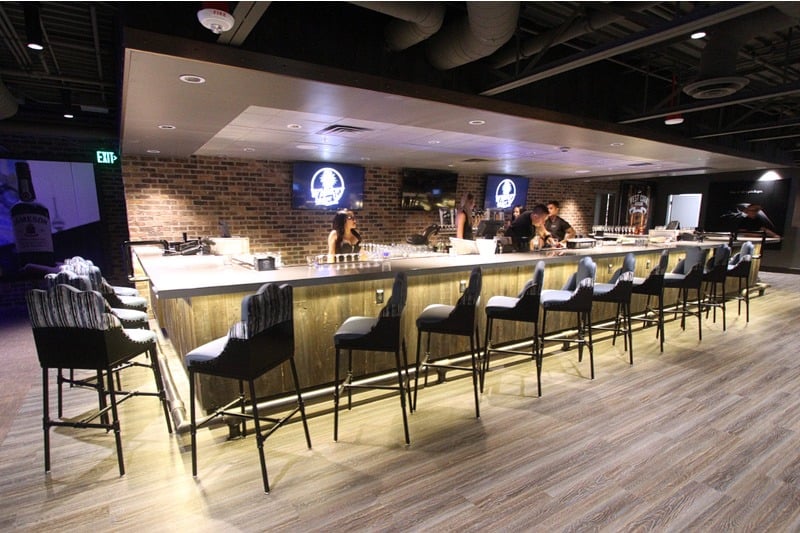 Video poker players will note that Whiskey Licker Up has none. Video poker, that is. You'll survive. We were surprised about that, too, but the bars were built so they can accommodate video poker machines should they be installed in the future.
For now, it's just food, hooch and a section of the restaurant that can be used as a dance floor.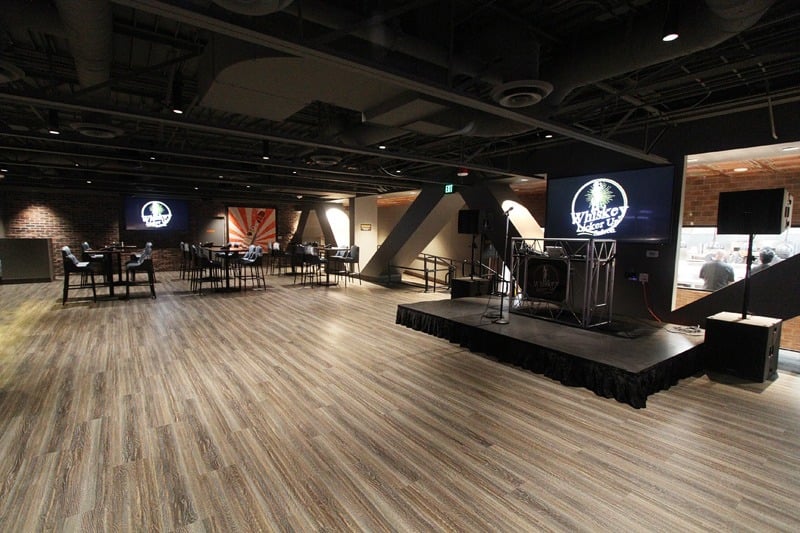 The food we've tried has been delicious, including the wings, beef sliders and meatballs. The pork sliders were a disappointment, but the chicken tenders more than made up for them as they are some of the best we've had in Vegas.
Here's a look at the meatballs.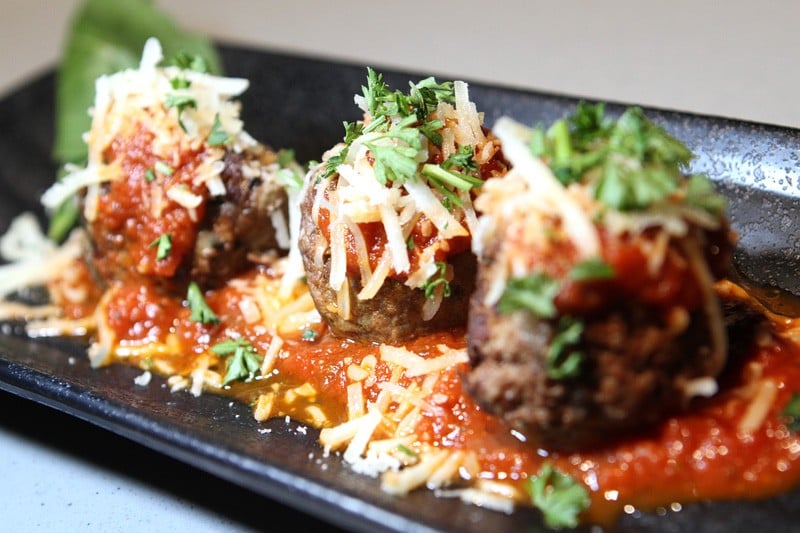 The fact Binion's gets meat right shouldn't come as a surprise if you've have the hamburger in the Binion's Cafe. It's also one of the best in Las Vegas, possibly because they use meat trimmings from their steakhouse, and that often means your burger is made from filet mignon.
Here's a look at the Whiskey Licker Up appetizer menu. Please don't strain your eyes, click here or possibly here for a larger image of the full food menu.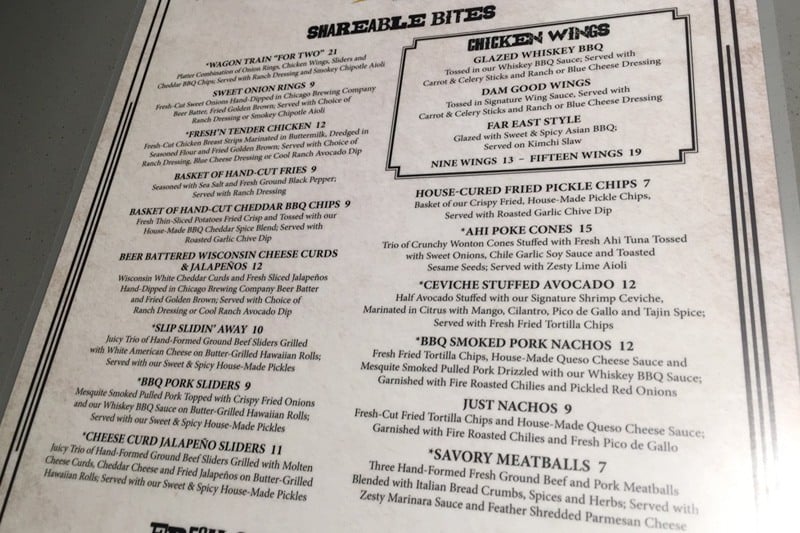 The liquor is ample at Whiskey Licker Up, which probably wasn't difficult to predict given "whiskey" is right in the name of the place.
The signature cocktails are $12 ($18 for a double), and there's an extensive beer selection. Again, click here (for the cocktail and wine menu) and definitely here (for the beer menu).
Yes, they have Captain Morgan from the bottle. Don't you ever think about anything else?
The original plan for Whiskey Licker Up was to have a mechanical bull, but apparently it was nixed. Instead, the venue features one of those new-fangled virtual reality machines. Isn't it funny you never hear about things being old-fangled?
The VR machine is a four-seater. Here's a look.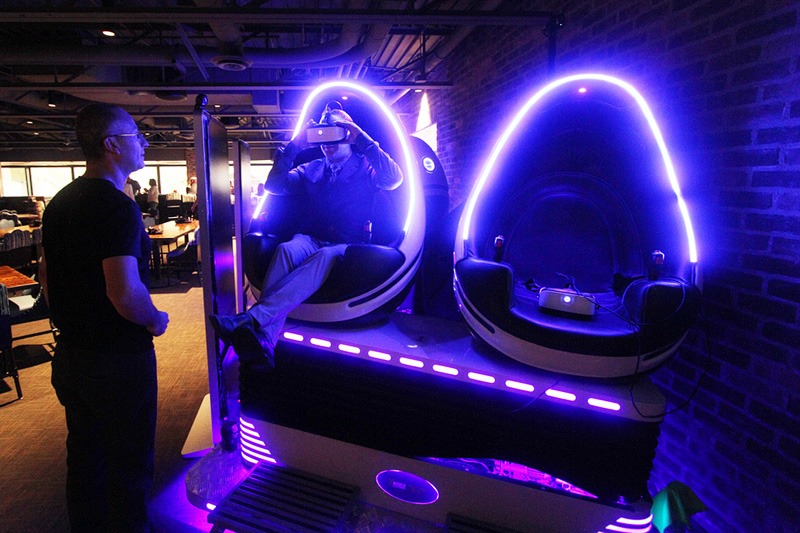 The VR machine, the X World 360, has the option of 89 different rides. We, naturally, chose a mellow one. It was awesome, and we are not even a ride person, virtual or otherwise. Here's more about the X World 360 if you're into that kind of thing.
Rides are $15 a pop. The mellow rides last 7-9 minutes, the more intense ones last 3-4 minutes.
On the service front, Binion's has wisely hired a bevy of model servers. They're like your typical servers, but are younger, more attractive and less roboty.
The theme of Whiskey Licker Up is a little bit country, but without the bull, they have the flexibility to feature a variety of music styles. We suspect, though, country will be prominent when the rodeo is in town. There's even a rodeo gate (slash advertisement) for photo ops.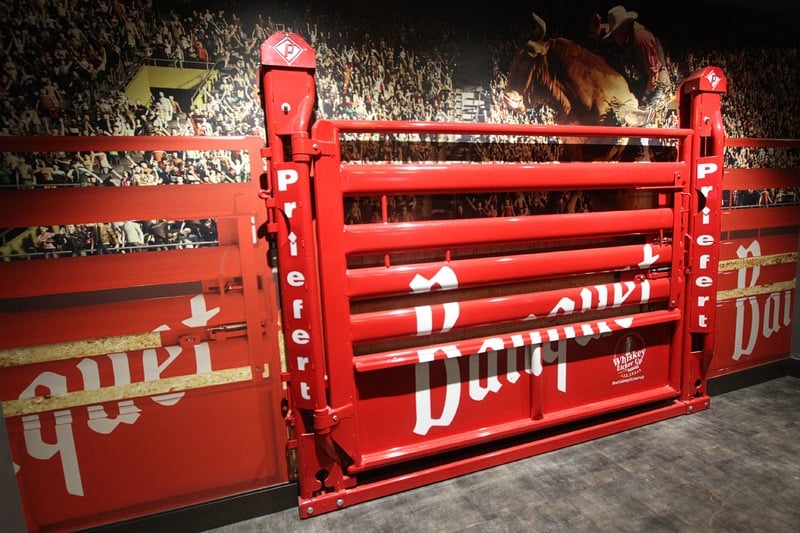 Whiskey Licker Up is bigger than you'd think, and there's tons of seating at tables, at the bars, on the outdoor balcony (enclosed by windows that can be rolled open) and in VIP booths.
Again, never expected to say "VIP booths" in a story about Binion's, but we're always open to surprises.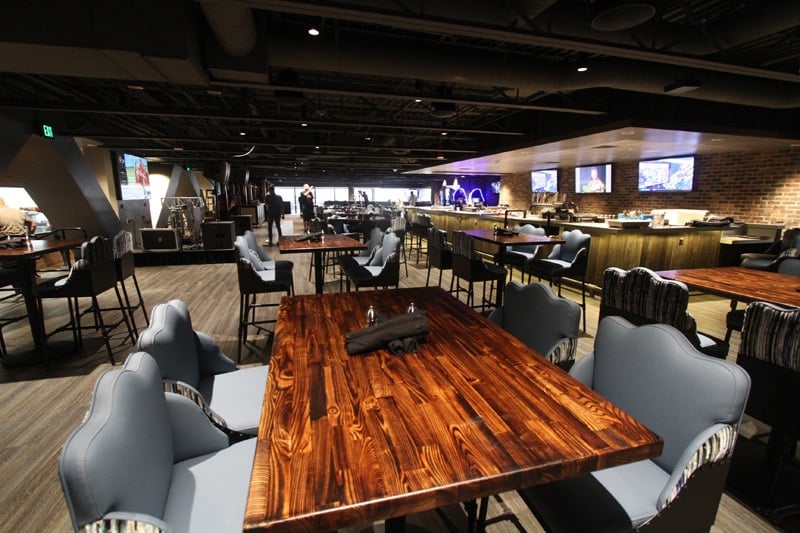 One of the absolutely best things about Whiskey Licker Up, of course, is it's at Binion's, and Binion's is an iconic part of Vegas history.
Part of that history has been exposed at the street entrance to Whiskey Licker Up. Guests go up a flight of stairs, and can see a wall of petrified wood that dates back to the Mint. It's downright old-fangled.
The Mint was absorbed into Binion's in 1988.
Vegas fanatics will enjoy the fact a portion of the Mint's famous facade has been left exposed. Prepare yourself for engorgement, if you get our drift.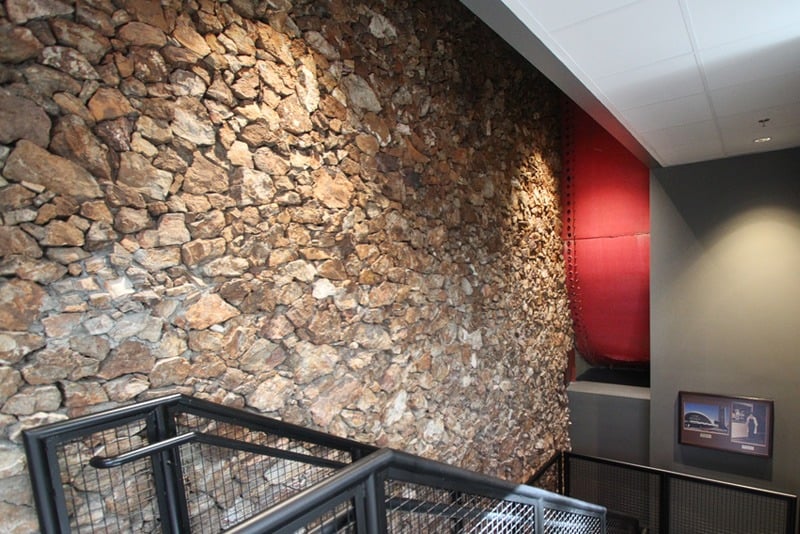 Preliminary hours are 11:00 a.m. to 2:00 a.m., except for Friday and Saturday, when the place will stay open until 4:00 a.m.
It's gratifying to see Binion's doing this new venue right. We'd love to see some video poker, but the prices are reasonable and the service is perky, so we expect to be back soon and often.
Full disclosure: We work in digital marketing at Fremont Street Experience and Binion's is one of its member casinos. Opinions are our own.
Of course, we've got more photos of Whiskey Licker Up, so mosey on through them or whatever the kids are doing.