Wynn, Now Approved for New Jersey Online Gaming, Waiting and Watching
Posted on: February 5, 2014, 05:30h.
Last updated on: February 4, 2014, 07:56h.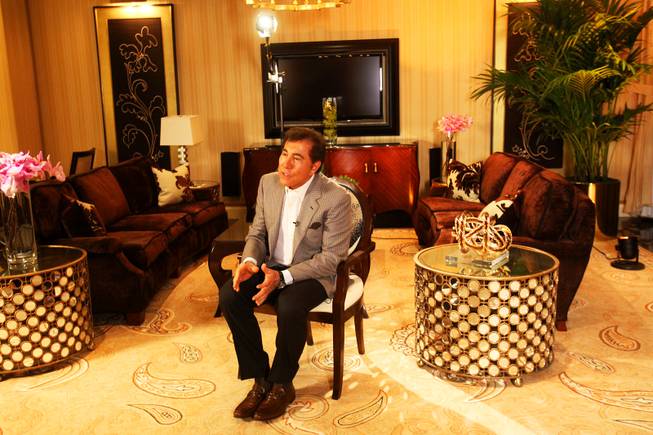 Oh, the irony: no sooner had Steve Wynn come out with all guns blazing, joining Las Vegas Sands CEO Sheldon Adelson with a pronounced anti-online gambling viewpoint, than New Jersey gaming regulators gave his company – Wynn Resorts Ltd. – the official thumbs up to launch an online site of his own in the Garden State. Can you say "awkward"?
Unimpressed with Online So Far
The approval comes literally days after Wynn spouted off to the press about his recalcitrant views on Internet gambling, possibly putting him an uncomfortable position; thus no huge surprise that his Las Vegas and Macau-centered casino conglomerate is stepping back and assessing the situation before moving forward with any online plans in New Jersey.
"[We don't view this as] a good entrepreneurial opportunity. Consequently, our plans are on hold until we understand the business opportunity," Wynn Resorts spokesperson Michael Weaver said of the regulatory approval.
The permissions were actually granted late last month, but were only made public this week. New Jersey's Gaming Enforcement Division specifically told Wynn Interactive – the company's Internet arm – that they were approved to set up sites with partner Caesars Interactive, a Caesars Entertainment online subsidiary. The two potential partners are also now okayed to do Internet site operations with both the All American Poker Network and 888 Atlantic Limited, which is an 888 Holdings affiliate. 888 is a Gibraltar-based Internet betting outfit.
Wynn Resorts applied for the licensing just last year, and technically received a transactional waiver, meaning they can essentially piggyback on Caesars'  existing online licensing if desired.
Opposed, But Not That Opposed
Wynn's views on Internet gambling seem to be a tad muddled; at times, he cites the potential for underage gamblers to sneak in, and at others, points to what he says are simply unremarkable early revenue streams for the Internet gaming markets created since last year in the U.S.
So whether his opposition is based on morality or financial issues remains unclear, but he isn't willing to be as vehemently ardent in his opposition as his competitor Adelson, it appears.
Unlike Adelson, Wynn hasn't yet said he believes all Internet gaming should be completely halted; only that he himself is not sure he wants to participate in it. Unnamed sources have predicted that Wynn will not be getting behind Adelson's million-dollar-plus efforts to lobby federal legislators to his views, either.
Caesars Interactive hasn't been bothered by Wynn's apparent reluctance to move into the online gambling realm; the major land operator now also has six gambling sites – some specifically poker-oriented, with their WSOP branding.
Wynn's Weaver noted that the first internet gambling numbers coming out of Nevada and New Jersey are not blowing anyone away; both states have faced issues that include some problems with geo-location tracking for determining who is actually inside state borders (and sometimes shutting out players who are, in fact, inside those borders), as well as the more pervasive and problematic issue of major credit card issuers and banks that continue to deny even legal online gambling transactions.
"We'll put everything on hold and monitor it for now," Weaver said of the option to put Wynn Resorts online in New Jersey.
Although Governor Chris Christie made big predictions for New Jersey's first year online, the state's premier six weeks took in just $8.4 million on its 15 casino and poker-only Internet sites, with upwards of 150,000 accounts having been created; Nevada's two poker-only sites won't have public numbers until after a third license is up and running. Delaware – the third of three U.S. states that are already in action with legal online play – has had disappointing initial income from those sites as well.