VEGAS MYTHS BUSTED: The Real Story Behind the Elvis House
Posted on: May 15, 2023, 08:04h.
Last updated on: October 28, 2023, 07:48h.
The house at 2520 Castlesands Way is currently off the market. But its Redfin page promotes the rock n' roll bona fides that local Las Vegas kids have told each other about the domicile for generations.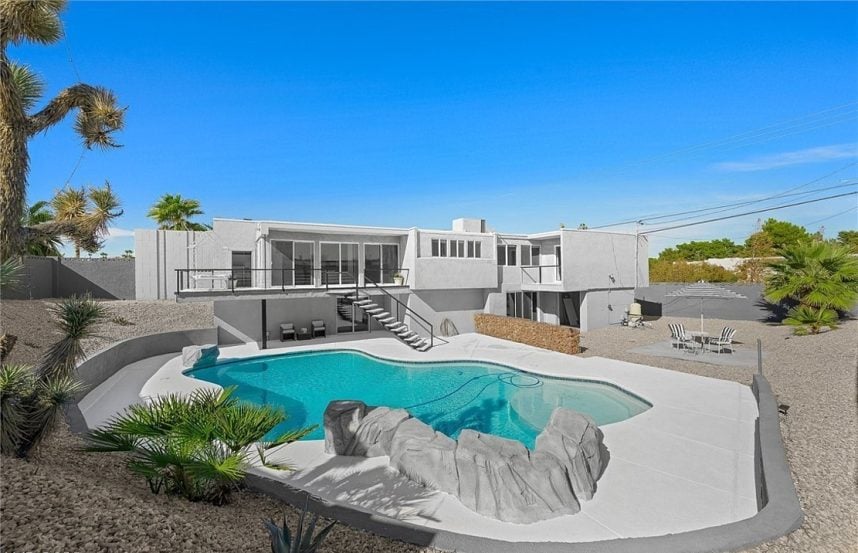 "The Elvis House was originally built by the International Hotel," it reads, "as a private and very exclusive hideaway for various headliners who were performing in Las Vegas such as Elvis Presley, Dean Martin, and Marilyn Monroe, and a host of other famous, infamous, and mysterious persons of note."
Except that it's most definitely not the Elvis house. The King never stayed there. Not once. He never even toured the joint, at least not according to Jerry Schilling, a card-carrying member of Presley's "Memphis Mafia" entourage, whom this reporter got a chance to interview about it 13 years ago.
Built in 1954 as a secluded property near Eastern and Twain avenues — the outskirts of Vegas at the time — the "Elvis" house is 3,300 square feet of mid-century modern. It features slate tile, glass block windows, lava-rock walls, a spiral staircase, and a waterfall bathtub.
In 1962, the house was sold to a company with ties to casino developer Kirk Kerkorian, who opened the International Hotel in 1969 with Elvis as its second headliner (after Barbra Streisand). Kerkorian offered the house to any of his headliners who wanted it, but he also offered Elvis a choice he did not give to every headliner: stay at either the house or the penthouse of the International whenever you headline.
Baby, Let's Not Play House
Once Kerkorian toured Elvis around the 5,000 square-foot spread in the 30-floor Imperial Suite, his choice was permanently made, according to Schilling. (For a list of all the real real estate associated with Elvis' Las Vegas years, check out "The Buildings Elvis Presley Left in Las Vegas.")
As for Redfin's claim that Dino and Marilyn also stayed in the "Elvis" house, it's certainly possible but also suspect. Neither ever headlined the International, and both had plenty of opportunities to stay elsewhere when they came to town.
In 1974, violinist Joe Macchiaverna reportedly bought the house for $50K at a foreclosure auction. In the late 1980s, he subdivided the land surrounding the home, which gave birth to the neighborhood currently enveloping it.
A third owner, Michael Michaels, reportedly impersonated Elvis — either for a living or a hobby, it's unclear — and this is about as close as the house ever came to having the real Elvis stay in it.
Lore also has some Middle Eastern renters, later turning it into a brothel. That's more believable, but certainly no selling point for a home.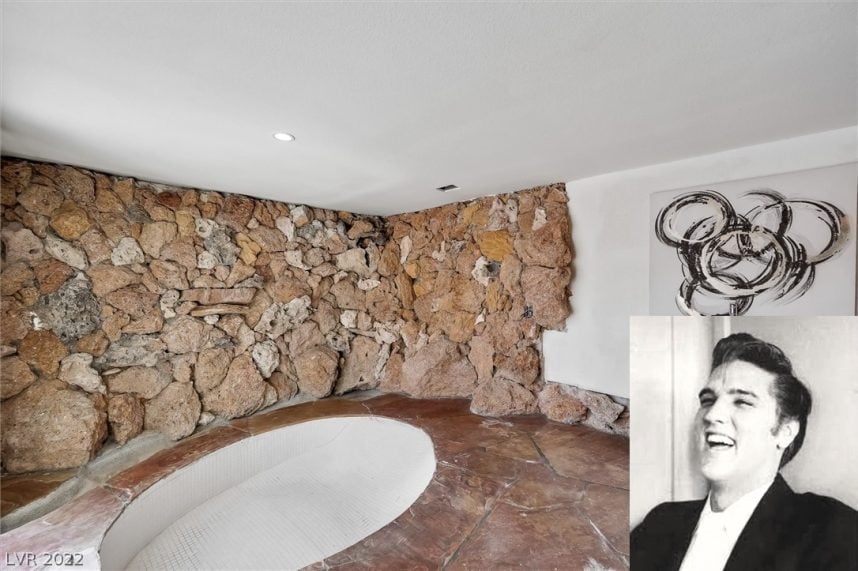 Money Honey
Of course, when it comes to real estate sales, myths translate into commissions far more often than truths do. And if you read the Redfin description carefully, it doesn't actually claim that Elvis ever stayed there — it just sounds like it does.
The house last sold for $825K on March 31, 2022. Hopefully, that sale price was based on how nice it was and not how historic.
Look for "Vegas Myths Busted" every Monday on Casino.org. Click here to read previously busted Vegas myths. Got a suggestion for a Vegas myth that needs busting? Email corey@casino.org.