US Online Gambling Legislative Year in Review
Posted on: December 26, 2014, 08:10h.
Last updated on: November 28, 2014, 12:12h.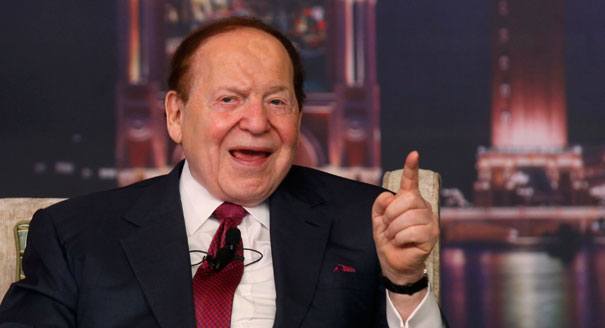 US Online gambling legislation wasn't exactly a national hot button issue in 2014, but the topic did pick up a little steam on the back burner.
There has certainly been a renewed interest in both allowing and banning online gambling at both the state and federal levels, and in particular, one man's crusade to stop Internet gambling has been one of the biggest stories in the industry this year.
Wire Act Back at the Forefront
Back in 2012, the Justice Department took another look at the Wire Act of 1961, which was designed to stop remote gambling, particularly on sporting events.
That led to a new interpretation of the law: the idea that it only pertained to sports betting, and not to other forms of wagering that might take place over the phones or, in our modern world, on the Internet.
That didn't immediately legalize anything, but it did open the doors for states to regulate most forms of online gambling. That's something that so far, three states have taken advantage of: Nevada, New Jersey and Delaware.
But while that has been seen as a good first step by many in the industry, one very prominent name in the industry wants to stop the progress of online gambling in its tracks.
Sheldon Adelson and the Restoration of America's Wire Act
Las Vegas Sands chairman and CEO Sheldon Adelson is no fan of online gambling. In fact, you might say he despises the practice. That's why he created the Coalition to Stop Internet Gambling, an organization that says online casinos and poker rooms must be banned to protect Americans.
That organization is largely behind the Restoration of America's Wire Act (RAWA), a piece of legislation that would modify the Wire Act to clearly ban casino games and poker. While that bill has yet to see much movement in Congress, it does have some prominent supporters.
With most of those in favor of it being Republicans, the new GOP majority in the Senate could improve the chances of RAWA seeing more serious consideration in the next Congress.
Industry Camps Form on Both Sides
Adelson's efforts may have once seemed like a one-man crusade but he has picked up some allies within his own industry. Steve Wynn has also come out against online gambling recently, even though he hasn't been quite as vociferous in his opposition as Adelson has been. Wynn gave the keynote address at the Global Gaming Expo, and answered an audience question with a resounding denouncement of web gaming.
That's not to say that some in the industry aren't for online gambling. Both Caesars and MGM have come out in favor of regulating Internet gambling instead of banning it, and formed the Coalition for Consumer and Online Protection to promote their side of the story.
Quiet Year at State Level
Meanwhile, there was much talk but little action for online gambling at the state level this year. The most action was seen in California, where hopes were raised once again that some coalition of tribal groups, card rooms and the horse racing industry might be able to put their muscle behind an effort to bring at least online poker to the Golden State.
Unfortunately, as in years past, these efforts ultimately fell apart in 2014. It proved impossible to get everyone on board with the same bill: while it seems that all of the stakeholders in California want online poker, agreeing on the exact nature of the legislation was a major stumbling block.
The biggest questions came over who would be allowed in the market; some wanted a bad actor clause designed almost exclusively to keep PokerStars out of the market, while others partnered with the online poker giant to oppose such a rule.
Most Read