Thai Dice Cheat Sewed Magnets into Fingertips
Posted on: April 25, 2023, 04:39h.
Last updated on: April 25, 2023, 12:44h.
A man in Thailand spent 40 years with magnets implanted in his fingers so he could cheat at dice, Thaiger reports.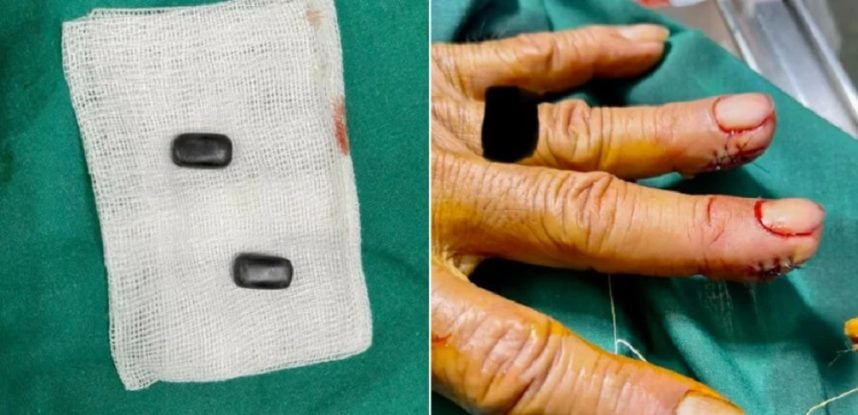 Dr. Wat Lun of the Wiwat X-ray Clinic-Lab in Chon Buri, Thailand, claims the man visited him to remove the magnets because he needed to take a flight and was worried they would set off the airport security alarm.
Lun posted post-op images of the man's stitched-up fingers on social media, which have gone viral in Thailand. He noted that the man had "two very tightly embedded magnets," one in the middle finger and one in the ring finger of his left hand.
Another image posted by Lun shows two dark magnets the size of fingernails laid out on a piece of gauze.
The man had the magnets fitted to cheat at the dice game known in Thailand as hi-lo, and as sic-bo or dai siu, in many other parts of Asia. He told the doctor the dice would be loaded with a small piece of metal so he could manipulate them with his magnetic fingertips.
The man said they had been there for 40 years.
Hi-Lo Cheat
Sic-bo is a game of Chinese origin played with three dice. Players place their bets on areas of a table that are divided into sections, each denoting a possible outcome of the dice roll, such as whether the total number will be between 1-11 or 11-18 or whether it will be an odd or even number.
It's a game popular in the casinos of Macau and the Philippines and is found today in many US casinos, too.
There are no legal casinos in Thailand, but illegal gambling is endemic. Penalties for playing dice in an illegal casino could land you in prison for three years and see you fined 5,000 baht (⁓$150).
Positives and Negatives
The idea of using magnets to cheat at gambling is nothing new. Back when slot machines were mechanical and made of metal, it's believed cheaters used strong magnets to manipulate the reels.
Since it's unlikely this technique would have been particularly effective, and because most evidence for it is anecdotal, it may be an urban myth.
Craps originated from the European dice game hazard in the gambling halls and riverboat casinos of 19th century America. Many of these venues were notoriously crooked, but evidence suggests they favored weighted dice over magnets when rigging their games.