Massachusetts State Gambling Commission Hears Revere Casino Plan
Posted on: November 28, 2013, 05:30h.
Last updated on: November 26, 2013, 07:52h.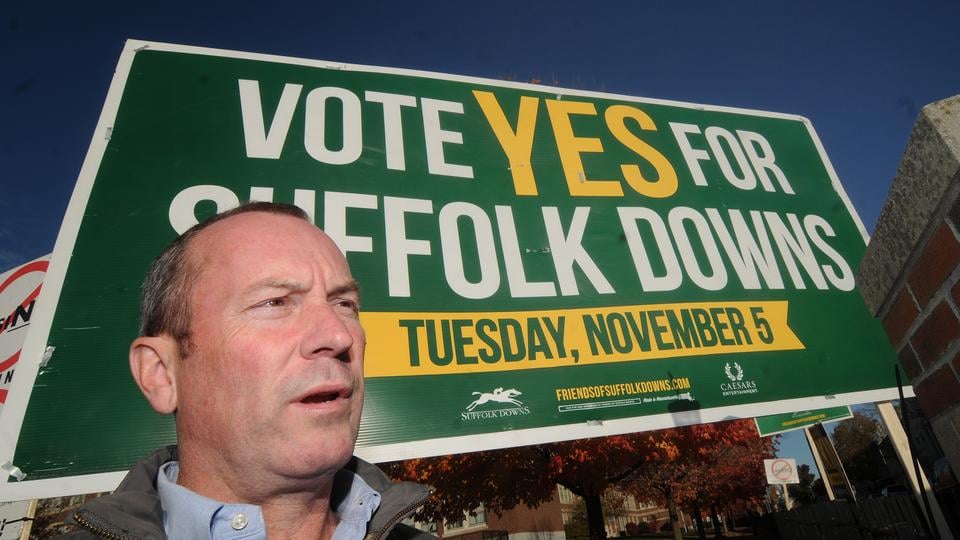 If you move a casino over a city line, is it still the same casino? This isn't a complex philosophical question, but rather the problem facing Massachusetts state regulators right now, as well as both supporters and detractors of a casino at the Suffolk Downs racetrack.
Whose Border Is It, Anyway?
If you've been following the news out of Massachusetts, you know that East Boston voters soundly rejected a casino at the race track, while neighboring Revere easily approved the same proposal. Since then, Suffolk Downs and Revere officials have considered moving the project so that – rather than straddling the city line on the East Boston side – it would be located entirely inside of Revere's city borders, where voters have already approved it. But that seemingly simple concept has led to protests from East Boston officials and voters who believed they had shot down the casino once and for all.
The Massachusetts Gambling Commission took testimony and information in from all sides late last week – and there was plenty of debate between advocates on both sides. And the decision was unclear enough that the commission decided that they will further study all aspects of the votes before proceeding, including the host agreements, the wording of the ballot questions, and the laws that allow for casino gambling in the state.
One of the major players at the meeting, naturally, was Revere Mayor Dan Rizzo. He showed up to the commission in person to argue that the host agreement signed by Revere anticipated the possibility that some or all of the casino's development could take place in their town.
The key language comes from a passage in the host community agreement related to the potential for expansion of the Suffolk Downs casino. It says that if Suffolk Downs "seeks to expand its gaming establishment onto the Revere property," the track owners will need to "promptly notify the city and the parties shall negotiate in good faith an amendment to this agreement."
Rizzo and other politicians representing Revere say that this passage gives the town an avenue with which to negotiate a new casino agreement solely on land inside of Revere proper.
But opponents from East Boston say that this is ridiculous. They say that the language shows that Revere wasn't expecting an entire casino to be located on their land, and point to another passage that seems to clearly show that the standing agreements only apply to the East Boston proposal.
"As planned, the project would be constructed within the municipal boundaries of the city of Boston," the Revere host agreement states.
Revere voted in favor of the Suffolk Downs casino, with about 60 percent of voters approving it. While Mayor Rizzo says that an all-Revere casino would have gotten even more votes, Boston officials say that still doesn't mean that a vote on the East Boston proposal equates to approval for a Revere-based casino.
"Voters in East Boston decisively voted 'No' to a casino at Suffolk Downs. Because of that, voters in Revere approved a proposal that is no longer viable," a statement from Boston officials declared.
No Time to Waste
There's no timetable for when the gambling commission will come back with a decision on the case, though the decision will likely come before the year-end deadline for submitting casino applications to the state.
Meanwhile, Revere and Suffolk Downs are hoping that a potential deal with the Mohegan Sun could bolster their chances of having their new plan approved. While no official announcement has been made, Mayor Rizzo has said that he thinks a partnership could be imminent, perhaps happening as early as this week. If it happens, Mohegan Sun will step into a partnership voided by Caesars Entertainment, when that company bailed following allegations of third-party associations with a Russian mob figure by the Massachusetts Gaming Commission.
"I'm cautiously optimistic," Rizzo said. "The biggest enemy of Suffolk Downs and Revere right now is time."