StarsDraft Scaled Back to Four States as Daily Fantasy Sports Questions Mount
Posted on: October 20, 2015, 02:15h.
Last updated on: October 20, 2015, 02:15h.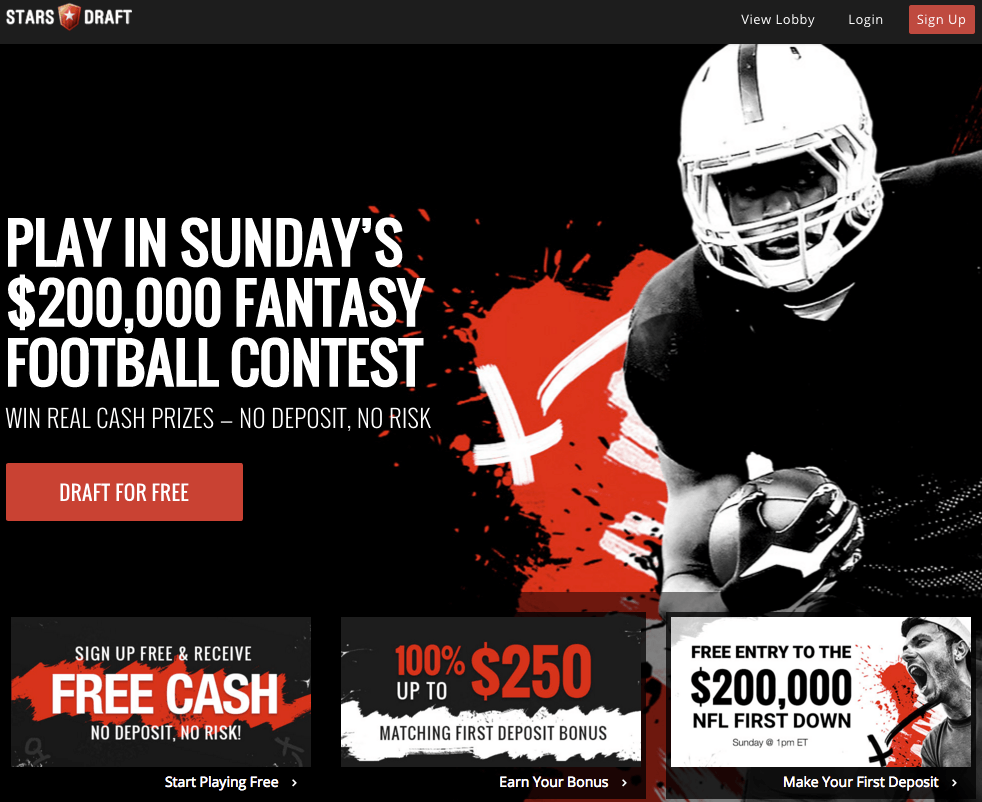 StarsDraft is scaling back its operations in the United States from 45 states to just four.
In a press release issued this week, parent company Amaya announced that due to recent developments surrounding daily fantasy sports (DFS) including probes by the Department of Justice and Federal Bureau of Investigations, StarsDraft would be taking its platform offline in the overwhelming majority of jurisdictions.
"StarsDraft intends to focus operations in states with favorable existing daily fantasy sports guidance, including New Jersey, Massachusetts, Kansas and Maryland," Amaya said in the statement.
Following the revelation that a DraftKings employee won $350,000 on FanDuel allegedly using insider knowledge, Amaya was the first gambling enterprise with a vested interest to call for stricter DFS regulations and oversights.
Amaya says it will closely monitor legal developments and is willing to "work with all states interested in implementing clear guidelines for the operation of daily fantasy sports."
All About PokerStars
Amaya might be the world's largest publicly trading online gambling company, but that doesn't mean the Montreal-headquartered conglomerate is willing to bet on its own economic future.
Instead, Amaya is taking a calculated position to protect the re-entry of PokerStars into the United States.
It was a long and tedious process for Amaya to receive its New Jersey operating license for planet Earth's most robust poker platform and its former rival turned associate Full Tilt.
Amaya spent $4.9 billion in June of 2014 to acquire the networks that were seized by US authorities on poker's Black Friday in 2011. The company has since guided them back to America and stripped the "bad actors" label bestowed by government officials.
CEO David Baazov is treading cautiously, gingerly watching each step his company takes to assure no move tarnishes or jeopardizes PokerStars.
"We look forward to bringing our popular brands, innovative technology, marketing prowess and world-class security and game integrity," Baazov said following New Jersey's license issuance.
Nevada's Gaming Control Board (NGCB) has already ruled DFS violates its current laws. Amaya wants to make sure it's clear of being associated with any negative legal press and stays in good standing in the eyes of state politicians.
"Amaya supports the decision by the NGCB, and believes that it is prudent to limit the StarsDraft offering until such time as more states adopt a clear stance on daily fantasy sports."
Congress Intervening
According to various reports from Washington, DC, Congress is planning to discuss daily fantasy contests sometime in November.
Current candidate for the speaker of the House and author of the anti-online gambling bill RAWA, Rep. Jason Chaffetz (R-Utah) is reportedly preparing to invite DraftKings and FanDuel to the US Capitol for a hearing.
Chaffetz chairs the House Committee on Oversight & Government Reform, the panel that is expected to grill the DFS operators.
Determining whether the main component of DFS is skill or chance, whether daily fantasy violates current federal law, and whether states or Congress should dictate the market will likely take many months, if not years, to sort out.
Amaya sitting on the sidelines for the daily fantasy legal clash should only strengthen PokerStars' newly earned good standing in the United States.