Size Matters for Delaware Online Gambling Revenues
Posted on: January 30, 2014, 05:30h.
Last updated on: January 28, 2014, 10:53h.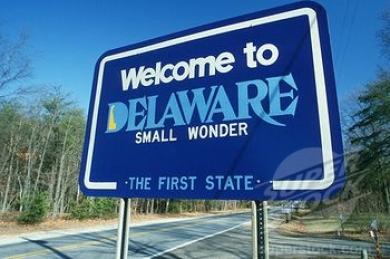 When it comes to advocating for online gambling, there's one argument that sways states more than anything else: revenue. After hearing about how much money is potentially out there, everyone wants a piece of the online gambling revenue pie. But in the case of Delaware, it seems as though the state will have to settle for a few crumbs.
Despite hopes that online gambling might help out struggling Delaware land casinos fend off competition from neighboring states, it turns out that the Internet games haven't generated much interest so far there. Over the course of November and December 2013, the sites raised just $253,000 – far short of the goals that state and casino officials had set for Delaware's online gambling projections.
Few Accounts, Fewer Players
Being such a small state with a population of under one million, few expected Delaware to break the bank when it came to their online sites. But so far, only about 4,000 accounts have been opened on the casino's websites. The liquidity problem is most obvious when it comes to poker games: according to figures by PokerScout, the Delaware Poker site is only averaging about 20 players for real money cash games over the past week. Even at peak hours, the site rarely has more than 50 players taking part in games; definitely a bad beat for the state's coffers.
Liquidity is less of an issue for table games, where players are competing against the casino and don't need to find opponents to play with. However, the small number of players still imposes some limits, such as preventing progressive jackpots on slot machines and other games from growing large enough to draw in yet more players.
In summary, Delaware may just be too small to fully take advantage of online gambling on its own.
"When you are doing online gaming in a state like Delaware, there is just not enough population to bring in much revenue," said KeyBanc Capital Markets investment banker Jay Masurekar. "Unless you have bigger states involved, it's not going to work."
Below Projections
State officials had estimated that the first year of online gambling would bring in $5 million in revenue for Delaware. However, the current pace would put the state in line to bring in just over $1.5 million over its first 12 months. This figure would disappoint the state, but would be especially hard to take for the casinos themselves: the first $3.75 million in revenues go directly to the state before the casinos see a penny from the sites.
Still, officials in Delaware are hopeful that the numbers will improve as 2014 progresses. Geolocation issues have been a problem, as some residents near the state's borders have been unable to log into the sites. In addition, many banks are still rejecting deposits, with Lottery Director Vernon Kirk estimating that 70 percent of Visa cards and 30 percent of MasterCard-branded cards are being rejected for online gambling by the financial institutions that issued them; both of these critical issues are obviously impacting bottom-line numbers significantly, besides the state's population player base.
The online gambling sites are run jointly by the three Delaware brick-and-mortar casinos: Dover Downs, Delaware Park and Harrington Raceway and Casino. It was hoped that online gambling would help stem the tide of falling land casino revenues, which hit their lowest point since 2000 just last year. However, the numbers seen so far have hardly been a drop in the bucket for a state that brought in over $400 million in casino revenue for 2013.
"It might be two, three years from now, we might say this is a nice little business in Delaware," said Frank Fantini of Fantini Research. "But right now, it's pretty slow."
For Kirk, it's more a matter of patience and being realistic.
"In and of itself, it's not going to be the thing that solves everybody's financial issues," the lottery director said. "It's a piece of the puzzle, and it's got a lot of potential.