Sheldon Adelson Considers Making NJ Casino Out of Sow's Ear
Posted on: October 6, 2014, 07:00h.
Last updated on: October 5, 2014, 06:43h.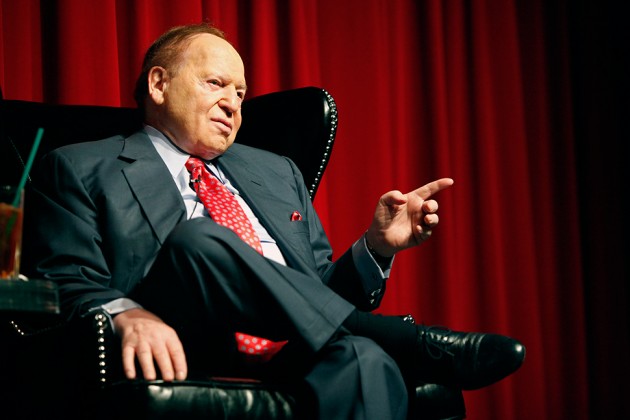 Sheldon Adelson would consider building a North New Jersey casino should the state go ahead with proposed plans to expand gaming there, the mogul told the Global Gaming Expo (G2E) audience in Las Vegas last week. Adelson says this, despite having less than fond memories of Secaucus when he was stationed across the water during his Army days.
Taking a quick break from railing against the evils of online gambling, the Las Vegas Sands chairman recalled with a shudder how, as a young man serving in the US Army on Governors Island in New York City, it used to "rain the odor of pig farms" from the Meadowlands.
"I could smell Secaucus from Governor's Island," he complained. "We don't have that anymore, so that would be a very attractive place to build."
Ill Winds
Adelson's previous resistance to entering the New Jersey market has had little to do with that ill-wind of porcine pungency, however, and everything to do with his ability to predict industry trends, or so he claims. As he told the assembled G2E crowd, he always anticipated that the market would become saturated as New Jersey's neighbors began to legalize casino gambling.
"It was my conviction that, someday, the abutting states were going to legalize gaming and suck out all the business that Atlantic City was taking from adjacent states," he said, and his decision to build casino resorts in Macau rather than Atlantic City over the last ten years perhaps bears this out.
However, the idea of New Jersey breaking the Atlantic City monopoly and creating one casino license in the north in order to lure in legions of New Yorkers, as has been proposed, has clearly piqued Adelson's interest, provided that is indeed limited to just one license.
Double-Edged Sword
"I haven't thought about that, and nobody has brought it up to me before," he said when the question was posed. "But I don't think I'd have to think twice about it. If they put several [other new casinos in North Jersey], then I'd have to think twice."
State Senate President Stephen Sweeney said recently that he was open to allowing voters to decide whether to allow for a north Jersey casino, while Governor Chris Christie, although initially reluctant, has said that the idea remains "on the table." Senator Raymond Lesniak, meanwhile, has said that the expansion is inevitable. If this is the case, then Meadowlands, the former pig-farming capital of New Jersey, is thought to be the natural location.
Adelson, however, warned against the short-term outlook of the recent spate of casino expansion in the tri-state area, and the idea that casino-building is a solution to economic ills. "Look, it's a two-edged sword," he said. "If you go in there and spend a lot of money, then you may wake up one day and Governor Cuomo or whoever is governor or mayor of New York City will say, 'Look, they're taking all the New Yorkers' money and they're sucking it up in that casino in the Meadowlands. So we've got to open one up, and keep the money in New York.' "
A Meadowlands casino might provide a good return on capital for five or six years, Adelson suggested, but there is no guarantee that it would last forever.