Second Severe Storm Hits Macau, Hampering Casino Cleanup in Wake of Hato
Posted on: August 28, 2017, 04:28h.
Last updated on: August 28, 2017, 04:28h.
As Macau battled to recover from the aftermath of Typhoon Hato, the fiercest storm to hit the area since 1968, the gambling enclave got battered by another severe storm Sunday night.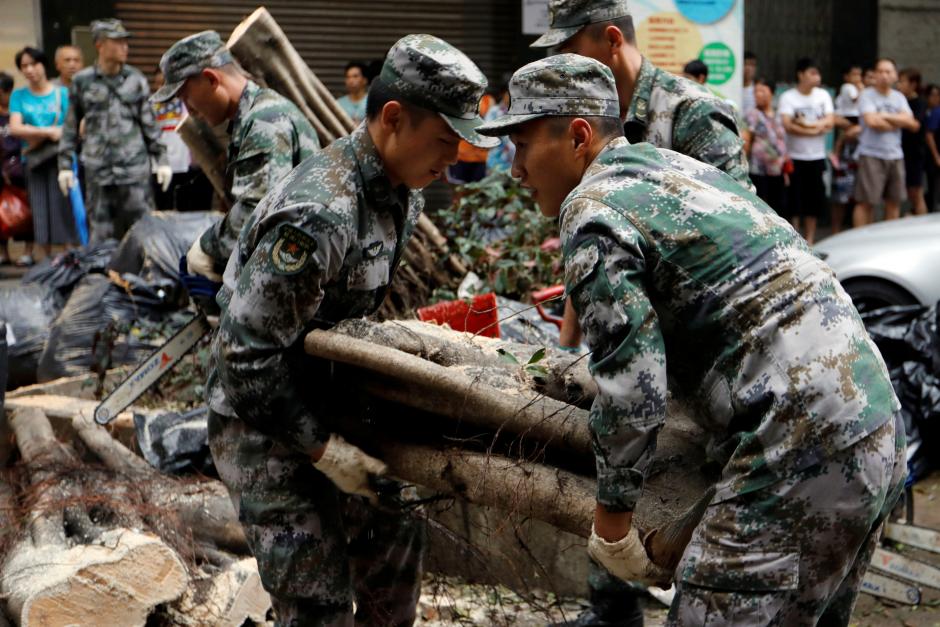 Emergency workers were still struggling to repair the damage from Wednesday's maximum category 10 typhoon when "Pakhar," a category 8 severe tropical storm, struck.
While Hato claimed 12 lives in Macau, no deaths have been reported in Pakhar's wake, but the new storm caused disarray to clean-up efforts by the People's Liberation Army. On Friday, the government in Beijing had deployed 1,000 soldiers to help remove debris strewn across heavily flooded areas.
More than 200 flights in and out of Macau and Hong Kong were cancelled and another 471 were delayed due to Pakhar, causing further disruption to Macau's tourism and casino industries.
Cleanup Cooperation
Hato hit the region during peak season for hotels and casinos, which are expected to suffer a collective $216 million loss from the ensuing disruption. While most casinos are back up and running after several days of downtime, still with intermittent power and water supplies, visitors are starting to return, though casino floors are mostly uninhabited compared to usual crowds this time of year.
A front desk employee at the MGM Macau told the South China Morning Post on Monday that the casino had reopened and was "running normally," following the resumption of electricity and water supply, although its restaurants remained closed.
The Parisian was also open for business of Monday, but electricity and water supplies were unstable. As such, it will not be accepting reservations until September 1.
Meanwhile, casino operators are contributing to efforts to clean up the city. Galaxy Entertainment's Lui Che-woo, SJM Holdings' Pansy Ho, and Melco's Lawrence Ho have each pledged $7.4 million.
Deadly Storm Discount
The Post has reported the casino resorts that are accepting reservations have slashed room rates in an effort to welcome back tourists.
About 500 volunteers from Melco have joined the clean-up operation, although the Post reports that many are disgruntled about the conditions under which they are providing mandatory assistance.
"Some hotels asked their workers to volunteer to help with the clean-up," local gaming industry labor leader Lei Kuok-keong told the Post. "We also heard some complaints that employees were forced to go to work by taking taxis during typhoons but were told they would not be reimbursed."
Macau's director of Meteorological and Geophysical Bureau resigned on Thursday, for his organization's apparent failure to provide adequate warning about Typhoon Hato's severity. The bureau since is reportedly being investigated by Macau's anti-graft agency for signs of malfeasance.
There are concerns that meteorological officials may have delayed issuing appropriate warnings because of the financial repercussions of ordering the casinos to close.
Similar Guides On This Topic