Paul McCartney Stuns Acrobat During Surprise Visit to 'Love' at Mirage Las Vegas
Posted on: October 5, 2023, 03:09h.
Last updated on: October 6, 2023, 12:26h.
Sir Paul McCartney had two high-profile engagements on his calendar during his first visit to Las Vegas since headlining at T-Mobile Arena in 2019. But he decided to squeeze in a third, very much freaking out a performer at Cirque du Soleil's "The Beatles LOVE" in the process.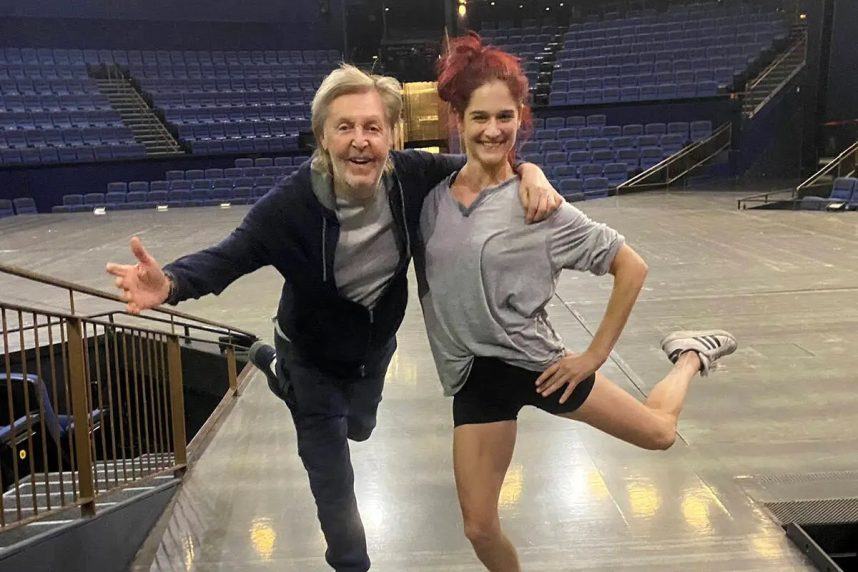 By now, most people have heard that the 81-year-old and his wife of 12 years, Nancy Shevell, were among the 18K spectators who took in U2's opening night last Friday night at The Sphere at The Venetian. That's because singer Bono addressed him from the stage. Since Macca is a longtime friend and supporter of the Irish rock legends, it can safely be assumed that the opening of their "U2:UV Achtung Baby" residency was the primary reason for his trip.
Since he was already in Vegas, the ex-Beatle also took in fellow British superstar Adele. Most people also know about this, too, from a viral audience video showing Adele hugging McCartney while singing "When We Were Young" on Saturday night.
If you haven't seen the footage, do yourself a favor. It's heart-warming:

A Day in the Life of Sasha Harrington
McCartney's third Las Vegas visit was one very few people knew about until Cirque du Soleil released the photograph accompanying this article on Thursday. According to the Las Vegas Review-Journal, McCartney decided at the last minute to pop by "The Beatles LOVE" at The Mirage before hitting "Weekends with Adele."
At 2 p.m. Saturday, he and a small group approached the side stage entrance. Here, they were stopped by a security guard who didn't seem to recognize one of Earth's most famous faces and was instructed never to allow anyone in without a proper production badge, which McCartney lacked.
Luckily, Sasha Harrington, an aerialist in the show, was walking by the entrance and overheard the conversation. She had shown up five hours before showtime to get in some core training.
"I saw this older man and a few other people talking to security, saying, 'Oh, we just want to go in and say hi,'" Harrington told the R-J. "And as I got closer, I was like, 'OK, he looks like Paul McCartney.'
"Then took his sunglasses off, and I was like, 'Oh my God!' That's definitely Paul McCartney!'"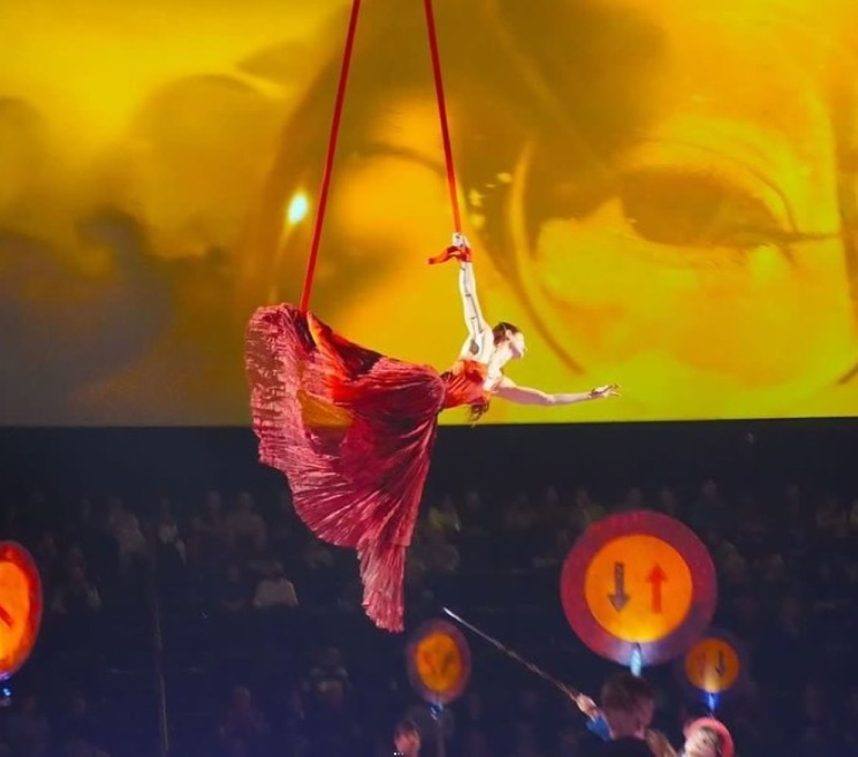 Harrington, who performs with aerial silks during the Beatles song, "A Day in the Life," hadn't woken up that morning thinking she would serve as a tour guide for one of the four people responsible for the music she's spent the last 10 years of her life interpreting.
But there he was, saying he wasn't there to see anyone in particular, just to "say hi."
Taking the Stage
As Harrington was the only performer in the building, however, the experience was as nerve-wracking as it was surreal. Harrington directed McCartney to the stage.
"Not like he hadn't been there before, but I didn't know what else to do," she told the R-J.
It was McCartney's idea for them to pose for a photo together — McCartney suggested "something acrobatic" — and Harrington is grateful because, as an employee of the show, she might not have summoned the courage to ask for one herself.
"I just said, 'Thank you!'" Harrington told the R-J. "Because what am I supposed to say after that? Like, 'Hey, everybody, Paul McCartney was just here, but there's no evidence.'"
In related news, everyone else in "The Beatles LOVE" cast now shows up five hours early to work every day, yet will never meet Paul McCartney. (Just kidding.)
The fate of "The Beatles LOVE" is unknown after March 20, 2024. That's the last date for which tickets are available on Ticketmaster. After that, The Mirage is scheduled for a massive renovation and rebranding before reopening as the new Hard Rock Las Vegas.
According to conflicting reports, this could happen by 2025 or 2028.