New York Catskills Casino Proposals Draw Public Comments
Posted on: September 25, 2014, 05:30h.
Last updated on: September 25, 2014, 11:13h.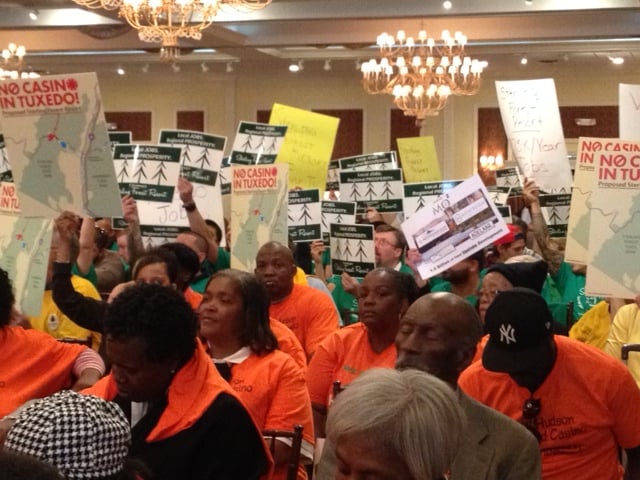 New York Catskills casino plans are the latest topic of conversation for a public with strong opinions pro or con. No region is more desirable right now than that of the Catskills and the Hudson Valley, which is the closest of three upstate areas to New York City. That was the focus of a public hearing on Tuesday, where citizens voiced their concerns and their support for various casino projects across the region.
An overflow crowd packed the Grandview in Poughkeepsie, New York to have their voices heard by the New York State Gaming Commission. Those gathered represented supporters and opponents of the nine casino resort proposals in Ulster, Orange and Sullivan counties. Only one or two licenses will be awarded in the region.
"The turnout is phenomenal," said Robert Williams, executive director of the state's gaming commission. "We had a line developing from the time we showed up here."
Many Projects Attract Supporters
Many of the supporters of various projects could be identified by the colors of their shirts. Those campaigning for the Sterling Forest Resort in Tuxedo wore green (opponents were clad in yellow), while supporters of the Grand Hudson Resort and Casino in New Windsor wore orange. There was also a group of blue-clad speakers lobbying for a project at the Nevele Resort in Ellenville.
"It really does speak to the character of a community," said Ulster County Regional Chamber of Commerce President and CEO Ward Todd about the Nevele proposal. "This is a perfect fit because that's what was there before."
Several major casino developers, including Caesars Entertainment, are interested in building in the region, and some spoke in favor of bringing in a major brand name.
"After looking at all the facts, we found that Caesars is the most economically feasible and community-minded organization reaching across the river," said Charles North, the Dutchess County Regional Chamber of Commerce president and CEO of the plan, which would be located in Woodbury. "They are interested in helping veterans. They are interested in helping the disabled community."
Economic Needs Cited by Citizens
Many residents spoke of the critical economic needs of their towns and counties, saying that a casino could revitalize their struggling economies.
"You probably know the casino carrot has been dangled in front of us for over 40 years," said Sullivan County resident Tom Wasserman. "We want them, we need them and we deserve them."
Newburgh mayor Judy Kennedy, on the other hand, said that her Orange County city had the most pressing need for the boost a casino could provide.
"There is no place else in this region that needs it like this city does."
"We need the jobs," said Newburgh resident Deborah Danzy, speaking on behalf of another casino proposal in the nearby city of New Windsor. "We know we can do the maintenance, the housekeeping, the cooking. I feel if Newburgh were to get this casino, it would generate a lot of jobs for the community."
The hearing came after a similar meeting in Albany on Monday to discuss casino proposals in the Capital Region. On Wednesday, another meeting was held in Ithaca to discuss a handful of casino plans in the Southern Tier/Finger Lakes area. Each region is expected to get at least one casino approved, with a fourth license available for any area. However, that extra license is expected to go to a proposal in the Catskills or Hudson Valley area, as there were far more proposals in that region than in the other two areas.
Similar Guides On This Topic