Oneida Indians and New York's Cuomo Agree to Casino Deal
Posted on: May 20, 2013, 05:34h.
Last updated on: May 19, 2013, 04:36h.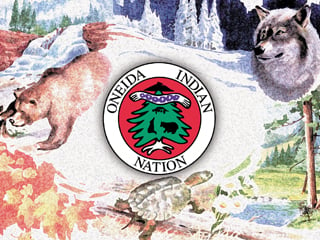 New York Governor Andrew Cuomo has been looking to expand casino gambling in his state. The Oneida Indian Nation has long wanted to settle land claims and build a new casino in Central New York. There couldn't have been a more perfect match.
The Oneida Indian Nation has now signed agreements both with Governor Cuomo, and with local governments, that would guarantee the Native American tribe an exclusive territory for a new casino project. As a part of that deal, the Oneida Indians will be asked to make revenue payments to the state on an annual basis, along with some one-time payments to local governments.
Finally, Agreement
For many years, the Oneida Nation has been involved in disputes with towns and counties in upstate New York. Between land claims from the tribe and complaints from local governments about the Oneida Indians taking revenue away from local and state coffers, the relationship was one that cast a shadow over the central New York region.
"This was one of the truly lingering, festering, negative situations in the state," Governor Cuomo said during the recent signing ceremony. "To finally come to terms and work through all these years of emotion…and disappointment was extraordinary."
Concessions on Both Sides
The biggest point in the deal is that the Oneidas will be assured that no other casino – either Native American-owned, or added as a part of the state's potential expansion of casino gambling – would be located in a large region of Central New York. In return, the Oneidas agreed to place no more than 25,000 acres of land into trust. This will settle the tribe's land claims, as the counties that have sought legal action against these claims will drop their lawsuits in return.
The Oneidas had to make many financial concessions as well. For instance, they agreed that prices for cigarettes on their lands will be comparable with those offered by non-Indian merchants – a point that will disappoint many smokers who traveled to the Oneida Indian Nation to take advantage of the lower prices available there. The tribe also agreed to make revenue payments of around $50 million each year to New York State, which will include 25 percent of all slot machine revenue from the existing Turning Stone Casino.
About a quarter of this revenue will end up going to Oneida County governments, which is the county in which Turning Stone Casino is located. Madison County, which borders Oneida County, will receive a one-time restitution fee of $11 million to settle tax claims the county has made against the Oneidas.
 Awaiting Approvals
The deal now only needs the approval of state and county legislatures, as well as the state's attorney general and Department of the Interior. Should all parties sign off on the deal, the casino agreement will stand, even if voters decide not to approve casino expansion throughout the state. According to reports, a referendum on a change to the state constitution that would allow for three "Vegas-style" casino resorts in upstate New York could be seen by voters as early as November.