New Version Of Connecticut Casino Bill To See Voting This Week
Posted on: May 20, 2015, 02:37h.
Last updated on: May 20, 2015, 02:38h.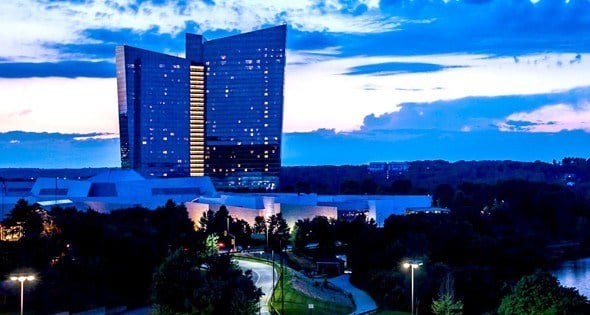 Connecticut desperately wants to find a way to battle back against the coming casino expansion in Massachusetts and New York.
This week, it seems as though the state Senate will consider a bill that would do just that.
A new version of a Connecticut casino bill is slated to be voted on by the state's Senate, and would allow the state's two casino operating Indian tribes to build a new resort to go along with the two they already run.
The bill appears to be much shorter than in earlier versions: rather than a 16-page bill that was previously under consideration, The Hartford Courant says that a working draft of the new legislation is just 75 pages long, or about three pages.
First Version Allowed for Three Casinos
In earlier versions of proposed casino legislation, Connecticut may have allowed for as many as three new casinos to be operated by the Mashantucket Pequot and Mohegan tribes, which operate Foxwoods and Mohegan Sun, respectively. In the newest version, only one additional casino would be allowed.
That new casino could potentially be built anywhere in the state, and the bill outlines a process that would allow the two tribes to talk to towns interested in making proposals to host the facility.
However, it would likely be located somewhere in the I-91 corridor north of Hartford, where it could potentially limit the loss in gambling revenue that could be caused by the upcoming MGM Springfield in Massachusetts.
There have already been several towns in that area that have expressed an interest in attracting a casino. Possible suitors could include East Windsor and East Hartford, among others.
Massachusetts Casinos Could Eat Into Revenue
Both Mohegan Sun and Foxwoods are gravely concerned about the potential impact of the Massachusetts casinos, which in turn concerns lawmakers, as the state shares in the slot machine revenue at both resorts.
At one point, the state made as much as $430 million from that compact in 2007; that number fell to just under $280 million in 2014, and some projections have that total falling to as low as $189 million in 2018.
Under the new version of the bill, final authorization for a new casino would occur until 2016, as the General Assembly would have to approve any deal that was made between the tribes and a town or city.
"It became clear it had to be more of a two-step process," Senate Majority Leader Bob Duff (D-Norwalk) told the Connecticut Mirror. "It couldn't be done in one bill."
Tribal leaders appears pleased with the new bill, even if it doesn't provide the immediate impact they may have hoped for.
"Our goal from the outset has been to protect the 9,300 jobs and revenue that will be lost to competition on Connecticut's borders, and we believe this bill, if approved, will give the Mohegan and Mashantucket Pequot Tribes the ability to begin to take action to do so," said Patty McQueen, a spokesperson for the two tribes.
However, it's also possible that there could be many legal questions that hang over the legislation, a prospect that Connecticut Attorney General George Jepsen raised earlier this year. The bill even seems to anticipate the possibility of legal challenges, stating in one section that if a court "holds any provision of this section unconstitutional, the remaining provisions of this section shall be inoperative and have no effect."