NCAA March Madness Begins for Basketball Fans and Gamblers
Posted on: March 21, 2014, 05:30h.
Last updated on: March 20, 2014, 08:46h.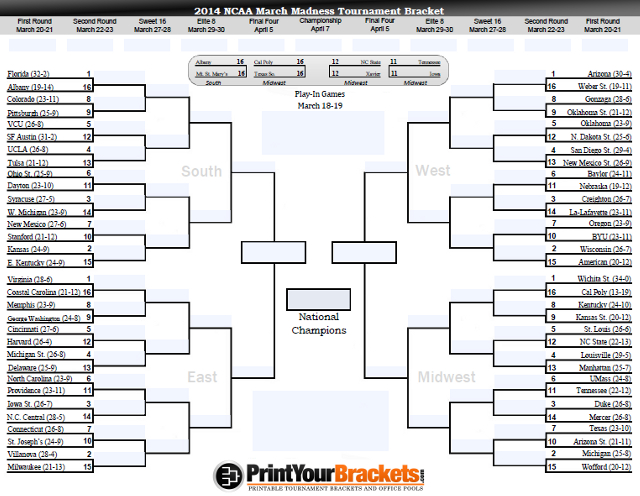 It's that time of year again: when everyone fills out a bracket, productivity grinds to a halt, and basketball fans try to figure out who will be this year's Cinderella. Yes, it's time for the NCAA Men's Division I Basketball Tournament, an event you may know better by the nickname of March Madness. And while it's a huge event for players and fans, it may be even bigger for the gambling industry.
Depending on who you ask, March Madness may be even bigger than the Super Bowl as a gambling event. No single game has nearly the interest of the NFL's championship game, but the year's premier college basketball tournament is a three-week event featuring 67 contests that draw in both serious gamblers and casual fans alike.
Tournament a Boon for Las Vegas
It's impossible to be sure how much is spent on the event in Las Vegas, since regulators don't break down basketball betting into professional and collegiate games. But according to experts, there will be more bets made in Las Vegas for the NCAA Tournament than for the Super Bowl. It's even possible that the total amount bet could beat the $119 million wagered on the Denver-Seattle championship game this year. Beyond Vegas, the NCAA has claimed that more than $2.5 billion is wagered illegally on the tournament each year.
"March Madness is very, very big for us here in Nevada," said Las Vegas' South Point Casino oddsmaker Jimmy Vaccaro. "And it just keeps getting bigger."
The tournament can be a boon for the city even outside of the take at the sportsbooks. The most exciting weekend of the tournament for many fans is not the Final Four, but the first weekend, when there is nonstop action while the field is reduced from 68 to 16 teams.
Las Vegas is the perfect place to catch the action, making it one of the busiest weekends of the year for the city. Last year, Vegas hotels posted a 97.7 percent occupancy rate during the weekend on which the NCAA Tournament began, the highest for the entire year.
Bracket Contests Attract Millions
But the tournament isn't just about making bets on individual games. Even more popular are the bracket contests that are held in just about every office across the United States, in which fans try to predict who will win every game in the tournament. Most of these contests are free or have very low entry fees, with the most accurate bracket taking home the prize money at the end of the event.
The NCAA has made it clear that they oppose these pools (at least those with cash prizes), saying that they are illegal in most states and that they can serve as an entry point for children to begin gambling. But that hasn't stopped anyone from playing, and the NCAA has never seriously tried to crack down on the practice.
The biggest bracket prizes are traditionally found online, where individuals can fill out brackets for free and compete against millions for the chance to win prizes. But while numerous organizations offer such contests, one has clearly captured the attention of basketball fans this year.
A Billion-Dollar Bracket
That's the bracket challenge offered by Quicken Loans, which is offering a $1 billion prize (insured by Warren Buffett's Berkshire Hathaway) to anyone who can fill out a perfect bracket this year. Of course, to say predicting every game correctly is a long shot is putting it lightly: in the 13 years that ESPN has been running their online bracket contest, nobody has ever managed the feat.
If you were to pick teams at random, the odds of correctly getting every game's outcome right are about one in 9.2 quintillion (that's 9,200,000,000,000,000,000 written out, in case you were wondering). Smart and informed players can improve their odds, but only somewhat: Nate Silver of fivethirtyeight.com estimates that the odds are about one in 7.4 billion if you take the favorite in every matchup. Still, even if nobody is perfect, Quicken will give up $100,000 to each of the top 20 contestants who come closest.