MGM Clears Springfield Massachusetts Suitability Check
Posted on: December 25, 2013, 05:30h.
Last updated on: December 24, 2013, 07:21h.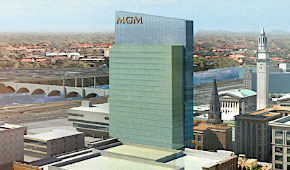 The Massachusetts Gaming Commission must be filled with warm-heartedness this holiday season; just a few days after giving Steve Wynn their papal blessing with a suitability thumbs up for his planned Everett casino project in eastern Massachusetts, they have now done the same for MGM Resorts International and its prospective Springfield casino in the western part of the state.
Technically, the commission approved Blue Tarp reDevelopment LLC (sic), but that body is under the 99 percent ownership of MGM, with just one percent belonging to a Paul Picknelly.
"Our approach from the start of this rigorous process has been to be as forthright … as possible in order to showcase our … global work ethic and high standards," said MGM in a published statement, following the long-drawn-out approval process, which has dragged on for almost a year now. The intense investigation focused on both MGM's financial and "ethical" suitability to do business in the state of Massachusetts.
Locals' Reaction Still Mixed
Although MGM is currently the only casino developer still standing for the single western Massachusetts license – and despite the suitability clearance – local reaction remains mixed to the possibility of having legal gambling become a brick-and-mortar reality in the Bay State.
"Everyone wants the money. That's what I think. The cities want money. Everybody wants money and so it's going to be really hard," Stephen Jasienowski of Northampton told a local news outlet.
Good read, Stephen.
But another area resident, Tom Courtney of Wilbraham, told the news that he thinks the casino could be a definite benefit to the region, which has been hard-hit by the economic recession of the past few years.
"Springfield's gone through some difficult times so I think maybe something like this might not be a bad idea for the general area," said Courtney.
This past November's casino referendum vote in Massachusetts was rocky, depending on which parts of the state were up for vote, but both Everett – where Steve Wynn's casino project is on the fast track now – and Springfield managed to pass by a wide margin. Other areas – like Suffolk Downs' planned East Boston/Revere property – were met with oddly divergent views; while East Boston summarily rejected the proposal, Revere overwhelmingly approved it, and along with new partner Mohegan Sun, Suffolk Downs is now pursuing a Revere-only redo on their plans, with the blessings of the gaming commission.
Should Be Full Steam Ahead Now
With this suitability stamp of approval, Springfield's chief development officer Kevin Kennedy foresees smooth sailing from here on out for the MGM casino project in their city, with official licensing expected to come through some time in May.
"If we do everything correctly, and we continue on the path that we're on and have been on for quite a while, I think we're on the correct path so I think we're gonna be okay," said Kennedy, redundantly.
Should that licensing come  through as scheduled, MGM might begin breaking ground the same month, which would mean the new Springfield casino could possibly open as early as end-of-year 2016.
The casino conglomerate's next step will be to get their official license application in before stroke of midnight on December 31st.