Gaming Industry's Positive Economic Impact Theme of AGA Small Business Jobs Tour
Posted on: April 19, 2017, 06:00h.
Last updated on: April 19, 2017, 04:32h.
The gaming industry should be more widely recognized for its positive contributions to helping small businesses and ancillary industries in the US grow. That's according to the American Gaming Association (AGA), the leading casino lobbying group in Washington, DC, that is embarking on a cross-country tour to highlight gaming's positive economic impact.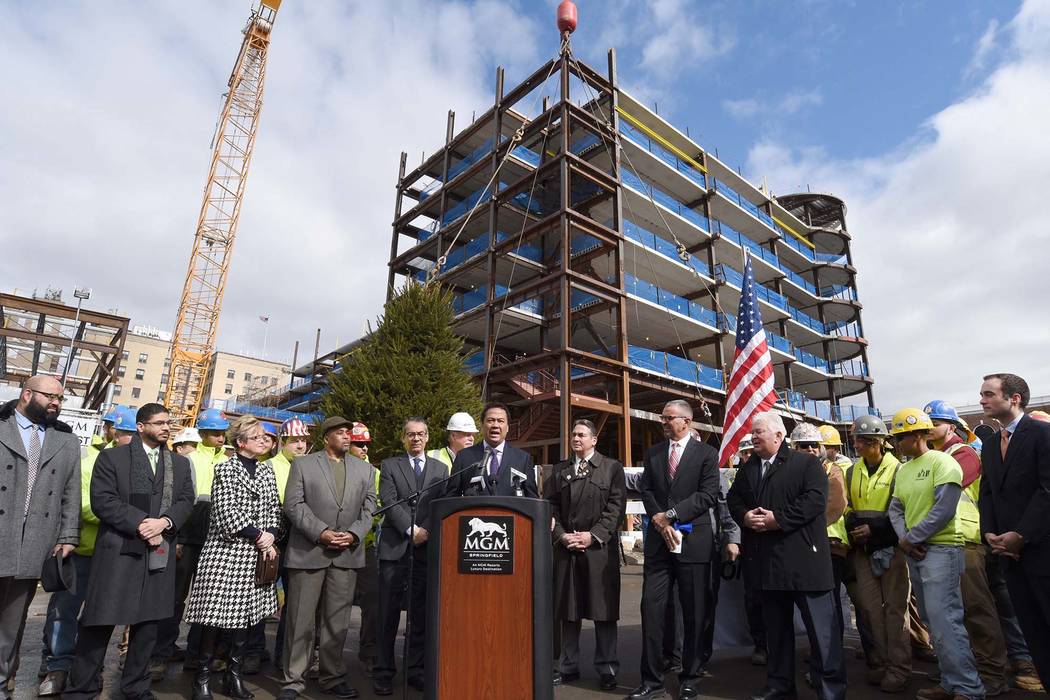 In a new report titled "Gaming Means (Small) Business," the AGA explains, "Casino gaming serves as an invaluable partner to small businesses in 40 states. The industry drives job creation, boosts revenues and forges business relationships in local communities."
The publication claims casinos support some 350,000 small business jobs nationwide, and directly and indirectly generates $51.7 billion in small business revenue. Staggering statistics, the AGA is going on a tour to hype the benefits of gambling.
The first stop took place this week at Eastern Food Services, Inc., a local food vendor in Maryland that has benefited from MGM National Harbor. The $1.4 billion casino resort opened in December just outside the nation's capital. Eastern Food has been hired by MGM to provide resort-branded water bottles.
According to researchers at Spectrum Gaming, which was contracted by AGA for the small business study, gaming employs 15,000 workers in Maryland, and creates an annual economic impact of $1.7 billion.
"The industry exemplifies the American entrepreneurial spirit," AGA President Geoff Freeman said in a statement. "Casino gaming is and always has been a strong community partner."
Pros Outweigh Cons
There are always opponents to those who wish to authorize land-based casinos. Antagonists like to cite higher instances of crime in neighborhoods surrounding gaming venues, and also express concerns over the potential issue of problem gaming and what impact that might have on local communities and families.
While the debate over whether casinos have a negative social impact won't end anytime soon, casino operators have recently bet on already troubled cities and regions. Take MGM, for example, whose next resort will open next year in Springfield, Massachusetts.
Springfield has frequently ranked as one of the most dangerous metropolitan areas in the northeast. Its crime statistics wouldn't entice many companies to invest nearly $1 billion, but that's precisely what MGM Resorts is doing.
Springfield Mayor Domenic Sarno (D) said last month during the resort's "topping off party," the placing of the final steel beam, "The footprint and future of our downtown is transforming, and our citizens are feeling the excitement. Today is a great day and we will build on this momentum . . . and let the world know Springfield is open for business."
Wynn Boston Harbor is another example of a casino improving a community. The Everett resort is being built on top of land that was previously contaminated from a chemical company's former occupancy. Part of the agreement to build a casino there was the inital job of cleaning up the site.
By the Numbers
Across the nation, casino resorts are providing substantial income to small businesses.
By industry, local and regional construction companies benefit most handsomely from gaming. Casino developments lead to over $13 billion in annual "small business" construction revenue and 108,400 jobs.
Top 5 US Small Business Industries Supported by Casinos
Industry                         Jobs Supported      Annual Revenue
Construction              108,400                   $13.4 billion
Manufacturing             13,800                    $ 7.0 billion
Real Estate                  16,300                    $ 6.7 billion
Healthcare                   45,500                    $ 4.7 billion
Retail Trade                 35,500                    $ 3.1 billion