Gambling Ex-Wife of Sultan of Brunei Accuses Bodyguard of £12m Theft
Posted on: February 13, 2014, 05:30h.
Last updated on: November 30, 2021, 10:50h.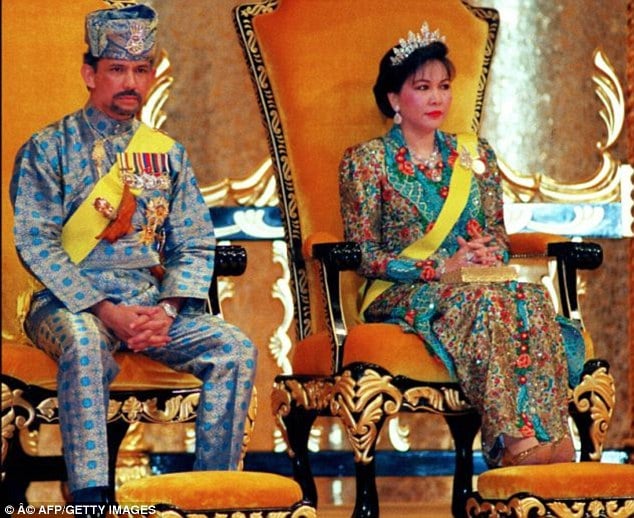 In a tale worthy of any great novelist's plotlines, Miriam Aziz – the 59-year-old ex-wife of the Sultan of Brunei – has fessed up in court to some major gambling arrears played out in London's toniest casinos, and the subsequent sale of £1million ($1,652,593) worth of fine jewelry to pay off some of her accrued gambling debts.
The hijab-covered woman testified in Isleworth Crown Court last week that she had indeed sold some of her gems to pay the IOUs, although she denied having once lost as much as £3 million ($4,957,781) in just one night of wagering.
According to Aziz, it was only £500,000 ($826,296), which probably for an ex-Sultaness is merely chump change. But wait, because the plot thickens in this tale of broken hearts, broken allegiances and broken bank accounts.
Former Bonded Birdies Sing
Aziz also gave testimony against her female former badminton-coach-turned-bodyguard Fatimah Lim, who stands accused of herself stealing £12m ($19,831,126) worth of diamonds from Aziz, substituting  phony and essentially valueless copies in their stead.
The 35-year-old Lim says that during a 20-month spree, Aziz took her sizable retinue of support staff with her to gambling venues around the globe. Lim said she was later instructed by Aziz to sell the jewels on Aziz' behalf when several casinos reportedly threatened to sue the ex-queen.
Aziz denied this in court, saying, "No, I never asked anyone, especially Fatimah Lim, to sell the diamonds, because I would do it myself."
Plenty of Dough to Spread Around
To put this in context, the Sultan is considered the wealthiest man on earth; so the ex-Missus' visits to casinos in popular spots like London, Singapore and Macau could hardly have raised an eyebrow. At first, anyway. With a  £2.5m ($4,131,484) credit limit at upscale clubs like London's Clermont in Berkeley Square, Aziz could obviously play high limits and make extravagant bets without anyone feeling alarmed.
Moreover, it appears the supposedly devout Muslim Aziz – a Royal Brunei Airlines flight attendant before becoming the Sultan's wife – prodded Lim to gamble herself, saying she would give both Lim and several other female bodyguards gambling bankroll to the tune of £1,500 ($2,479) a pop. Their London casino sojourns would sometimes cover as many as three casinos nightly.
"There were people in your wider circle not as enthusiastic about gambling as you – there was a perception that it was not in accordance with the activities of a Muslim," said Lim's defense attorney Rupert Pardoe. "You have hatched a plot to blame Fatimah Lim for the theft of these rings and this diamond bracelet."
Lim stands accused of three counts of theft in the still-ongoing trial.
Aziz' ex-husband –  Sultan Hassanal Bolkiah – divorced Aziz after a 21-year marriage and four children, in 2003. It's hard to keep track of his various and sundry matrimonies and his progeny, but it looks like the score is:  one royal long-term consort; the stripped-of-all-titles and now ex, Aziz; and a former Malaysian television hostess who only made it five years with her royal ex, and who was also stripped of all titles and her allowance, as reportedly was Aziz.
Clearly, Aziz got some kind of generous settlement from the Mister, though; four kids must be worth something, even in Brunei.