Gala Coral Agrees to Pay $1.2 Million Restitution for Failing to Prevent Money Laundering and Problem Gambling
Posted on: April 27, 2016, 10:12h.
Last updated on: April 27, 2016, 10:23h.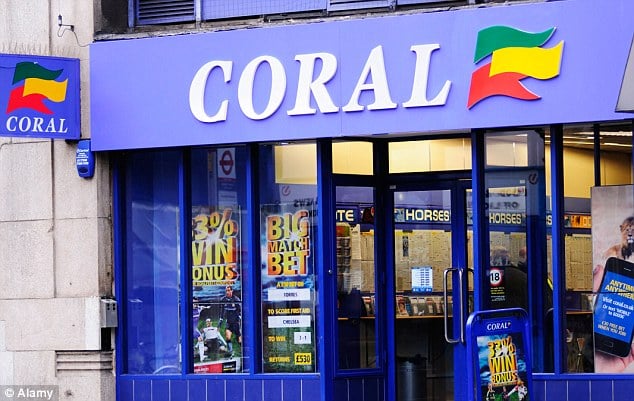 Gala Coral has agreed to pay nearly £880,000 (roughly $1.2 million) for its "systemic failure" to properly defend against money laundering and problem gambling.
The United Kingdom's Gambling Commission said Gala Coral failed in its duty to stop an allegedly wealthy VIP gambler from losing over $1.2 million at its land-based betting shops and online casino platforms. The problem gambler was wagering with illicit funds acquired from a susceptible and "vulnerable adult."
"Gala Coral relied too heavily on uncorroborated information provided by the customer and his associates to explain the source of funds to gamble online and in-store," the Commission said in a statement. "Gala Coral Group failed to conduct adequate inquiries about the source of funds . . . and placed over-reliance on the fact that the relevant payments were all made through one UK clearing bank account."
Gala Coral will pay $1,231,000 to the "vulnerable adult," and $43,600 to the Gambling Commission to cover its costs of the investigation.
Dirty Laundry
Following a $101 million heist from the Bangladesh bank account held at the New York Federal Reserve in Manhattan earlier this year, casino industry regulators are rightfully on high alert. Bangladesh police say two casinos in the Philippines were used to launder the ill-gotten funds through the country.
As is the case in the United States with the Financial Crimes Enforcement Network, casinos are responsible in the UK for filing Suspicious Activity Reports (SAR) when a gambler deposits or withdrawals more than a specific limit in a 24-hour time period.
Gala Coral erroneously decided there was no urgency to complete a SAR as it took the gambler's word for granted. Instead, the Gambling Commission says the operator invited the addict to hospitality events over the next three months in an effort to learn more about the source of his funds.
Friends attending the events with the suspect backed up the customer's claims that he was inherently wealthy. In reality, the man was an electrician.
Lessons Learned
Though the Gambling Commission could potentially revoke Gala Coral's gambling license as operators are forced to act in accordance to certain anti-money laundering laws, it's more likely to simply settle the case with a financial slap on the wrist.
The $1.2 million reimbursement from the British betting shop accounts for less than a single day's worth of revenue for Gala Coral according to the Guardian.
"We know that Gala Coral have reflected heavily on this case and have assured us of actions they have taken to address the failings," Commission Program Director Richard Watson said. "Operators must proactively monitor customers to keep gambling safe and free from crime."
Gala Coral isn't alone in failing to live up to the expectations of regulators.
Paddy Power paid over $400,000 earlier this year for encouraging a problem gambler to keep betting. He eventually lost his home, marriage, and custody of his children.
And late last year, Caesars was fined over $1 million for anti-money laundering lapses at two of its British casinos.
"We expect the industry will learn the lessons from this case, as it is their responsibility to keep crime out of gambling and protect vulnerable people from harm," Watson concluded.