Crown Revenues Drop after China Raid, Tabcorp Digs in On Stalled Merger
Posted on: August 4, 2017, 05:02h.
Last updated on: August 4, 2017, 05:02h.
Australian casino giant Crown Resorts delivered its 2016-17 fiscal year report on Friday, just 24 hours after billionaire owner James Packer officially re-joined the board of a company he left nearly two years ago.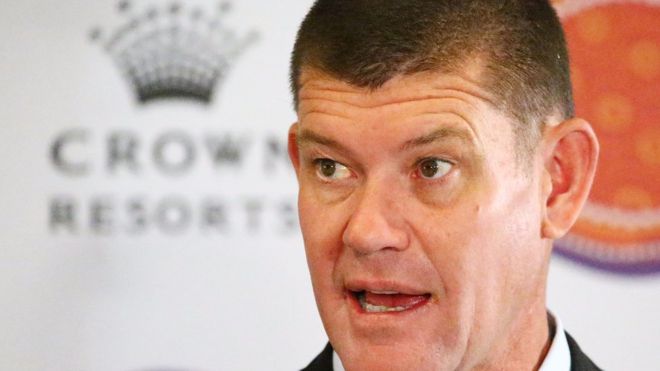 Crown reported revenues of $2.65 billion, down 5.5 percent from 2016, a slide attributed primarily to a plunge in VIP profits.
Crown scaled back its international operations after a crackdown on junket tours by the Chinese government led to the arrest and subsequent incarceration of 19 Crown staff for gambling crimes related to the practice of "whale hunting." VIP revenue was down 39.7 percent in the absence of its usual high-roller marketing activities.
The head of the company's international VIP operations is scheduled for release from a Shanghai jail next week.
No Comment on China
"We don't intend to make any more comments about China" CEO John Alexander said when asked about the link between the arrests and Crown's VIP slump.
But there is no doubt the arrests had a dramatic effect on the company's global outlook. Crown sold its stake in Melco Crown, the company Packer had launched in 2004 with Melco's casino royalty Stanley Ho, as well as its interest in the Alon project on the Las Vegas Strip.
By divesting itself of risk abroad, Crown saw the selldown help boost company profits for a stretch, but when looking at net profits, which excludes "one-off" items, Crown was still down 10 percent from the previous year to $272.9 million.
"Crown's Australian operations' full year result reflected difficult trading conditions," Alexander said.
Merger Costs Drag Tabcorp Into Red
From Australia's biggest casino operator to its biggest betting company, Tabcorp said this week that it expected its much-publicized $11 billion merger with betting and lottery operator Tatts to be finalized in December.
The $43 million Tabcorp spent pursuing the deal, however, resulted in a $16.4 million net loss, a harsh turn from $134 million in profit the previous year.
CEO David Attenborough attempted to reassure shareholders the investments made in 2017 were "strategically important."
Attenborough said, "The combination is expected to deliver at least [$103 million] per annum from synergies and business improvements. When you put that sort of number on the table, then what we've spent so far is not a big bet for the benefit it will bring."
Still, the Tabcorp-Tatts merger is not yet a done deal. In July, an Australian regulatory agency initiated a legal challenge to the merger on grounds that the tie-up would be anti-competitive.