Coronavirus Concerns Prompt NCAA to Ban Fans from March Madness Tournament, NBA Suspends Season After Player Tests Positive
Posted on: March 11, 2020, 04:45h.
Last updated on: March 11, 2020, 08:11h.
The US sporting world Wednesday was thrown into the chaos, as fears grew about coronavirus spreading led to numerous announcements and reports. It prompted the NCAA to announced that the association's upcoming championship events – including the men's and women's Division I basketball tournaments – will be held without fans in attendance after receiving a recommendation from an advisory panel reviewing the coronavirus pandemic. And it led the NBA to suspend league play indefinitely after the conclusion of the games Wednesday after a player tested positive for the COVID-19.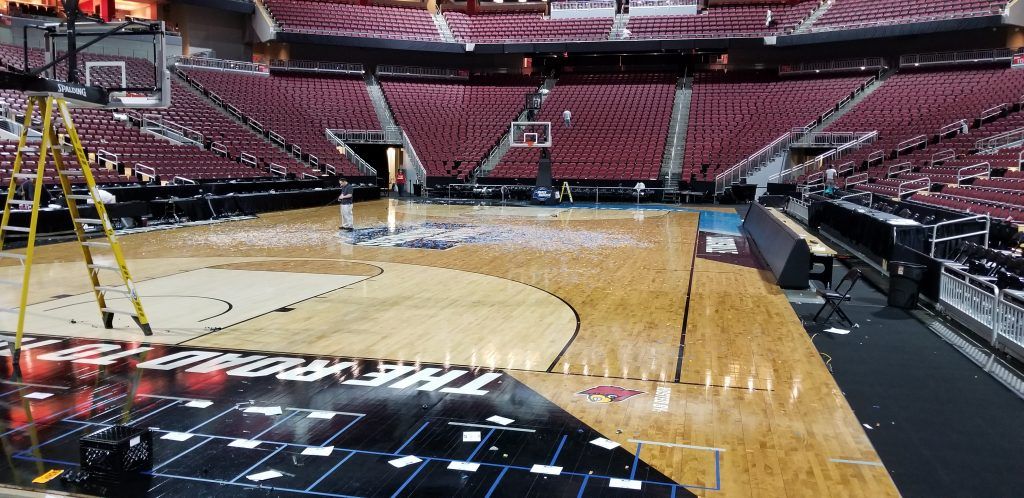 In Oklahoma City, the Thunder and Utah Jazz were just moments away from tipping off their NBA game when league officials opted to postpone it after Jazz player Rudy Gobert was reported to miss the game because of unspecified illness.
Reports later surfaced that Gobert tested positive for the coronavirus, though he apparently felt well. Moments after that news broke, the league announced its moratorium.
The NCAA's move came as conferences made their own decisions regarding their postseason and other events. Earlier on Wednesday, the Ivy League announced it was canceling all spring sports activities in the wake of the virus. The Big Ten initially announced it would continue with its postseason men's tournament and allow thousands of fans who had purchased tickets to attend, only to backtrack hours later and limit attendance starting with Thursday's games.
The ACC followed suit Wednesday night, announcing that its tourney games in Greensboro, NC as of Thursday would not include fans. The Pac 12's tournament in Las Vegas will also exclude fans. When the SEC announced fans would not be allowed to be at its tournament games starting with Thursday's action, it also extended the ban to games played at the schools.
While I understand how disappointing this is for all fans of our sports, my decision is based on the current understanding of how COVID-19 is progressing in the United States," said Mark Emmert, President of the NCAA, in a statement. "This decision is in the best interest of public health, including that of coaches, administrators, fans and, most importantly, our student-athletes. We recognize the opportunity to compete in an NCAA national championship is an experience of a lifetime for the students and their families."
When the men's tournament tips off next Tuesday in Dayton, Ohio, only essential staff and "limited family" will be in attendance.
How Will the Ban Affect the Tournament?
While the primary purpose of the ban is to protect public health, the NCAA's decision did spur discussion on social media regarding how the decision might affect the teams playing in the tournament, as well as betting behavior.
Thanks to the tournament being held over a three-week span, it is the most popular sports betting event in the United States. Findings from the American Gaming Association last year estimated that 47 million adults would bet $8.5 billion on March Madness. That's more than twice as many people who bet on the Super Bowl and a handle roughly 40 percent greater.
"I will be extremely interested to see the effect on wagering markets," tweeted Matthew Holt, President of US Integrity LLC. "Lower handle because people aren't attending, or higher handle because people are home instead of work/school and thus watching more."
Others wondered how teams would fare playing in nearly empty arenas. Would underdogs teams not fare as well without crowds on hand cheering for them to pull the upset? Or would teams with large fan bases who travel well not fare as well without their fans in the stands.
Also underdogs often benefit bc crowd turns into their fans when it becomes clear there could be an upset in second half https://t.co/6uGdBhq8So

— Scott Shapiro (@ScottShap34) March 11, 2020
The decision will impact not only how millions bet on the tournament, but also how the money changes hands. Still, many recognized that that's secondary to preventing the contagious coronavirus from spreading and possibly impacting the health of millions of Americans.
"At the end of the day, people's health is more important than a basketball game," Houston Cougars coach Kelvin Sampson told reporters during his team's practice Wednesday.
Latest NCAA Odds
With the major conferences about to begin their postseason tournaments, sportsbooks have circled around Kansas as their favorite to win it all.
At FanDuel and DraftKings, the Jayhawks have odds of +600. That's down from +800 just over two weeks ago. William Hill offers the Big 12 power at +550. Gonzaga is the consensus second choice at the sportsbooks, with odds of +800 at DraftKings and William Hill and +900 at FanDuel.
Other Leagues, Teams Taking Action
Elsewhere, other sporting leagues and teams have begun weighing their options. The NHL's Columbus Blue Jackets and San Jose Sharks announced they will play their remaining home games without fans for the rest of the season. Those statements came after the governors of Ohio and California called for a moratorium on large gatherings to restrict the spread of the coronavirus.
After the NBA made its announcement to suspend play, the NHL announced it was continuing consultations with medical professionals regarding the coronavirus and would likely make an announcement on Thursday.
Some MLB teams were looking at alternate possibilities to start the season. The Seattle Mariners are looking into the possibility of starting its home slate in Arizona as the virus has spread in Washington state. The Oakland A's, looking to abide with California's request, were considering options to play games elsewhere, including Las Vegas.
Similar Guides On This Topic
Latest Casino Stocks:
Retrieving stocks data...
Retrieving stocks data...
Retrieving stocks data...
Retrieving stocks data...
Retrieving stocks data...