Connecticut GOP Gubernatorial Candidates Talk Casinos, Urge MGM and Tribes to Work Together
Posted on: April 5, 2018, 05:00h.
Last updated on: October 5, 2018, 12:15h.
Nine Connecticut Republicans squared off in their fourth gubernatorial debate on Wednesday night, and the issue of gambling took center stage.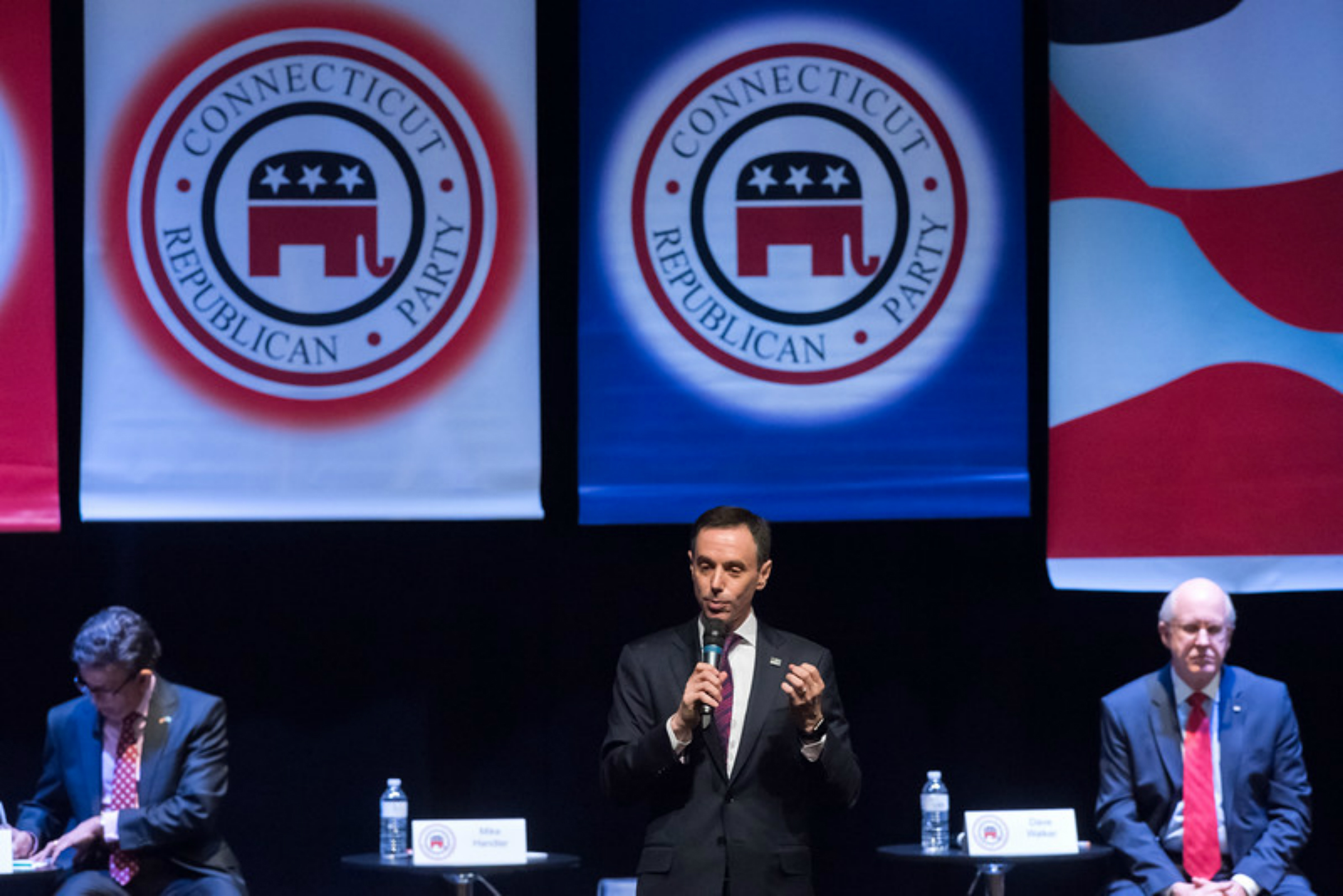 With a complicated legal juggernaut facing lawmakers regarding an approved tribal satellite casino on non-sovereign land and a powerful commercial gaming company looking to build in Bridgeport, the candidates largely agreed that some sort of expansion is in the state's best interest. The Mashantucket Pequot and Mohegan tribes are in the early stages of jointly constructing a $300 million satellite casino in East Windsor, 13 miles south of MGM Springfield in Massachusetts.
MGM says Connecticut lawmakers should cancel the mini-casino in favor of opening up a competitive bidding process. MGM has since proposed a $675 million integrated resort in Bridgeport.
"I don't think we can solve our state's fiscal problems by going after recreational marijuana, by going after toll roads, by going after casinos. Yet a casino in Bridgeport could revitalize the city (Bridgeport) and draw people who might not visit other casinos in the state," David Walker, the former US Comptroller General under President Bill Clinton, declared.
State Rep. Prasad Srinivasan (R-Glastonbury) said he too supports a Bridgeport casino, and opined that the resorts are no longer gambling-first properties, but "entertainment complexes" and "vacation destinations."
Governor Dannell Malloy (D), who currently has the second lowest job approval rating of a sitting governor in the United States, is not seeking re-election. The latest polling shows 26 percent of likely voters would go for the "Democratic candidate," while 24.6 percent would choose the Republican.
Opinions, MGM and Tribal Partnership
Walker and fellow candidate Tim Herbst suggested that the best outcome would be to have the tribe's and MGM work together. "The next governor needs to be collaborative in getting MGM and the tribes in a room to work out something that's beneficial to all concerned," Herbst stated.
Stamford Director of Administration Mike Handler said it's time for Connecticut to stop relying on a gaming revenue. The tribes share 25 percent of their slot take at their Foxwoods and Mohegan Sun casinos with the state. That equated to $430 million in 2007, but just $267 million last year.
Shelton Mayor Mark Lauretti said he supports MGM's plan, as he believes any company that's ready to spend almost three-quarters of a billion dollars without government subsidies should be welcomed with open arms. He believes a Bridgeport casino would "clean up blight" and create much-needed jobs.
Danbury Mayor Mark Boughton said there isn't enough adequate data on whether tribal or commercial casinos are in the people's best interest, but agrees that gaming expansion could be beneficial.
Casino Issue Backstory
Last fall, Malloy signed the East Windsor casino bill that allows the state's two tribes to build the satellite with roughly 2,000 slot machines and 100 table games. The law was passed in order to keep gaming revenue from flowing across the state border into Massachusetts where MGM Springfield is set to open later this year.
The legislation is contingent on the state receiving formal approval from the US Department of the Interior's Bureau of Indian Affairs. To date, no such ratification has been received.
MGM Resorts, looking to protect the largest monopoly on gaming possible surrounding its $960 million integrated casino resort, unsuccessfully sued Connecticut on grounds that it failed to hold a competitive bidding process in authorizing what it believes is commercial gaming. The casino heavyweight later unveiled its Bridgeport plans, which supporters of the tribal venue called nothing more than a bluff and stall tactic.
But some state lawmakers, especially those representing Bridgeport and nearby areas, have since backed legislation to withdrawal the East Windsor bill and open a commercial bidding process.
Latest Casino Stocks:
Retrieving stocks data...
Retrieving stocks data...
Retrieving stocks data...
Retrieving stocks data...
Retrieving stocks data...