California Latest State to Crack Down on Sweepstakes Cafes
Posted on: May 3, 2014, 05:30h.
Last updated on: January 12, 2023, 11:16h.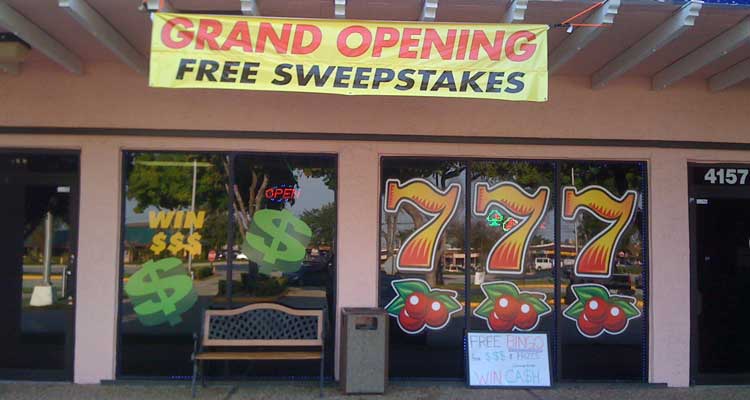 That's right, they're back: sweepstakes cafes continue to pop up around the nation, trying to find space between the holes in gaming laws so that their businesses that offer electronic games of chance aren't technically considered to be illegal gambling enterprises. One of the latest states to deal with these sweepstakes cafes is California, which is now looking to close the loopholes that allow these businesses to operate.
Assemblymember Rudy Salas (D-Bakersfield) has introduced a bill to the California Legislature that would close loopholes that currently allow sweepstakes cafes to operate in venues throughout the state. According to Salas, these cafes attract a criminal element to otherwise safe neighborhoods.
"Folks over in Oakland in the Bay Area, obviously in the Central Valley down to Riverside, down to San Diego County…this is an issue that not only affects legitimate local businesses, but it also affects the public safety," Salas said.
Bureau of Gaming Control Says Venues Are Prohibited
The California Bureau of Gaming Control issued an Advisory last December saying that sweepstakes parlors were prohibited by state law, but many venues remained in operation. Salas' bill would make operating a sweepstakes gambling operation an unfair business practice. That would open the door to allowing cities and counties to bring civil charges against operators who continued to offer such games.
According to Salas, local business owners have been coming to him with concerns that these cafes are resulting in an increase in crime near their locations.
"I've seen issues of drugs, of prostitution, impacts to local, legitimate businesses in these strip malls where these things are occurring," he said.
The bill looks like it may well pass with little resistance. Already, it has cleared the Assembly Governmental Organization Committee with bipartisan support.
That move comes after police raided a Bakersfield sweepstakes café just two weeks ago, seizing more than $3,000 and dozens of computers. The Kern County District Attorney's Office had already won a ruling at the appeals court level, but the shop had reopened using new software in an attempt to get around that judgment.
"Our understanding of what the courts have said is that sweepstakes are illegal, they are gaming, and gaming is illegal in California," said Sergeant Joe Grubbs.
Sweepstakes Games Proliferating in Many States
Sweepstakes parlors have been a problem in states across the country, including South Carolina, Connecticut and Florida. The businesses generally work by shaping their gambling games as "sweepstakes" in the hopes of getting around state gaming laws.
This is often done by requiring players to purchase products such as phone cards or Internet service time. But these products aren't the real draw: by purchasing them, players gain credits that they can use at computers in the venue. On the computers are typically simulated slots and casino games. In another attempt to get around gambling regulations, each credit is really an entry into a contest: whether a player wins or loses is already determined before they "play" the games.
Many of these venues have proven to be quite popular. However, since they are entirely unregulated and typically run against the spirit of gaming laws, states have quickly moved to close loopholes that allow sweepstakes cafes to operate.
According to Salas, he worked with the Department of Justice, the FBI and local authorities in California in order to craft a bill that would stop such cafes from offering sweepstakes games in his state.
Similar Guides On This Topic
Latest Casino Stocks:
Retrieving stocks data...
Retrieving stocks data...
Retrieving stocks data...
Retrieving stocks data...
Retrieving stocks data...