Caesars Palace Security Room Inspections Spook Guests, Surveillance Posted to Social Media
Posted on: August 17, 2018, 01:00h.
Last updated on: August 17, 2018, 10:39h.
Caesars Palace security officials are reportedly scaring guests as they carry out room inspections. And earlier this month, two guards reportedly videotaped a suite and shared clips to social media platform Snapchat.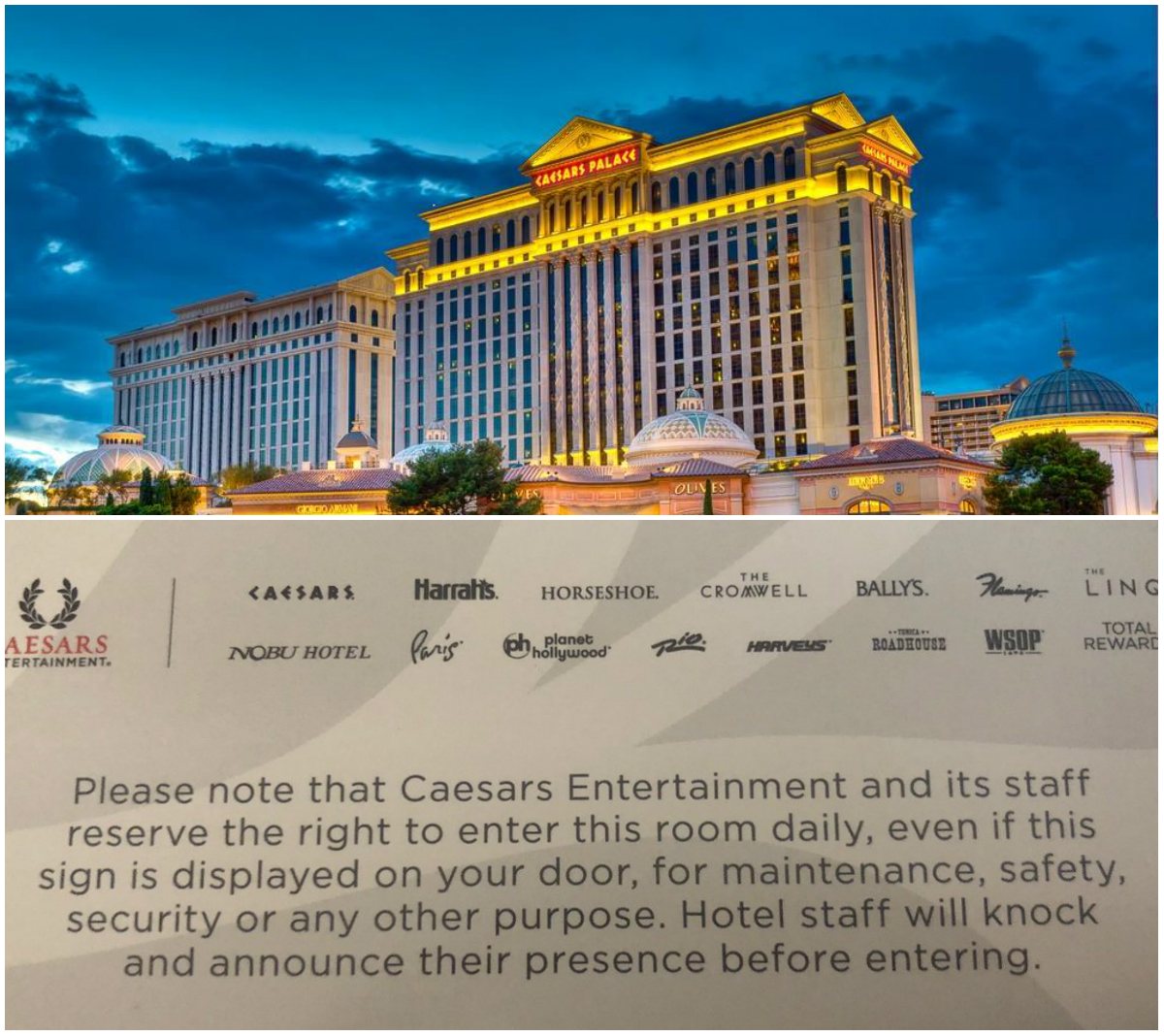 VICE reports that the videotaping incident occurred on August 7, two days before the annual Def Con exhibition began. Def Con is one of the largest hacker conventions in the world, and attendees including not only computer hackers, but also journalists, federal and state employees, and security professionals.
In clips that VICE says it viewed, two Caesars security team members are seen entering a hotel suite. Two folding tables with laptops and networking equipment are shown in the video.
The two security guards joke about taking a picture, with one laughing and saying, "I kind of want to take a picture of this and put it on my Snap [presumably Snapchat]."
The other guard responds, "I'll do it." He then photographs the scene.
New Security Procedures
Caesars Entertainment announced in February that any guest who declined housekeeping service would have their rooms visually inspected on a daily basis. The policy change came as a result of the October 1 mass shooting.
Gunman Stephen Paddock was successfully able to load an arsenal of weapons into his Mandalay Bay suite and set up a firing perch over a period of several days. He refused maid service, and his premeditated actions went unnoticed and allowed him to execute the deadliest mass shooting in modern US history.
Caesars' policy says security members can enter any room that hangs a "Room Occupied," which replaced the more common "Do Not Disturb" sign, after 24 hours of continued display.
The Def Con videos were captured by the guests who apparently outsmarted the Caesars security team. Personal surveillance cameras were running in order to monitor their computers and equipment, which the guards seemingly didn't notice.
Def Con guests criticized Caesars on social media. One message read, "Two members of hotel security banging on my door… I'm terrified. What the hell is this?"
"This evening, a man … with a walkie talking entered my room with a key without knocking while I was getting dressed," a woman tweeted. "He left when I started screaming."
Def Con Head of Security Operations Marc Rogers offered his resignation as a result of the Caesars Palace controversy. He admitted to not being aware of Caesars' room inspection policy, and didn't warn convention attendees about the inspections.
Room Reviews
Caesars and other Strip casino operators initially said in the aftermath of October 1 that housekeepers would enter rooms where "do not disturb" signs hung for more than 24 hours. But after the Local 54 casino workers union opposed that plan, saying that fell far outside the duties of a maid, the company agreed to have security personnel carry out the inspections.
There remains no industry standard on how long a room should be permitted to go without inspection from hotel security or staff. Steve Wynn said before his ousting that his resort rooms would be checked on every 12 hours, because he wants to know more "about anybody who was sequestered in a room."