Brockton Voters Narrowly Approve Casino Plan
Posted on: May 14, 2015, 02:00h.
Last updated on: May 14, 2015, 02:04h.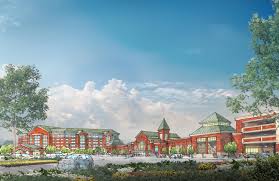 Casinos only need a small edge over their players in order to score a win in the long run. Backers of a proposed resort in Brockton, Massachusetts are hoping that the same can be said for casino referendums.
Voters in Brockton narrowly approved a plan to bring a $650 million resort to the Brockton Fairgrounds, passing the measure in what might be the closest such referendum in the state so far.
According to reports after the initial counting of votes, "yes" won by just 143 votes out of more than 14,000 cast, or just over one percent.
That gap increased marginally after provisional and other ballots were counted on Wednesday, giving supporters a 148-vote margin.
While the totals are not yet official, a recount is unlikely, and even less likely to change the outcome: while the raw numbers are close, a one-percent shift because of a recount would be extraordinarily unusual, particularly given the town's use of electronic voting machines.
Final Casino License Up for Grabs
The victory will allow developers to compete for the final casino license in Massachusetts, one reserved for the southeastern portion of the state.
However, with local support being one of the factors being taken into consideration by the Massachusetts Gaming Commission, opponents of the casino plan are hoping that a close loss might be nearly as good as a win.
"It was a major moral victory, and I hope it sends a message to the state Gaming Commission that support for a casino here is not wholehearted," said Thomas McDonnell, a prominent opponent of the casino plan.
For opponents, there were both general arguments against the casino and some that were specific to Brockton. They said that that the casino would likely target lower-income families and individuals who could least afford to lose money, an argument often heard when casinos are being developed anywhere in the world.
However, Brockton residents were also concerned about how close the casino would be to the local high school, something they feared could entice minors to gamble.
There were also worries about the traffic impact on local roads that are already said to be congested.
But supporters countered that the casino would be good for Brockton's economy by providing jobs and funds that could be used for municipal efforts.
"Brockton desperately needs jobs and people voted their pocketbook," said developer George Carney. "Maybe a casino isn't a perfect development for everyone, but it will certainly put people to work."
The casino developers have also promised to pay $10 million per year to the city in order to support municipal services including education, as well as police and fire departments.
The proposal is backed by Mass Gaming & Entertainment, a partnership between Carney and Rush Street Gaming.
New Bedford to Hold Referendum Next Month
The Brockton casino is likely to have competition by the time that the state gaming commission begins to determine which developer (if any) should receive the state's final license.
KG Urban and Foxwoods are working together on a proposal to bring a casino to New Bedford, with the city scheduled to hold a referendum of its own on June 23.
City officials are expecting strong turnout for the New Bedford vote, with some saying that should have much better results than Brockton.
"I think it's very good for us," New Bedford City Council President Brian Gomes said of the vote in Brockton. "I don't expect our vote to come out anywhere like that due to the previous two votes. We will do our best to get the message out to see how important this is as an economic stimulus."