Poker Pro William Kassouf Banned by UK Grosvenor Casinos for Stealing £100 in Chips: Stripped of Sponsorship
Posted on: September 19, 2018, 01:00h.
Last updated on: September 19, 2018, 01:38h.
Motormouth poker player William Kassouf has been banned from all Grosvenor casinos for palming £100 ($132) chips off a roulette table. Grosvenor is the UK's largest casino chain and was Kassouf's sponsor until the incident last weekend.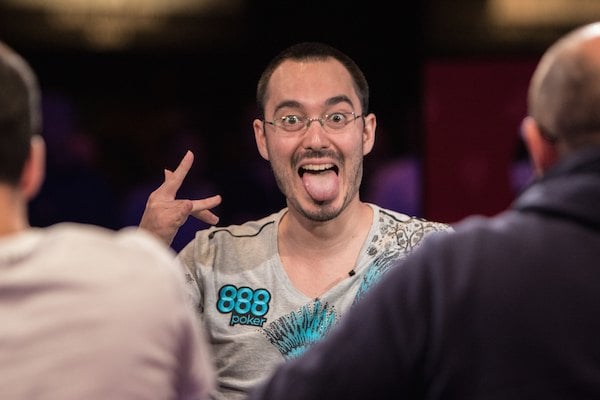 The trouble occurred at the Grosvenor Westgate Casino during the Leeds leg of the Grosvenor UK Poker series. Having busted the tournament, a drunken Kassouf was among a group of friends at the roulette table and one of them was winning big, according to the account of another British poker player, Michael J. O'Mahoney.
That's when former EPT High Roller champion Kassouf was spotted pocketing some of his friend's chips and, for once, was not able to talk his way out of it: the Brit has built a reputation around verbal intimidation on the felt.
Trial by Facebook
Rumors that Grosvenor had banned Kassouf and torn up his contract were initially circulated by fellow pro Shaun Deeb on Sunday night. Kassouf and Deeb have had an ongoing social media spat for a long time.
Those rumors were confirmed by O'Mahoney via Facebook, who said he was "sick of people defending him, saying it was a mistake."
We were all drunk and the only one playing roulette was one mate who won about 4k and let us bet for him using the single 1 (£100) chips he had. We put a bet on that won another £2800 and Kassouf started celebrating and grabbing the £100 chips which myself and mates took back," wrote O'Mahoney.
"But in the ensuing betting he was seen pocketing some. That's when argument happened. Like I said, we all wanted to keep it between us and we had a private argument at bar with a view to it being sorted the next day …" he added.
But Grosvenor staff got wind of the situation and took decisive action, although it does not appear the incident was reported to the police.
Table Talk
Kassouf became a divisive figure during his deep run at the 2016 World Series of Poker Main Event, in which he was penalized on several occasions for his relentless table talk. His attention-grabbing antics and persistent cries of his catchphrase "nine-high like a boss" were either entertaining or annoying, depending on your point of view.
On Tuesday evening, he took to Twitter in a more somber, penitent tone than the poker-viewing public has been accustomed to.
"Last weekend, during the course of a drunken night playing roulette with friends, I made an error of judgment which I greatly regret; something I accept full responsibility for," wrote Kassouf. "I have apologized and will apologize again to all my friends who were with me that night for my foolish behavior."