UPDATED: New York Approves Nine to Offer Mobile Sports Betting
Posted on: November 8, 2021, 11:47h.
Last updated on: November 9, 2021, 03:26h.
The New York State Gaming Commission unanimously approved sports betting licenses to eight platform providers during its meeting Monday afternoon. The awards mean nine operators will be allowed to offer mobile wagering.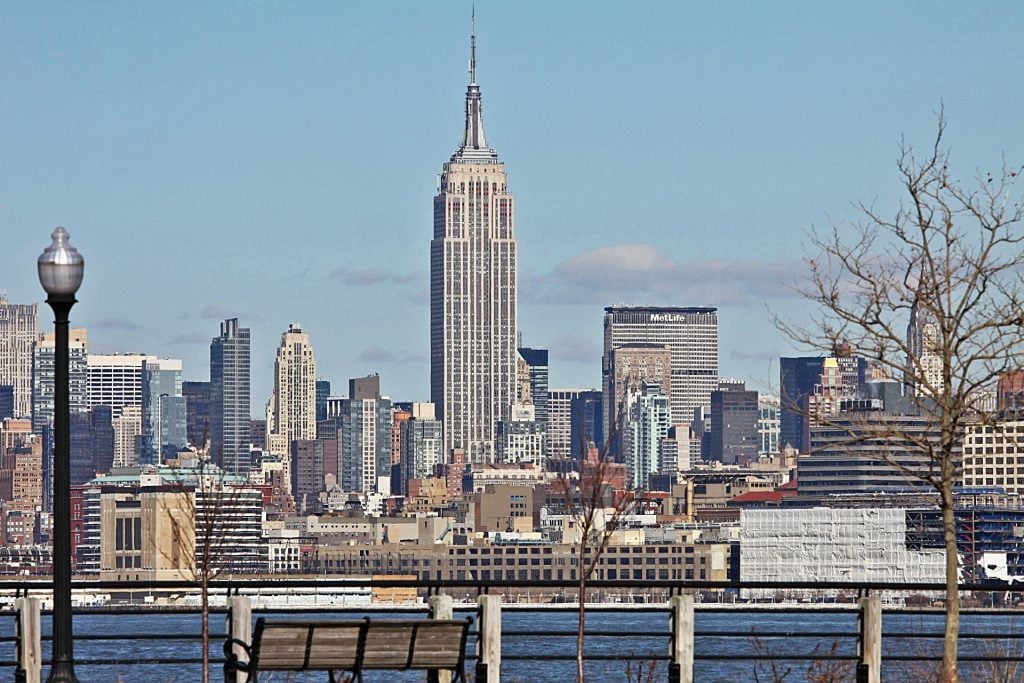 The winning bidders were led by platform provider Kambi Group, a group that includes Rush Street Interactive, Caesars Sportsbook, Wynn Interactive, PointsBet, and Resorts World. This group finished with the highest technical score of all six bidders.
New York evaluators also determined that a group led by FanDuel, which includes DraftKings, BetMGM, and Bally Bet, also deserved licensure. Evaluators, though, decided against extending a license to a bid submitted by Bet365.
"New York has the potential to be one of the largest sports betting markets in the U.S. and BetMGM is particularly well-positioned to become a leader in the state given the strength of the Mlife customer database, close proximity of Empire City Casino to support our omnichannel strategy, and parlaying our already leading positions in nearby states." – Adam Greenblatt, CEO of BetMGM.
Applications submitted by theScore Bet, Fox BET, and a second Kambi proposal offering Barstool Sportsbook and Fanatics did not score high enough on their technical responses to be considered for award.
With the awards, the state will receive $200 million in licensing fees, and the eight platform providers will receive a 10-year license in return. The combination of eight providers and nine operators means the state will receive 51 percent of the gross revenues.
State officials have estimated that mobile sports betting could generate as much as $500 million in new revenue for the state.
Sports wagering represents a significant potential income source for our state," Gov. Kathy Hochul said in a statement Monday evening to Casino.org. "The Legislature passed a law that required the Gaming Commission to undertake a competitive bid process to get mobile sports wagering up and running. The Commission undertook that process, and we look forward to creating opportunities for more people and for New York State."
State Sen. Joseph Addabbo, D-Queens, chairs the Senate Racing, Gaming, and Wagering Committee, and previously said his goal was for apps to launch by the Super Bowl.
The meeting was initially scheduled to start at 1:30 pm ET. But technical difficulties, apparently tied to the overwhelming demand to watch or listen to the meeting, led to a 50-minute delay.
"We've been looking forward to the opportunity to bring mobile sports betting to New York. With more than 19 million people, New York will be the biggest mobile sports betting market in the country, and we feel we are uniquely positioned to bring an incredible product to that market." – Tom Reeg, CEO of Caesars Entertainment.
New York Prime to be Sports Betting Market Leader
Despite the astronomical tax rate, New York will almost assuredly become the new market leader in US sports betting once the sports betting apps become operational. With a population of 20.2 million, New York is the second-largest state to legalize mobile sports betting. Florida, with a population of 21.5 million, is the largest. However, Florida has allowed only the Seminole Tribe to offer mobile sports betting statewide through an amended gaming compact that's being challenged in the federal courts.
Besides approving a larger number of operators, New York also has a much larger economy than the Sunshine State, thanks mainly to New York City serving as the nation's business capital. New York has a gross domestic product of $1.87 trillion through the second quarter of 2021, compared to Florida's $1.2 trillion. On a per-capita basis, New York's per capita of $92,480 was more than $36,800 higher than Florida's.
"This license advances our overall market footprint and marks the latest milestone on our journey towards becoming the leading omnichannel gaming provider in the US. Above all, we look forward to providing New York's devoted fan base with engaging, best-in-class, sports betting experiences." – Soo Kim, chairman of Bally Corp.'s Board of Directors.
While retail sports betting has been legal in the state for years, it was limited to just the four state-licensed resort casinos in upstate New York, as well as the tribal casinos with Class III gaming compacts. That shut out New York City residents, who either continued to bet through offshore or illegal bookmakers, or crossed the Hudson River and placed bets online in New Jersey. Market estimates indicate New Yorkers generated about a quarter of New Jersey's handle, helping it supplant Nevada as the country's top sports betting market.
Ex-Governor Called for High Tax Rate
Despite the apparent interest and the market size, mobile sports betting failed to advance, despite the efforts of Addabbo and Assemblymember Gary Pretlow, D-Mount Vernon and the chair of the Assembly's Committee on Racing and Wagering. Both sought to legalize online gaming. But the issue was never a priority for then-Gov. Andrew Cuomo.
Cuomo's attitudes shifted in the past year, as the COVID-19 pandemic ravaged New York's economy. Facing a multi-billion budget deficit, Cuomo turned to legalized mobile betting and recreational marijuana in an effort to generate millions in tax revenue.
"We appreciate the efforts of Gov. Hochul, Sen. Addabbo, and Assemblyman Pretlow and look forward to bringing our top-ranked DraftKings mobile and online sportsbook to the millions of sports fans in the state, pending licensure and regulatory approvals." – Jason Robins, co-founder, CEO, and chairman of the Board of Directors for DraftKings.
But Cuomo made it clear that he did not want to follow New Jersey and most other states in offering sports betting licenses through partnerships with casinos. Instead, he pushed for a rather complicated competitive bid process where applicants proposed the tax rate. Cuomo insisted that the rate be at least 50 percent, and while Addabbo and Pretlow scored some concessions in the budget negotiations, much of what Cuomo wanted was approved by lawmakers in April.
The solicitation that came out in July was tailored to essentially make a high rate become a reality. For instance, by agreeing to a tax rate of at least 50 percent, winning bidders were given a 10-year license. A lower tax rate would have capped the licenses at either three or five years, but kept the $25 million fee for each platform provider.
Incidentally, Cuomo announced his resignation from office the day after the proposal deadline because of a sexual harassment scandal and the increasing likelihood of an impeachment hearing covering that and other investigations.
"Having the potential to secure market access to New York state – expected to be one of the largest and most important markets in the United States – represents another major milestone for our company, our brand, and our technology." – Johnny Aitken, CEO of PointsBet USA.
Kambi Bid Earned High Score
According to information revealed at Monday's Gaming Commission hearing, the Kambi-led bid with Rush Street, Caesars, Wynn, PointsBet, and Resorts World earned the highest technical score during the evaluations. Applicants needed to receive at least 60 out of a possible 75 points to make the cut and be considered for licensure.
Last month, the Gaming Commission asked that Kambi-led bid, along with the FanDuel-led proposal and Bet365, to review the final tax matrix. Agreeing to the tax structure was mandatory in order to be considered for licensing. However, it did not guarantee a license.
That Kambi proposal became the top submission, and under the rules of the solicitation, evaluators could have finished the award recommendations there, as the bid met the minimum requirement with two or more platform providers and four or more operators. However, the solicitation also called on evaluators to consider if additional awards beyond the minimum would be in New York's best interests.
With FanDuel, DraftKings, and BetMGM generally accepted as the top three mobile sportsbook operators in the US, it essentially became a question of whether that group would agree to the tax matrix. Once they did, evaluators came to the conclusion that eight platform providers and nine operators – whose revenues would be taxed at 51 percent of gross gaming revenues – would be a better deal for the state than the 64 percent rate with just the Kambi group.
Evaluators could not make the same case for including Bet365, a British-based sportsbook. While it is one of the world's largest sports betting operators, it has just a minor presence in the US, with a license in New Jersey. Extending a license to Bet365 also would have reduced the tax rate to 50 percent, based on the matrix.
"Today is a momentous occasion for RSI, sports fans across the Empire State, and for the gaming industry at large… New York is a crown jewel market with more than 20 million residents which, upon launch, will become the largest online sports betting market in the United States. Moreover, it is home to some of the most passionate sports fans in the nation." – Richard Schwartz, CEO of Rush Street Interactive.
Fanatics, Jay-Z Miss the Cut
The unique process New York initiated to award licenses not only created some strange bedfellows – see the FanDuel, DraftKings, BetMGM, and Bally Bet combination as an example – it also led to an online retailer making its first attempt at a sports betting license.
Fanatics had been positioning itself for months to get into sports betting. In June, former FanDuel CEO Matt King came on board to oversee the sports betting initiative. In its joint application with Kambi and Penn National's Barstool Sportsbook, Fanatics played up its partnership with rap icon, media mogul, and Brooklyn native Jay-Z.
Despite the star power attached to the bid, it did not earn enough points to receive consideration for a license.
The state's decision is unlikely to dissuade Fanatics from entering the sports betting market. The company has partnered with six sports betting operators to fund a $100 million campaign to legalize sports betting in California.
The decision to not advance the Kambi-Fanatics-Barstool bid came weeks before Business Insider published a report last week regarding Barstool Sports founder Dave Portnoy's alleged sexual escapades with women about half his age. The report did not indicate that Portnoy faced criminal charges, although three unnamed sources claimed the sexual encounters became rough and frightening.
Portnoy and his supporters have slammed the Business Insider report as a character hit piece.
Penn National Gaming CEO Jay Snowden, speaking during a conference call last week with investment analysts, did not reveal that the Barstool-Fanatics bid was not selected. However, he did openly question whether mobile sports betting in New York would be profitable for any operator due to the high tax rate.
Penn National owns a 36-percent stake in Barstool Sports.
"This is an extremely exciting time for New Yorkers as we get ready to launch the leading mobile sports betting program in the country. Our team, with its deep ties to New York, combines the very best in gaming and innovative technology and will be able to deliver a program on day one that provides more choices for consumers, more tax revenue for New York, and more reinvestment in the local communities where we operate." – Robert DeSalvio, president of Genting Americas East, operator of Resorts World Bet.
What's Next for New York Mobile Sports Betting
After the commissioners awarded licenses, they then approved the regulations to oversee mobile sports betting in the state. The big question left unanswered is when the operators will be allowed to roll out their apps.
The regulations must first be published in the state register, and the earliest that will happen is Nov. 24.
Addabbo has said in the past his hope is that apps would be available to bettors in time for the Super Bowl. If the New York State Gaming Commission gets the regs printed by Nov. 24, just more than two weeks from now, operators would have more than two months to get ready and meet that unofficial target date.
"New Yorkers represent a significant portion of the Wynn Las Vegas and Encore Boston Harbor databases, and we look forward to giving those customers more ways to earn and use Wynn Rewards. We also look forward to meeting and engaging with new customers in the state via WynnBET." – Craig Billings, CEO of Wynn Interactive.