Bet365 Sign-up Promo Slammed By Australian Court
Posted on: September 14, 2015, 10:52h.
Last updated on: September 15, 2015, 11:16h.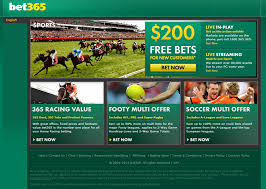 Bet365 is likely to be heavily fined by the Australian Federal Court after a judge ruled last week that the operator's first deposit promotion was deceptive and misleading.
The bonus model, variations of which are in common use throughout the gambling industry, offered "$200 free bets for new customers."
An asterisk then directed visitors to small print that qualified the terms of the offer: that customers who deposited $200 would be required to play through up to AUS$1,200 before the full bonus would be unlocked.
But that wasn't enough to save the ad from being "false" and "deceptive" in the eyes of the prosecution and the judge.
Ruling in favor of the Australian Competition and Consumer Commission, which had brought the case against Bet365, the judge said that "new customers who had not previously used such types of services were drawn into this web of deception."
"Compliance is Essential"
The Australian government has pledged to modernize the country's outdated gambling laws to make them more relevant to the new landscape of internet betting.
Sports betting advertising, particularly TV spots that advertise in-play betting during big games, is likely to be highly scrutinized, with many politicians calling for a clamp down.
"This judgment makes it clear that companies cannot use the word 'free' in offers to consumers where any conditions that seek to neutralize the 'free' nature of the offer are not clearly identified. Inducements like free bets run the risk of signing up new and inexperienced gamblers based on a deceptive claim," ACCC chairman Rod Sims.
"Compliance with the Australian Consumer Law is essential for all companies that sell to Australian consumers, regardless of geographic location," he added. "The ACCC will take action where it thinks consumers are being misled, especially in emerging markets where there are potentially vulnerable consumers."
Risk Free to Risqué
It's not the first time gambling operators have fallen foul of authorities with this type of promotional activity.
Earlier this year, Unibet was in hot water with the UK's Advertising Standards Authority (ASA) after offering a "risk free" betting promotion on English Premier League soccer.
The ASA ordered the company to pull the promotion because it said the language used was "misleading."
But in related news, mischievous industry marketing guerilla Paddy Power has found itself, for once, on the right side of the regulatory authorities.
The UK advertising watchdog cleared an ad run by the operator in a UK national newspaper that promoted odds on the next president of FIFA. The campaign displayed a picture of the embattled incumbent, Sepp Blatter, bearing the legend: "Just f*** off already!"
"We considered that readers of that section were likely to understand that the ad was intended to be a lighthearted comment on the ongoing allegations of corruption within FIFA, and in particular the controversy surrounding Sepp Blatter's tenure as FIFA president," the ASA ruled. "In that context, we considered the use of "f***" was unlikely to cause offence to readers."
Most Read