Baccarat and Table Games Moving Up on Las Vegas Strip
Posted on: November 25, 2013, 05:30h.
Last updated on: December 10, 2013, 04:21h.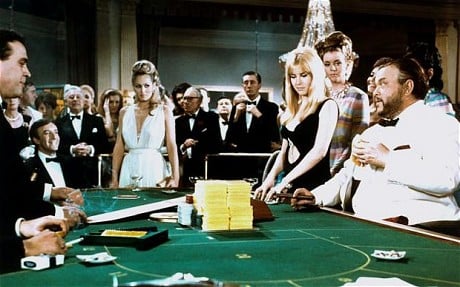 The times they are a'changin' in the land casino business, especially in Las Vegas. Where slots once ruled the day – and still represent a healthy revenue slice for casinos everywhere – with the advent of online sites and mobile casino apps, the uniqueness of a live table experience is now becoming as retro-chic as "vinyl" (aka "records) are to hipster kids these days.
Table Games Conference
It's becoming a big enough niche that there's now a gaming industry conference dedicated exclusively to it: the Table Games Conference, held at the Paris Las Vegas recently. Industry expert David G. Schwartz, director of the Center for Gaming Research at the University of Nevada, Las Vegas, gave a presentation at the conference, noting that "live table play remains a unique [experience] that cannot be replicated online.
"Now is the time to invest in table game players," Schwartz noted to an audience of some140 conference attendees. "Not in 10 years when the next generation has gone digital. Invest now while they are still there."
Schwartz added that with slots now basically on numerous platforms, the only difference between a brick-and-mortar machine and online is a hot cocktail waitress serving drinks and management presenting you with a W-2 tax form if you take down over $1,200 in a jackpot. (Ok, we added the bit about the hot waitress).
Table Games Move Into First Place
More importantly, Schwartz noted that since the recession hit Las Vegas back in 2008, table games have actually been pulling in better revenue numbers than slots. In fact, according to Schwartz, the per unit, per win slot take in Nevada has fallen two percent since back in 2005, whereas the per unit, per win table game take has jumped by 20 percent in the same time period.
More specifically, at their zenith back in 2007, Nevada slot machines were generating $132.55 in wins per unit a day, compared to table games which were at $1,997.89 for the same timeframe. While both gaming sources took a bit of a nosedive by 2009, so far this year, slots are down at $117.27 per unit, whereas table games have boomed up to $2,105.03 per table.
Some of that decline in slot revenue, Schwartz noted, is simply because there are actually fewer slots throughout the whole state now. In fact, slot machine inventory is down 14 percent in the past eight years in Nevada. Overall in the Silver State, table games bring in 37 percent and slots a bit more than 60 percent of most casinos' revenues, he said.
But in Las Vegas, those percentages have shifted. On the Strip specifically, Schwartz notes that post-recession, table games have inched into first place with 52 percent of the revenue while slots are slightly behind now at 48 percent. The big game changer has been – literally – baccarat, which now accounts for 44.13 percent of the Strip's profits, and that's based on a total throughout all Strip casinos of 282 baccarat tables.
Seems baccarat has the sizzle the Strip needs; "baccarat has saved the Strip's bacon," noted Schwartz.
The big shift is due to the huge influx of Asian whales coming to play in Las Vegas. Schwartz notes candidly that "some of these gaming companies would have gone bankrupt" without those high-rollers, many from China.
"Table game players are a wealthier player," Schwartz said. "[They] are now seen as more resilient. They are more important to brick-and-mortar revenue as online gaming becomes more prevalent."