Adam Meyer, "Celebrity Tipster," Sentenced to Eight Years For Fraud, Extortion and Racketeering
Posted on: March 6, 2017, 07:00h.
Last updated on: March 6, 2017, 05:14h.
Adam Meyer, once the self-proclaimed "sports consultant to the stars," has been sentenced to eight years in prison for charges including fraud, extortion, racketeering and brandishing a firearm.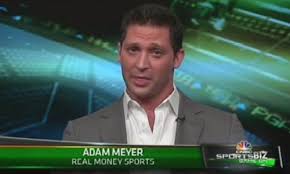 Meyer's case was bizarre. Here was a high-rolling handicapper, who once boasted that his client list "reads like the front page of Variety," accused of impersonating a shadowy fictional gangster of his own invention in order to perpetrate a $45 million fraud that ended in the violent assault of a Wisconsin liquor magnate.
In his defense, Meyer claimed insanity, drug addiction, and that he was an undercover agent. Even more bizarrely, the latter claim may actually be true.
Bogus Bookies
Meyer was the CEO of betting consultancy site Real Money Sports, which charged clients up to $250,000 for his sports betting advice.
A slick, media-savvy operator, he made frequent TV and radio appearances as a tipster, billing himself as the man who had won over $1 million betting on the Green Bay Packers at Super Bowl XLV.
He told his clients he had a highly improbable 64.8 percent edge over the bookies.
One such client was Gary Sadoff, 64, the aforementioned liquor magnate; the owner, in fact, of the Badger Liquor Company of Wisconsin, the biggest booze distributor in the state.
According to the court documents, Sadoff began buying tips from Meyer back in 2007 and the pair were friends. As well as offering tips, Meyer would also hook his clients up with offshore bookmakers, who would accept their very large bets, no questions asked.
Meyer claimed, falsely, he had no commercial relationship with these bookmakers, whereas, in fact, client money was often wired to accounts he actually controlled.   
Wong Number
When Sadoff decided to quit his expensive gambling habit, Meyer concocted a story. Meyer's life was at risk because he owed money to a fictional bookie gangster named Kent Wong, and because Wong believed that Sadoff and Meyer were partners, Wong held him liable for Meyer's debt, and was coming for him.
Meyer would even telephone Sadoff, pretending to to be Wong, complete with a Chinese accent, threatening and demanding money from the businessman.     
When Sadoff refused to send more money, the situation escalated. Meyer and an associate flew to Wisconsin and threatened Sadoff with a gun, until he was coerced into providing a further $9.8 million.
Meyer, and his associate, Ray Batista, were arrested shortly after the incident, in December 2014, and the latter sentenced to four years in January.
Insanity Plea
Meyer's lawyers claimed their client was addicted to drugs and had mental health problems in which "a different identity, or personality, periodically surfaces to Meyer's detriment."
Meyer also claimed the "public authority" defense, and that his crimes were committed at the behest of several US government and law enforcement agencies for whom he was an undercover agent. He said he was employed by authorities to root out illegal sports betting operations.
The relevant authorities deny this, but documents unsealed in June, and kept secret from the public on the behest of Meyer's lawyers, suggest, at least in a conspiracy-theory kind of way, that there could be a modicum of truth in the claim.
Working for the Feds?
In 2007, the year he claimed he started working for the feds as an undercover agent, Meyer was arrested for scamming $6 million from casinos in Nevada and Connecticut. Considering he already had a criminal conviction at this time, he was staring down the nose at a probably nine years imprisonment. Instead, he received two years probation.        
"That's not a big departure [from sentencing guidelines]," Jeffrey Cramer, a former federal prosecutor in New York and Chicago, told the Milwaulkee Journal-Sentinal after it presented him with the facts. That's huge. That's absolutely huge."
Did the sports consultant to the stars cut a deal with the feds in return for leniency? Suddenly Meyer's assertion that he helped the FBI seize $750 million from offshore bookies doesn't seem quite so mad after all.