888 Launching Interstate Poker, Mattingley Out of CEO Position
Posted on: August 29, 2014, 05:30h.
Last updated on: August 29, 2014, 03:53h.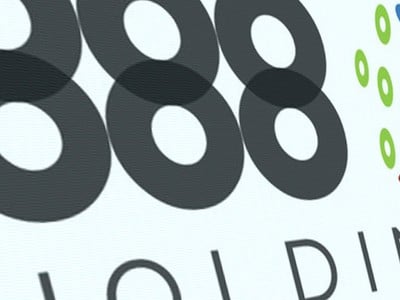 888 Poker may be in the best position of any brand to fully take advantage of the newly regulated US online gambling markets. They're a relatively big name with no issues that bother regulators, and they're already established (to various extents) in all three states that currently regulate Internet gambling.
Now, the company will be the first to turn intrastate online poker into an interstate enterprise. 888 has announced that they will launch a shared poker network between Delaware and Nevada, the two states that have signed a compact to allow such interstate networks to exist.
888 Only Company in Position to Benefit
Since that agreement was signed between the states back in February, it has been expected that 888 would be the first (and perhaps only) firm to take advantage of that compact. While multiple companies have poker sites running in Nevada, 888 is the only firm that provides software to Delaware's three racetrack casinos. That means that any interstate partnership with Delaware would inevitably benefit 888.
The announcement by 888 came in a statement to investors this week. The company already provides the software for the World Series of Poker (WSOP) online poker site in Nevada, and is also planning to launch their own 888-branded poker room there. Those two rooms, along with a Treasure Island-backed option, will all share the same player pools.
That liquidity will then be shared with the Delaware sites to create a six-room network that spans the two states. This will be known as the All American Poker Network (AAPN), and could prove to be the largest regulated poker network in the United States. The company also runs an APPN site in New Jersey. However, that is currently a standalone poker room, and without any compacts that include New Jersey, it cannot be connected with sites in other states.
Mattingley to Move from CEO to Executive Chairman
The formation of the interstate APPN wasn't the only news out of 888 this week, however. The company also announced that CEO Brian Mattingley would be stepping down from that role, and would be taking on the position of Executive Chairman of the Board moving forward.
"We are very excited at this move, which will allow the Company to continue to take advantage of Brian's wealth of experience, wisdom and knowledge of the Company, particularly in maintaining and developing relationships with existing and future regulators," 888 Nominations Committee Chairman Amos Pickel said in a statement.
The move comes as Richard Kilsby, the current Non-Executive Chairman of the Board, has announced that he plans to retire following 888's 2015 Annual General Meeting. Mattingley's position change will also take place at that time.
"The Board would like to thank Richard for the outstanding leadership shown during his nine-year tenure, during which the Company has faced and successfully overcome significant challenges in an ever-changing environment, and in which the Company has grown and changed considerably," Mattingley said. "On behalf of the entire 888 team, I would like to take this opportunity to thank Richard for his significant contribution to 888's development and achievements."
Day-to-day operations of the company will be headed by Chief Operating Officier Itai Frieberger, who will become a director of 888 in January, and by Chief Financial Officer Aviad Kobrine.