Vince Neil's Tatuado Eat, Drink, Party Restaurant Opens at Circus Circus Las Vegas
Mötley Crüe lead singer Vince Neil has opened another restaurant and bar on the Las Vegas Strip, Vince Neil's Tatuado Eat, Drink, Party. The restaurant opened at Circus Circus on Nov. 9, 2013.
"Tatuado" means tattoo, or "inked," in Spanish. In case you're questioned by authorities.

Vince Neil's new restaurant and bar sit in the space formerly occupied by the under-performing Rock & Rita's.
Little of the former restaurant's layout has been touched, but Vince Neil's Eat, Drink, Party has brought in copious amounts of Vince Neil and Mötley Crüe memorabilia.

The adjoining Vince Neil's Party Bus Bar looks pretty much the same as when it was the bar for Rock'n Rita's.

Vince Neil was in the house for the Grand Opening of the restaurant that bears his name, of course, schmoozing fans and hosting VIP guests.

Vince Neil's Eat, Drink, Party (which we've also seen called Vince Neil's Tatuado Eat, Drink, Party, or just Vince Neil's Restaurant and Bar) has a stage, and is a perfect venue for live entertainment like the band that performed on the restaurant's opening night, the name of which we should've written down, probably.

We're happy to report the food and drinks are excellent, and a pretty good value for the Las Vegas Strip. Our cocktails were in the $6.50 range.
We highly recommend the My Tie signature cocktail (below), a blend of mango rum, spiced rum, grenadine, pineapple and orange juice.

We also tried the delicious beef sliders, with Vince Neil's award-winning meat loaf. We know it's award-winning because it says so in the menu. The mini burgers are seasoned with chorizo sausage and onions, topped with cheddar jack cheese and a creamy bacon ranch, garnished with pico de gallo.
Vince Neil's Eat, Drink, Party serves up some solid eats. We were happily surprised, as Vince Neil's restaurant at LVH was disappointing.

The restaurant is filled with all things Vince Neil. This Las Vegas blog didn't listen to Mötley Crüe's music, but the decor and rock videos should add to the experience for those who did, or do.

Overall, the changes to Rock & Rita's are minimal (Rock & Rita's logos can still be found around Circus Circus, on signs and even on the gaming table felts, and the Rock & Rita's Web site is still live), but the cocktails and food have been amped-up dramatically for Vince Neil's Eat, Drink, Party, and both the bar and restaurant deliver on the promise of a party atmosphere.

We should note there are some awkward moments at the restaurant. See, it's Circus Circus, so there are lots of families with kids around, and we saw kids dining in the restaurant, too.
Why is that awkward? Well, among other things, there's stuff like this.

The decadent rock sensibility (including scantily-clad bartop dancers) seems an odd fit with children in the mix, but Circus Circus has been doing that particular dance forever, casinowise.
That aside, there's a lot to like about Vince Neil's new joint at Circus Circus.
Rock & Rita's die-hards will be pleased to know the establishment's Toilet Bowl souvenir glass remains. We trust this was a moneymaker, so Vince Neil takes full advantage. You can fill the vessel with any of the slushy drinks at the bar for $25. (Hint: It's just a different sticker.)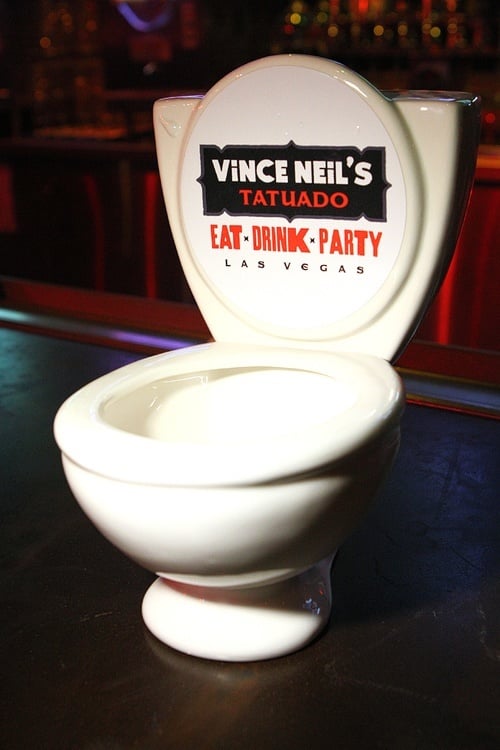 Here's the official page for Vince Neil's Tatuado Eat, Drink, Party restaurant and bar at Circus Circus Las Vegas.

Enjoy a few more photos from the Grand Opening, and let us know what you think if you stop by. If you manage to remember any of your visit, of course. Which you won't, assuming you're partying like a rock star.
Vince Neil's Tatuado Eat, Drink, Play at Circus Circus