The Cafe at Wynn to Become Caffe Al Teatro
As Wynn Las Vegas nears the announcement of its new show, and the unveiling of its new theater, a nearby cafe is getting a rebrand that seems to fit the theatrical theme.
The Cafe, temporarily closed, will reopen as Caffe Al Teatro in late 2022.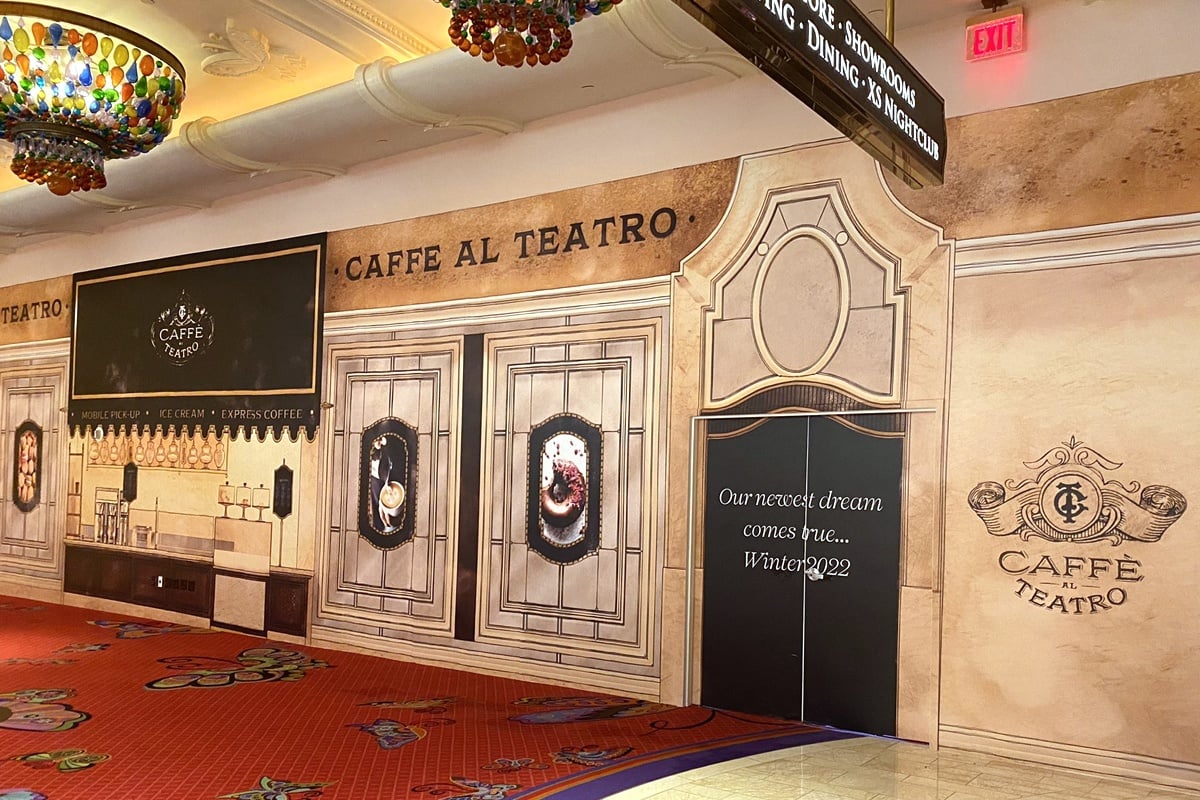 Caffe Al Teatro in Italian, of course, translates as "cafe at the theater."
In Spanish, it translates as "cafe to the theater," which is awkward, so we're pretty sure the name isn't Spanish.
Theoretically, "Al Teatro" could be someone's name, in which case Caffe Al Teatro would refer to "Al's cafe." Look, this story is light on details, so we're just trying to make more words to the photos don't slap together. Or, as we call it, Wednesday.
Technically, the "theater" in Caffe al Teatro means "theaters," as this popular cafe is located near both the Wynn Theater and Encore Theater.
The Cafe was previously the Drugstore Cafe, also referred to as the Cafe at the Drugstore, due to its proximity to the hotel's sundries shop.
This 24-hour cafe serves up coffee and light meals, and we expect it will continue to do so.
During the cafe's transition, guests are encouraged to get their caffeine and "morning favorites" at Allegro Cafe Express or The Cafe Express Cart.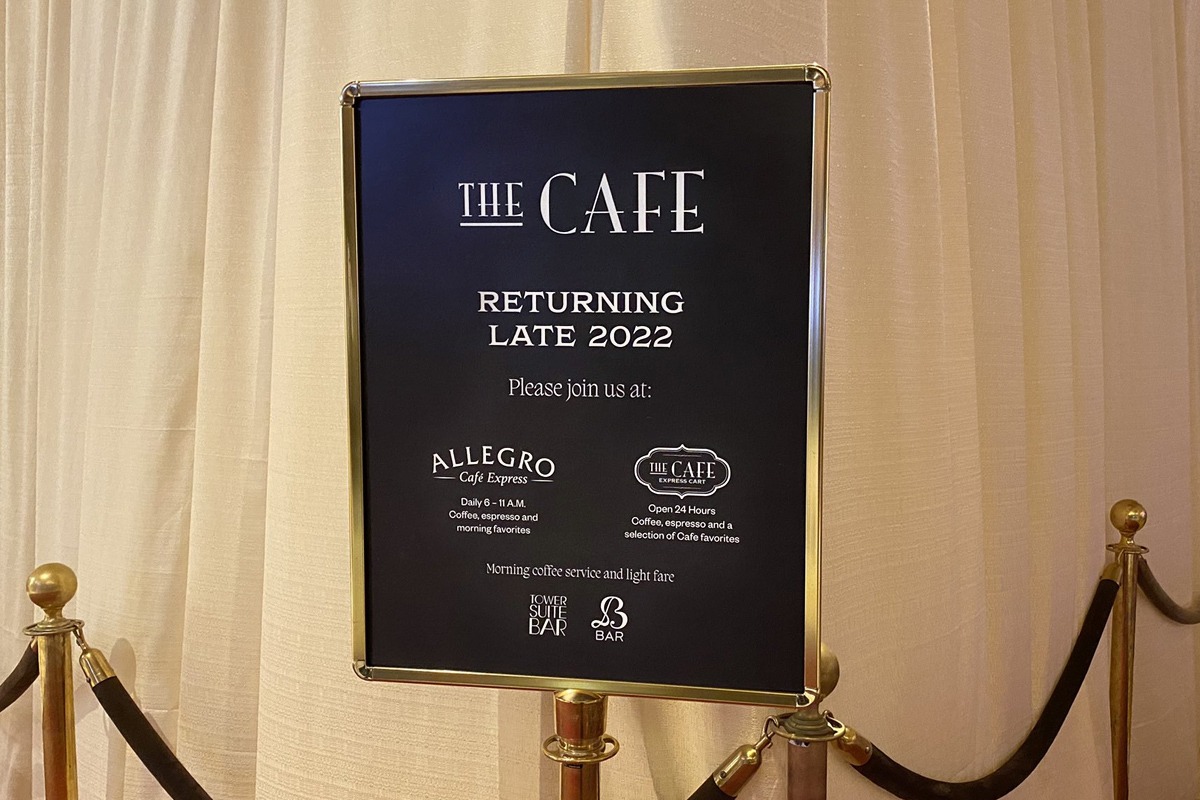 The Wynn Theater has been closed since the beginning of the pandemic. "Le Reve" closed with it, and never reopened. The pandemic was a time of many sad trombones.
There's a new show in the works at Wynn, the name of which has eluded us despite our persistent poking around. Word from those with friends in the show say it's a mixture of magic and dance. One source says it's along the lines of "Absinthe," without the raunchy humor. Wynn Resort says that's not the case.
An announcement about the show should happen within the next few months, although the show won't open until after Oct. 31, 2022, per the resort.
It seems Caffe Al Teatro will debut around the same time.
Stay tuned for more about all the goings on at Wynn Las Vegas.
Which reminds us: Do the kids even know what "stay tuned" means? If you're streaming, there's no real staying tuned. And while we're on the subject, has the phrase "goings on" been used more recently than 1990?
The only phrase more antiquated is "cool hang," but nobody says that anymore, thankfully. Does "cool" even mean "cool" anymore? Can hangs be "snatched"?
Answers to these and other burning questions in future blog posts. Are there even blogs now, or is everything just shared on TikTok?
Does anyone say "burning questions" anymore? And isn't that a burning question in and of itself?
And who says "in and of itself"? And did you know "in and of itself" comes from the Latin, "per se," meaning "by itself"?
And who even remembers Latin? We do! If it weren't for Latin, we wouldn't be able to share "theater" comes from the Latin "theatrum," and before that from the ancient Greek "theatron," meaning "a place for viewing."
Sometimes "theater" is spelled "theatre." It's a little extra, like stuffing a superfluous "f" in "caffe." If someone uses "theatre" in the U.S., they're snooty and should be avoided at all costs.
It's worth noting nobody has used the word "snooty" in several decades.
If you disagree with our opinion about the use of "theater" vs. "theatre," feel free to share your misguided views as a conversation-starter when you visit Caffe Al Teatro at Wynn Las Vegas in late 2022.
We knew we were going somewhere with all that. Thanks for taking the ride with us.
Update (9/10/22): Wynn Resorts shared some thoughts: "The Cafe at Wynn Las Vegas is currently closed for renovations, with plans to reopen later this year as the newly-imagined Caffe al Teatro, a European-inspired cafe featuring artisanal pastries, sandwiches, salads and grab-and-go items. During the extended closure, a 24-hour Cafe Express Cart will serve specialty coffees, pastries, salads, sandwiches, and select beverages from a temporary location on the casino floor near Allegro. Additionally, several temporary quick-service stations will be located throughout Wynn and Encore where guests can purchase coffee, snacks and more."